Even when Jill Silver was little and playing dress up, she knew she wanted to be a nurse.
Though her specialty changed from pediatrics to family practice, her love and passion for the profession never wavered.
"When I first graduated from high school I thought I wanted to focus on pediatrics. Working through all of my clinicals and with my jobs, I realized that kind of fell by the wayside and family practice kind of became my heart and my passion," Silver said. "The nice thing about family practice is it's a gamut of everything. We take care of newborns all the way up to elderly people and you really do see everything and just a very dimensional in health care with family practice."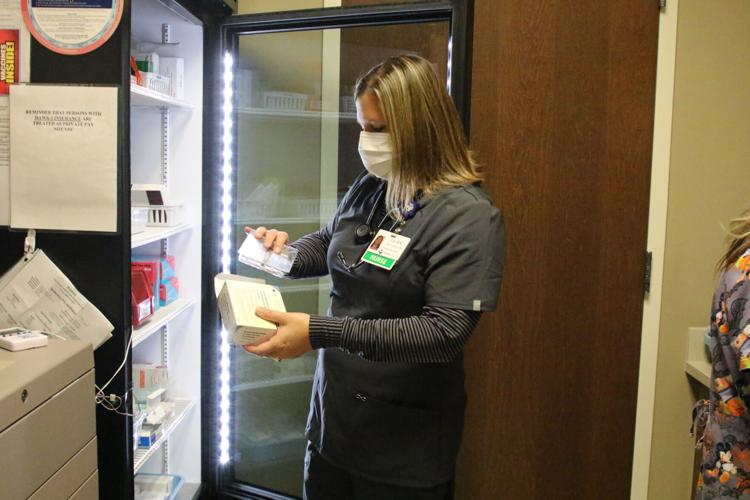 Silver, an Ackley-Geneva High School graduate, enrolled in a Bachelor's of Nursing program at Allen College. After her first year, she didn't think she was in the right field. Silver transferred to Ellsworth Community College and enrolled in their nursing program.
"Once I got here in this small-town setting, it was a whole different atmosphere and I knew immediately that I was in the right program and that nursing was going to be my life," Silver said.
After graduating from ECC, Silver stayed local and in her 20 years of nursing has spent 12 of them in family practice. She is currently the Clinical Nursing Lead at Hansen Family Hospital. She has also worked in public health and did some long-term care as well.
"Nursing is such an awesome career because you have so many different options within your career," said Silver. "You can work in a hospital setting, you can work in a clinic setting, you can work in a home care setting. You can specialize in orthopedics, cardiology, OB/GYN. You just have so many different outlets. If you try one and you don't like it, you have several others that you can get into."
In August Silver went back to school at Walden University to complete her Bachelor's of Nursing degree. On top of being a full-time nurse, a mother of two teenage sons and a wife, she threw in being a full-time student, too.
"The goal is just trying to expand my career," she said. "As my kids get older and as they transition, if there becomes a day where it's just me and my husband, then at that point in my career and I'm 25 years out from being a nurse, I think I would like to explore more management options and make myself more available for those kinds of situations."
The classes have also been beneficial for her in defining her management style, identifying communication, value based care and much more.
As the hospital's Clinical Nursing Lead, Silver still works the floor but at least two or three days a week she does managerial work. Silver is in charge of quality reports, reports for Medicare, goals that the hospital must meet, scheduling for the nurses at all four family practice clinics, payroll, training and hiring new nurses.
"I really like the management side of it, but this is a very good balance for me. Because I'm still able to work the floor a couple days a week, maintain my skills. It really is nice to be a working manager, because you are working alongside the people that you are also managing so you are able to know firsthand what the frustrations are or the processes that aren't working and then when we sit down in our nurses monthly meetings, we're all on the same page," said Silver. "I would definitely say that being a working manager is ideal for my life and my preference.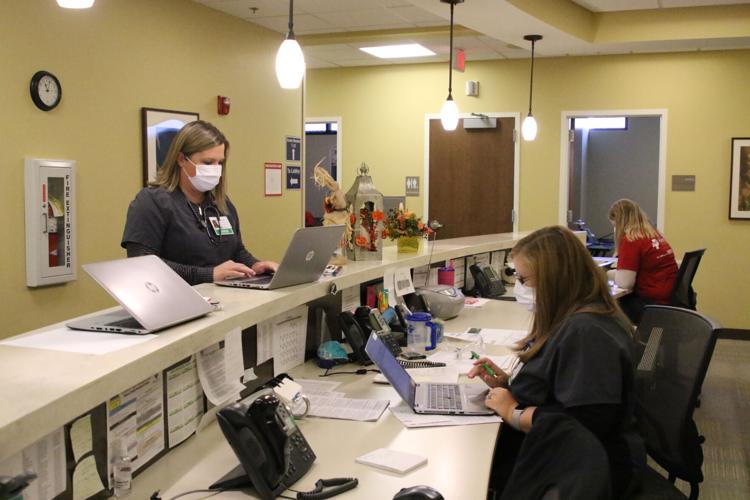 "It is so rewarding," she said. "Especially working in a small town here. The patients, they know you. You know them. We know each other's families and just have that connection, which makes it easier to care for them and they feel more comfortable here as well."
Since March, another big piece of Silver's job has been serving on the Incident Command Team. The group meets twice a week and talk about the course of COVID-19, what the processes are looking like and what they need to change.
Silver said the hospital has ramped up its cleaning processes. They used to clean during slow times – over the lunch hour when everyone was gone, or at the beginning and end of each day. Now, they clean between every patient.
"In order to make our patients feel safe and to know that we're doing all this cleaning, I think it's important that they see it," said Silver. "So, you know, cleaning when we go to get them from the waiting room, cleaning that chair off. Cleaning the pen off on the electrical signature pad. Making sure that everybody that walks in the door is wearing a mask."
While many outpatient services were paused this spring, the hospital has increased the number telehealth visits it does via Zoom video conferencing.
As a person in health care and a member of a small community, Silver said she feels like she has to be more cognizant when she is out in public – practice what she preaches when it comes to slowing the spread of COVID-19.
"If I'm going to tell people here in the clinic that they need to wear a mask when they are here, and they need to be social distancing, then I need to follow that as well," Silver said. "I try to do a good job of that, go to the grocery store and making sure that my mask is on. Utilizing more online shopping instead of being in the stores. We have seen some places here in town that are not social distancing, just trying to really educate people on its importance. Sometimes it has been a challenge, even in my own household."
Silver and her clinical staff do not conduct COVID testing, but they do call patients with results. They also take the calls and get their symptoms, vitals, medications and allergies. Testing is done outside the building.
"The biggest key with that is really stressing social distancing, isolation for 10-14 days, whatever the provider has deemed necessary," she said. "You can be exposed anywhere. So, even though we are not bringing these patients into our clinic, the sick patients we are trying to see in a more secure area. It's important to remember that you could be at Walmart or you could be anywhere else and still have exposure, so being utmost careful with everything and treating everybody like they could be positive is what we have to be doing."
Silver hasn't missed a beat the last seven months. She and all of the clinic nurses have worked through the pandemic.
"Throughout all of our clinics we are truly blessed to have the most amazing group of nursing staff and providers," said Silver. "I know I go back to this a lot, but I think I would find if I worked at a larger facility in a more urban area in say Waterloo, Cedar Falls, we wouldn't have that close knit group. Our communication is key, but it is widely open. Everyone shifts around when we need help. Everybody looks out for each other. Family comes first here, so if we have, like my kids are in sports, if I need to be off or if I need to leave early and this goes for all the nurses – that person leaves and everybody just shifts to cover their work. We truly have a great environment, from the CEO on down.
"I will probably hang my hat up here when I am at the end of my career," she said, "I am quite certain of that."