Tracy Van Lenning does more than clean houses and businesses. Sure, as owner of Clear the Chaos Cleaning LLC, she mops floors, dusts tables, vacuums rugs and wipes down appliances. But she offers more than that. Sometimes, for her elderly clients, it's homemade muffins, or it's time spent sitting and chatting with someone who lives alone. It's going the extra step.
"I know how it feels to need something and you don't want to ask," said Van Lenning, "so to have someone do a little extra for you makes you feel good and everyone deserves to feel good and loved."
Van Lenning, who lives in Alden, launched her cleaning business in December 2019. Before that, she spent a decade working at the truck stop on Interstate 35 near Dows. When a friend invited her to start cleaning houses, she jumped at the opportunity. And when the plans with her friend fell apart, Van Lenning took the idea and ran with it. She started Clear the Chaos LLC, and hired her daughter, Kaitlyn Dorr, to work alongside her. The transition from employee to business owner may seem like a big step, but proprietorship runs in Van Lenning's blood.
"My dad had his own business, and my brother took it over when he passed," Van Lenning said. "My sister and her husband have their own business. I wanted to have my own."
And cleaning, she said, is something she's always done.
"If I would go to my mom's or my daughter's or whatever, I started picking up to help them out. If I babysat for my daughter, I'd clean her house and she'd walk in and be so happy," Van Lenning said.
The business started off on solid footing and was just getting going earlier this year when the coronavirus pandemic arrived in Iowa, and businesses, schools and churches were forced to close to mitigate the spread of COVID-19. Suddenly, people were worried about close contact with others, and they were staying inside their homes, closing their doors to outsiders.
"At first it was scary because people said, 'Let's hold off.' There were a lot of cancellations," Van Lenning said of her business in March. "I got scared because I'd promised my daughter a salary. I wanted to make sure my grandkids were taken care of. Whatever it took, I had to give her a paycheck."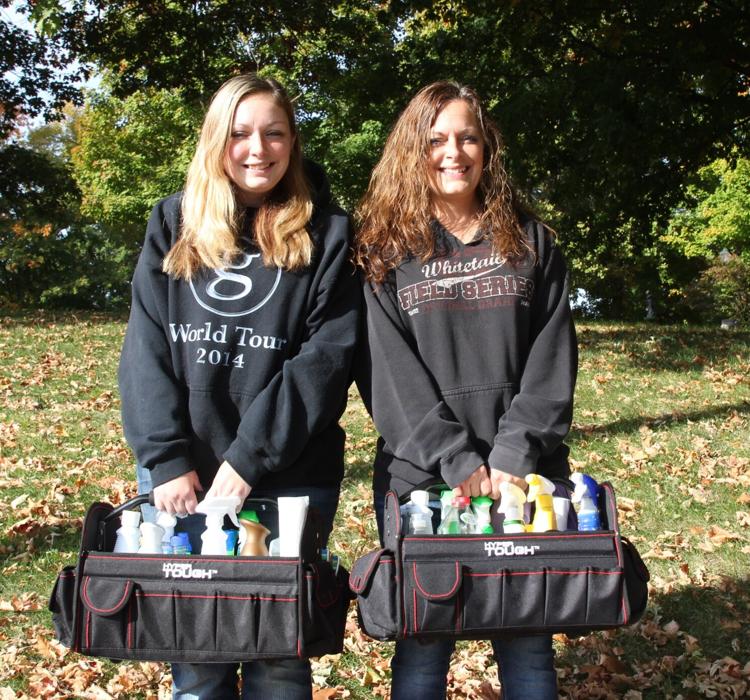 Van Lenning said she explained to her clients that when she cleans, she starts in the far corner of a business, home or room, and washes her way out – without walking back into areas that have already been cleaned. Van Lenning advertised her business and relied on word of mouth. And suddenly, her services aligned with demand for new kinds of deep cleaning.
"We picked up a lot of new business," she said. "It was mostly homes at first, but then the businesses started kicking in. Now we have churches, centers, city halls, extension offices."
But even with the uptick in business, Van Lenning's difficulties didn't vanish. For months, she struggled to find cleaning supplies.
"It was hard to find anything," she said. "I went to a cleaning supply website and got hospital grade bathroom cleaners." In stores, Van Lenning said people looked at her like she was buying supplies to hoard them. On one occasion she had to explain to another customer that she owns a cleaning business and she was buying the supplies for work.
Now that most businesses, churches and offices are open, and almost all of Van Lenning's previous house clients have returned, her schedule is full most days, with as many as four jobs and driving between them. She and her daughter travel all over Hardin, Wright and neighboring counties, cleaning as they go.
"We try to get in, get done, get out and move on to the next," Van Lenning said. "I'm very picky and my daughter knows it. She'll come look at my work and I'll look at hers to make sure we didn't miss anything. I want my people happy. I tell them if there's something we missed or something you're not happy with, just tell me.
"We love our people," Van Lenning said of her clients. "They treat us so well. We try to treat them as good as we can."
With each job, Van Lenning and Dorr have a pattern. One does one set of work, while the other does another.
"The more often we're there, the quicker it goes," Van Lenning said. "The first time is always long, but then you get it. I try to meet with my people first so that way they can see what we're like. They can trust us."
The name for Van Lenning's business came from her belief that everyone's home as a little chaos – even her own.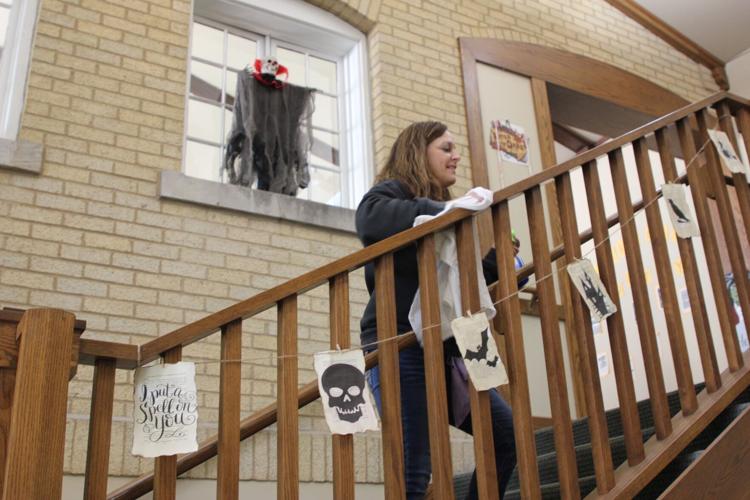 "Everyone has some kind if little disaster, and who wants to do that when they get home. They're tired and they want to enjoy home time," she said. "When they can come home to a clean house and just worry about cooking supper, that makes their life easier."
As much as she enjoys the work, it can be demanding. Van Lenning, who's almost 50, said she often feels the aches that come from a day of physical work.
"There are days when you have a really rough time. It would be a one-time deal like someone moving and selling their house and it was hard.
The fingers get sore after a while, but you just do it," she said. "at the end of the day, you made everybody happy."
At some of her jobs, Van Lenning said she and her daughter offer more than a clean house. They're company for people who don't get many visitors.
"At some jobs it's like you're therapy," she said. "For some people, you're the only one they see. I always make sure there's extra time to talk."
Some clients receive homemade goodies from Van Lenning and Dorr. In one case, Dorr brought eggs and bacon to a client's home and cooked breakfast for him.
"We want them to feel they're loved and special," Van Lenning said. "There's a lot of lonely people out there. You go home feeling like you did the right thing.
"They always make it worth my while with phone calls or cards in the mail," she added. "You fall in love with these people."
When she's not cleaning, Van Lenning still works some weekends at the Dows truck stop. She also stays busy with her three grandsons, ages 6, 8 and 10, who like to spend time outside.
In some ways, Van Lenning sees her job as an extension of her family. Not only because she works with her daughter, but in the clients with whom she's developed relationships.
"I lost my grandparents within two months of each other, so now I have none. But I've found people who resemble them in certain ways," she said. "It's not really a job. It's another family."