Iowa Falls police dispatcher McKenzie Burton spends a lot of time in one place. Thankfully, the department values her and other dispatchers' services to the tune of a very nice chair.
"Try lifting that thing over the threshold. I bet you can't," quipped Chief Wade Harken as he described the Concept Seating 24/7 chair.
The 27-year-old Burton has found herself a home in that chair inside the station at 321 Stevens St. She started the job about six years ago and has worked her way up to dispatcher supervisor where she's in charge of the other three full-time staff members as well as the part-timers.
Before changing careers, Burton worked in the Emergency Department at Ellsworth Municipal Hospital. She has also turned dispatching into something of a family tradition.
"My mom (Tifani Eisentrager) did it for 13 years or something like that," Burton said. "Then I was working at the hospital one day and it was a crazy night in the ER and one of the officers brought me back an application and told me I should apply, so I did and I've been here ever since."
Burton generally works the 6 a.m. to 2 p.m. shift on weekdays. She's responsible for answering all emergency and non-emergency calls and dispatching police, fire, EMS or whatever other service is needed. She also enters warrants and stolen property into the system. She even handles dog licenses for the City.
"Normally when I come in in the morning we read the reports from the day before so we can always know what's going on in case we get a follow-up from a previous call you kind of know what they're talking about," she said.
The dispatchers in Iowa Falls must work closely with other local agencies, especially the Hardin County Sheriff's Department. Burton said she's also responsible for dispatching ambulances to Franklin County if it needs help from the Iowa Falls department.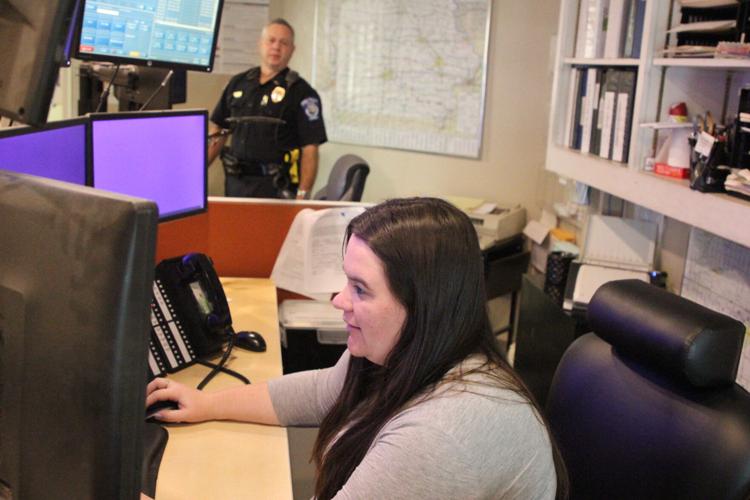 While Burton may spend most of her day behind the front desk staring into a bank of computer screens, that doesn't mean her job is boring. 
"I like that every day is different," she said. "It's not just the same thing you're doing repetitively every day. You never know what's going to happen when you answer the phone."
After six years of answering phones Burton has had her fair share of exciting calls, but often times its the mundane calls that come in from 911 a little too often.
"I would say just that sometimes people call in to 911 for things that are not necessarily an emergency," she said. "Like, maybe they have just run out of gas or something. 911 calls get your heart pumping a little bit and then it's just, 'This isn't really an emergency, but...'"
Strange calls and calls that could only happen in a rural community can be funny at times. Burton said just a couple of weeks ago she answered some 911 calls complaining about cows wandering through yards on the west side of town. 
"The officer didn't believe us because it was right at shift change," she said. "He went and sure enough, there were two cows in people's yards."
Not all calls are as humorous as stray livestock in the backyard. As is the nature of the job, there are some tough calls as well. It's Burton's job to make sure officers and emergency personnel respond to situations quickly and with as much information as possible. There is one group of people that hit Burton the hardest when they're hurt or in danger.
"The hardest calls that we take in my opinion are anything involving kids," she said. "I don't know if that's just my thinking, but kids seem to be the hardest calls."
Those calls probably won't get any easier as Burton is expecting her first child in early December. She and her husband Lucas have decided to name him Camden Scott. She even went out and bought something with his name on it so they can't change their minds at the last minute.
Burton said while she doesn't always learn the outcome of calls she dispatches, it's rewarding when she finds out the result was positive and she had a hand in that result. 
"Here, one thing that we do is emergency medical dispatching. Sometimes you get a call and you need to initiate CPR and get the ambulance going, so knowing the outcome of medical calls can be a win if you knew you helped to get them there," she said.
Becoming a dispatcher has worked out for Burton so far, but she said it takes a certain type of person to really enjoy the job. Her advice for anyone considering giving the job a crack, "I would just say don't be aggravated if you try it and you don't like it because it's not a job for everyone. Typing skills are a big deal and then just paying attention to detail."
Working with the officers has been a positive experience, Burton said. Their willingness to always help in a pinch makes her job much easier.
"It's nice to not just be in here by ourselves and (officers) are always willing to come in and help if the phone is ringing off the hook or whatever. Sometimes it's hard because you're the only one in here. Especially on larger incidents."
Other than some extra cleaning and not allowing as many non-employees into the office portion of the station, Burton said COVID-19 hasn't changed her job as much as it has in many other professions. Outside of the office, Burton, her husband and dogs Buck and Tucker enjoy the simple things in life.
"I like to hang out with my family and friends," she said. "I like to go fishing and hang out with my dogs I guess."