Through her work duties, the Fareway grocery store allows Dawn Crosser the opportunity to get to know the customers.
After a childhood growing up in Iowa Falls, Crosser has been employed by the local grocery store for the past 34 years.
Her current title is Scanning Coordinator, and she's responsible for creating all of the price signage in the store and going over invoices to make sure prices are correct.
"That is my primary job now, but you really have to be ready to do everything," Crosser said. "When we need another checker, I help out with that during busier times."
Crosser's relationship began with Fareway more than three decades ago. She was working for the local A&W restaurant when she came across a Fareway advertisement. Crosser said Bruce Thies, who worked in the meat department at that time, encouraged her to apply.
"I started out checking, and just loved the different people I got to meet. In a smaller community like ours, you get to know a lot more of the customers. You are familiar with everyone and the people like to come back and see the same faces," Crosser said. "I think that's a big part of it."
Crosser said most grocery store employees - no matter what level of experience they have - must be good multi-taskers in order to succeed.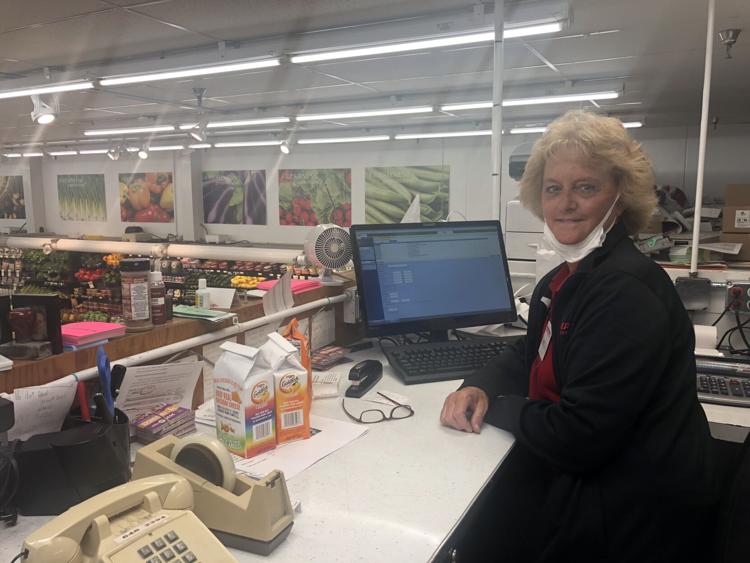 All hands were on deck when the coronavirus pandemic arrived in March. During her 34 years with Fareway, Crosser said she has never seen anything like the reaction by customers in response to COVID-19.
"Probably the craziest thing I've ever seen. It was a snowstorm times 10. People rushed in and carts were full . . . it just never seemed to end. That can really catch you off-guard a little bit but then you hear more about it from media, you understand it more," Crosser said. "I would say we are still busier today because of the pandemic."
Crosser said working through life-altering experiences like the pandemic have also provided a learning tool for all grocery employees. She said employees truly learned what they are capable of, as customers were hoarding mass quantities of items such as toilet paper and cleaning wipes.
Prior to COVID-19, Crosser said Fareway would not order items just to fill the shelf. That changed post-virus.
When she first began serving as the store's scanning coordinator, Crosser said prices were more her responsibility. But Fareway's corporate offices in Boone now handle those decisions, which are then handed down to each store location.
"I get to do all the leg work to make sure the price tags are right. Before, if there was a price not ringing up right, you might have an angry customer. That's one downfall of the job, is you don't like to see customers unhappy," Crosser said. "Boone handles all of the paperwork and we follow up with the on-the-floor stuff."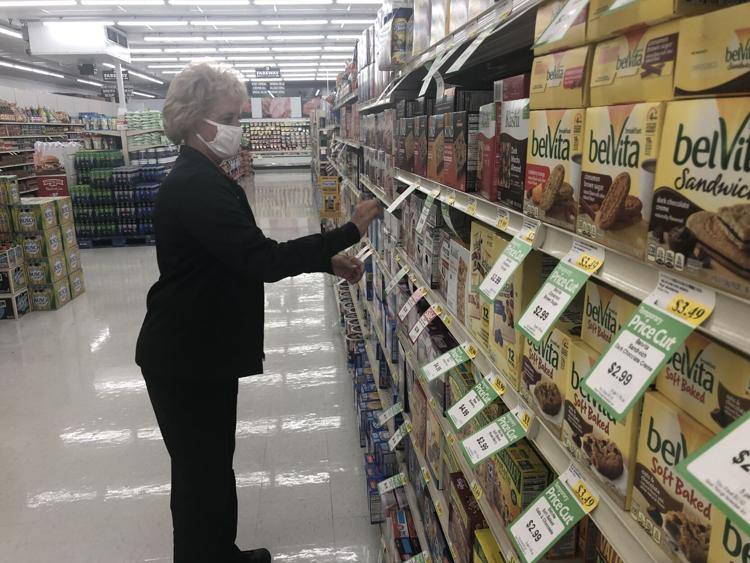 One big change during her tenure is the drastic increase in the amount of varieties of each product. That has created challenges with finding enough shelf space for everything.
Extra varieties have also led to more decisions regarding what Fareway decides to order. Crosser said if one particular variety of a product doesn't sell well, they'll get rid of it and try something different.
Once per month, Crosser hangs 1,500 to 2,000 Temporary Price Reductions (TPRs) in the store. She said her goal is to get those installed at the first of each month. But multi-tasking can also slow that process down because during busier times she may get called to the front of the store to help check out customers. Going back and forth between roles is a perk of the job, but can also be difficult.
"If I'm busy on the floor, I may have to drop what I'm doing and help in another area. Then I come back and need to get back into that headspace of what I was doing with tagging the TPRs, I have to hang all those," Crosser said.
The longtime Fareway employee said she would like to work at least 10 more years for the company, depending on how her body feels. As a result of the physical strain of some of the job requirements, Crosser said she receives cortisone shots in her feet every six months to alleviate pain from standing on the hard floors.
"A lot depends on how much you bend and lift, and there's plenty of low shelf tagging that's hard on my knees. Towards the end of that six-month cycle (of receiving cortisone shots), I really feel it," Crosser said.
She is also curious to see what changes may come at Fareway in the future as well. The company opened its doors for three summer holidays, and will be testing that change for the next five years. While Fareway is known for being closed on Sundays, Crosser said it wouldn't surprise her if the company alters that policy in the coming years.
"I think Fareway will stick to their core values, but as far as Sundays, you hear rumors," she said. "I hope we don't ever do that. It's all the younger generation that's running corporate in Boone now. So you never know what changes may come."