The journey that brought Jim and Alicia Thomson back to Iowa started with a vision board and mimosas.
Alicia and Jim had been living in Riverside County, California, since 1985. Alicia, who worked for the school district, was enjoying brunch with coworkers over winter break and the craft for the day was to create a vision board.
"Mine had a white farmhouse, a grove of trees in the snow, a garden, a country kitchen, a closet tub and right in the middle was Amelia Earhart," Alicia said. "I thought she was so adventurous and I'm going to do what I have to do to get a white farmhouse."
Alicia had heard it was possible to buy a farmhouse on contract in Iowa for a small amount of money down on the property. She decided to start saving the money she was making from selling her crochet work to friends and coworkers. She'd saved $700 when one night Jim came home from work while Alicia was crocheting.
"He said, 'What do you think about moving to Iowa?' and I didn't show him the vision board and I didn't tell him what I was doing," she said. "He had no idea that I wanted to buy a farm in Iowa."
Jim already had two jobs lined up in Iowa, so Alicia gave three days notice at work, the couple packed up everything they had and headed to a little place they rented in Coulter. The pair had lived in Sioux City until moving to California in 1985.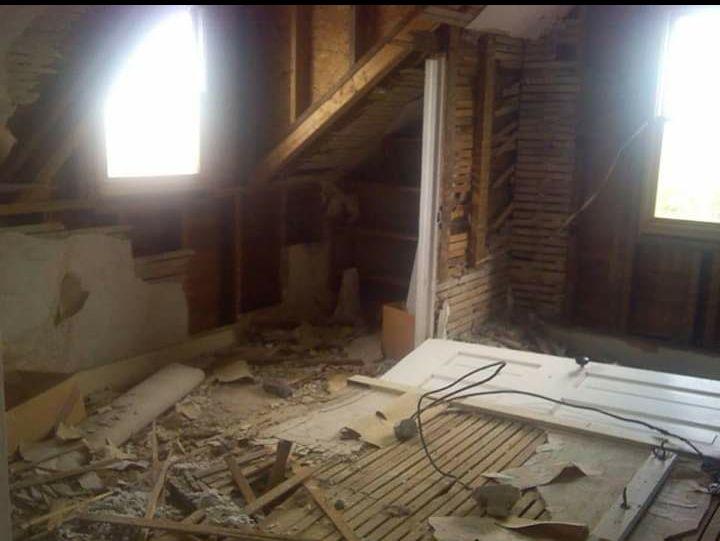 Shortly after arriving back in the Hawkeye State in 2014, Alicia's sister informed them about an abandoned farmhouse about four miles south of Coulter.
"We came and looked at it and I just knew that was it," Alicia said. "We contacted the owners. They wouldn't rent it, but agreed to sell the property on contract for $1,000."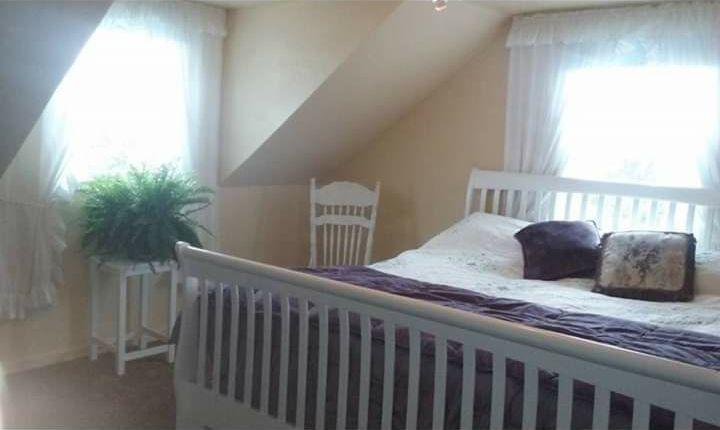 Alicia said she and Jim promised the owners that they would love and care for the 117-year-old house and not demolish it to use the land for farming.
The Thomsons now had themselves their very own farmhouse, but that didn't mean it would be easy sailing ahead.
Cancer and Critters
The farmhouse the relocated couple bought was not the Taj Mahal. It had been abandoned for at least five years before the Thomsons moved in. During those five years kids had broken in and started a fire, and one room was simply uninhabitable.
"The living room literally had the plaster falling off the wall from water damage. The windows, you couldn't see out the windows because the gas seal had broken," Alicia said. "An exterior door that was actually an interior door someone had put up was rotted out. There was no door handle. It was weather beaten and a dirty sock was stuck through the hole."
The living room didn't have any electrical outlets. A previous owner had erected a sun deck that was now part of the living room and he had retrieved and installed 1970s gold shag carpet from his childhood home in Mason City.
All of that was bad enough, but shortly after renovations began Alicia was diagnosed with ovarian cancer. She's now three years out of treatment, and although she'll never be "cured" of ovarian cancer, Alicia shows no evidence of disease as of now. None of that is to say the disease doesn't still impact her life.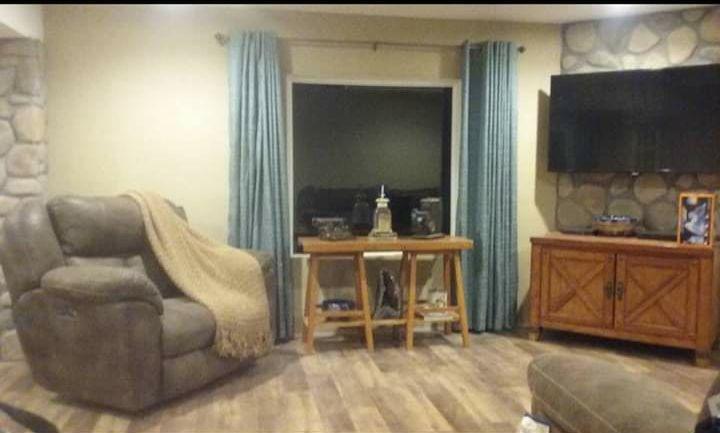 The Thomsons weren't alone on the farm either. At the time Alicia was diagnosed they had taken in 52 animals that either needed to be re-homed or were headed for a kill pen.
Doctors performed surgery that opened Alicia up "hip-to-hip" and she spent more than a year receiving treatment. Ironically, the first room that was renovated was the master bedroom and bathroom on the second floor — a place Alicia was unable to reach after her treatments. The living room essentially became the new bedroom, starting a game of musical chairs to change each room to fit single-floor living.
Three years later the entire landscape of the house is still changing.
The Renovations
All of the pre-cancer plans for renovations were changed to fit Alicia's physical capabilities. The dining room became the new kitchen and the old kitchen is being transformed into a master bedroom along with the boot room becoming a master bathroom.
"One of the reasons we decided to make the dining room the new kitchen is that since my surgeries I couldn't reach into the lower cabinets inside the old kitchen," Alicia said. "So we designed a kitchen that all the lower cabinets are all drawers. So I don't have to reach in under the cabinets. I have no upper cabinets because I'm only 5'2" and I can't reach."
In the old kitchen, the cabinets had to be left open in the winter time or the pipes would freeze, but with all the plumbing now under a center island, that will no longer be a problem. Alicia said she's loving her country-style kitchen featuring shiplap and soapstone counter tops.
The Thomsons have managed to renovate the living room, upstairs bedroom, kitchen and dining room without any professional help, all while getting through cancer surgery and treatment.
"We enjoy DIY projects," Alicia said. "I'm really proud of the work Jim's done making this into a home, where before it just sat empty for so many years. I hope we get to stay here for many more years."