In South Hardin High School's Career Exploration course, juniors and seniors get a taste of the real world through temporary placement in a job of their choice.
Students learn alongside professionals in the medical, education and financial fields. Some also learn what it would be like to make a career of agriculture.
Over the years, students have gained first-hand experience with horse trainers and breeders, on cattle and hog farms and at grain operations.
"Many times the biggest benefit is the student learns what he or she does not want to do," said teacher Nancy Cook. "We are limited in rural Hardin County, but a surprising number of placements have said yes to hosting a careers student. We have developed relationships with over 40 businesses in our communities where a supervisor scores the high school student as they are trained and hopefully becomes a valuable part of that business."
Before the students are sent out on location, they learn how to write a cover letter and resume for the job they want to pursue. Every day they must fill out a career log with a description of what they did.
Cook asks students to find their own placement. While some know right away where they want to go, others need a little more counseling. The students are responsible for contacting the person they want to work with.
"It helps you meet people and helps you get more used to talking to adults," senior Thain Friest said of the experience. "It helps prepare you for when you're actually working."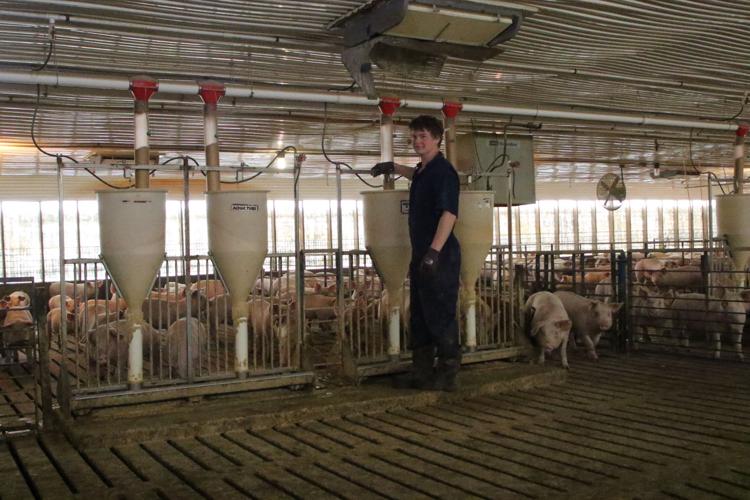 Cook has one class period in which to monitor and visit students. Throughout the semester she drops by unannounced to check in. She also checks in with the host to make sure the students are showing up on time and being helpful. Cook checks daily logs and thanks businesses for participating.
On the final day of the program, students are back in the classroom to talk about the experience they had.
This semester Friest is one of two ag-related placements.
Friest has always been interested in agriculture. His family raises cattle near Hubbard, and all of his older siblings are going into ag related fields. Friest said he wanted to try something different and learn about pigs – especially because it's an area that interests him for a possible future career.
Thain's older brother, Brant Friest, is currently employed by Brett Halvorsen, which gave Thain the idea to contact Halvorsen about placement.
Thain is the third South Hardin Career Exploration student that Halvorsen has had on his farm. He's a hobby cattle farmer, has hog barns, dispatches 25 livestock semis, and also drives semi himself. Friest is in charge of pig chores and helping with the cattle.
When the pigs arrive at the 2,500-head barn south of Buckeye, they're around 12 pounds. They stay for around 160 days, and then they're off to market.
"He's doing it all," Halvorsen said of Friest's work. "He will be here through an entire term, from start to finish with a group of pigs. The whole in-between process of marketing and everything. Not just helping, but the idea that it's his responsibility. I don't go in there. He does it. It's up to him to let me know if he needs something."
The only thing that Friest can't do is drive the semi. He doesn't have a CDL and he's not yet 18 years old.
Friest's time spent in the barn varies. Especially now that the pigs are larger. When they were small, he spent more time on medical treatments and taking care of them. Now, he's there for 25 to 30 minutes a day.
"I pull deads and treat the sick pigs. I make sure they have feed and water. Make sure the air quality is good and check the ventilation, things on the computer monitor. Just make the pigs as comfortable as they can be so they can do the best they can," Friest said. "There's harder days than others, but that's just part of the challenge."
Managing the health of the hogs can be the most difficult. Anyone can check whether the pigs have feed and water. But not everyone is going to know if they need medicine.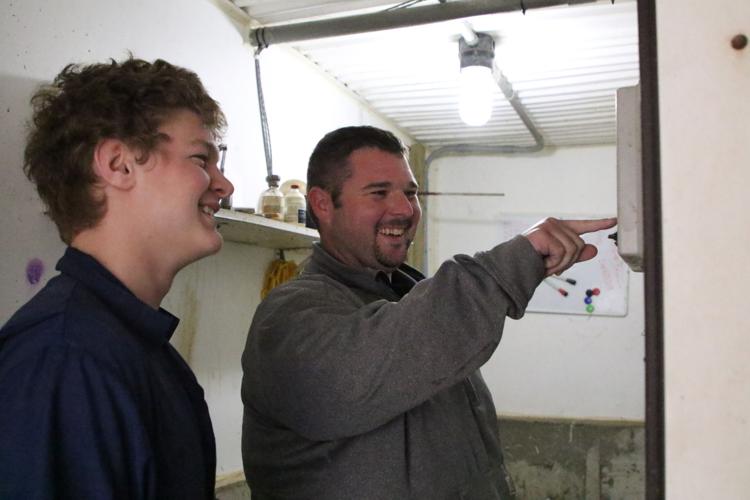 "Just the instinct I guess to know that something is wrong, something's not right," said Halvorsen.
Halvorsen, a 2003 Eldora-New Providence High School graduate, took the careers class while he was in high school. But it was different - students didn't have to fill out a daily log and there was no time spent in a classroom. Now, he said, it's as if he's come full circle.
"It's neat to be on the other end of it. Just makes me feel old I guess. Nice to see something that I got to take advantage of, kids still are," he said.
Friest said he gets more out of the class than he would reading from a textbook.
"It's hands-on and I'm a hands-on learner," said Friest. "I get bored just sitting in class. There's always something different out there."
Halvorsen also gets something out of it as well – more than just a laborer once a day.
"It gives me more time. Less I have to worry about every day," Halvorsen said. "(Also) the satisfaction of helping younger kids that want to be involved with agriculture. The more he knows, the more he learns now the easier it's going to be for him to decide what he wants to do for a part-time job or a full-time career. By doing this he can either decide he loves it or decides he hates it."
The Careers class isn't a requirement. But Friest said he thinks it should be.
"Just get everybody to go and try something," Friest said. "You don't have to work in that field the rest of your life."