The Eldora EMS has had its share of ups and downs over the last few years, but Director Maile Carter probably had no idea she and her crew would still be dealing with COVID-19 in October when she took over the head position last March.
Carter said the pandemic has forced big changes in some areas and not so much in others. Finding materials, especially personal protective equipment, has been one of those big challenges.
"Supplies has been a struggle for a while," Carter said. "We were able to get some through Emergency Management, but most of our places were out of supplies completely." 
She said that while ambulance services in Iowa Falls and Grundy Center source most of their equipment from the hospitals in those communities, Eldora does not have that option. Carter said the cost of gloves has risen from $5-8 per box, to as much as $20, and a 50-count box of masks has gone from around $7 to as much as $36.
Carter said improved communication between crew members and dispatchers has been essential as well. Every patient is treated as if they have the virus.
"One of the things is we talk with dispatch so we have a good idea what we're going into when we go to the call," she said. "The other thing is every patient gets a temperature check. We check our temperatures twice a day if not more."
In addition, the crew tries to use each of its two ambulances differently. 
"We try to take the same truck," Carter said. "We have one truck that's our 'COVID' truck. So if we know we're going on COVID we will take that truck to try to keep the other one as clean as possible. We still do all the (decontamination) after it."
Somewhat surprisingly, Carter and her coworkers do not wear masks when they are working at the EMS facility in downtown Eldora. Carter said the reasoning is that the crew is in close quarters all of the time. As soon as they hop in the ambulance to go on a call the masks go on.
Carter said she's in the business of keeping her patients safe and healthy while on duty, but she's not in charge of anyone's personal choices outside of work.
"I am a big believer in the fact that everybody has their own right," she said. "That's what this country was based on. That being said, I always wear a mask into the other stores. If it's your choice not to, that's great. Don't complain if you get sick.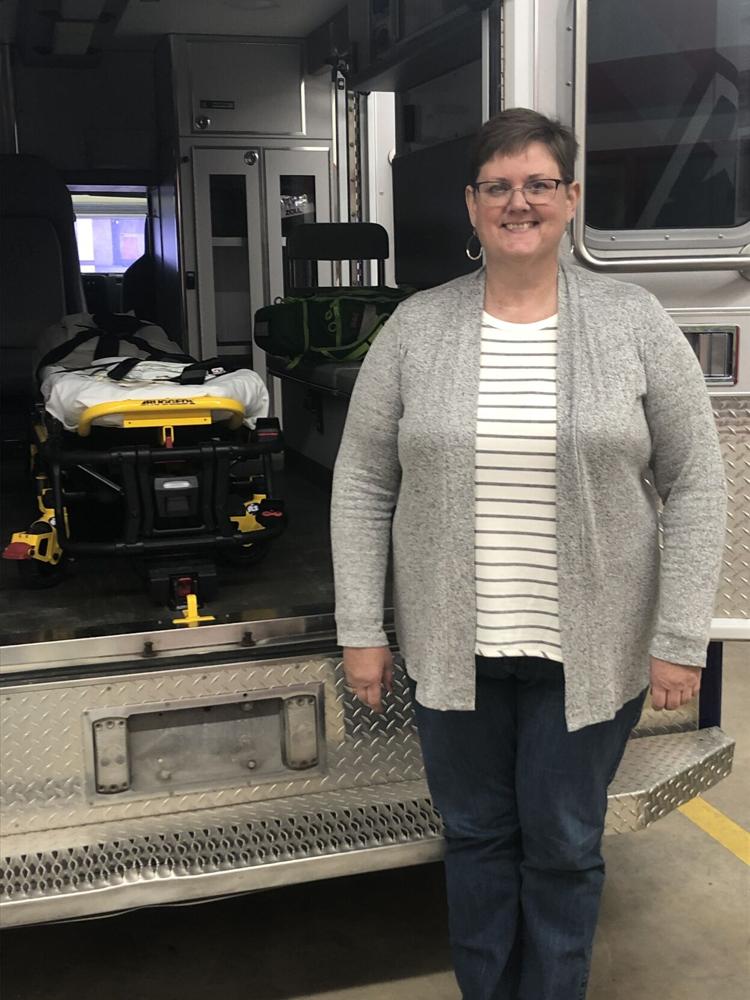 "There's so many mandates and so many this and so many that. Instead of pointing fingers at our government and saying, 'You should do this', you should just do it yourself. Put that responsibility on yourself."
Carter said despite all the challenges, morale at the office has stayed strong. She said one driver decided to retire because he was an older gentlemen who didn't want to take any chances with COVID-19. Carter said the rest of the crew completely understood.
While the coronavirus has been understandably at the front of most people's minds the past seven months, Carter said she and her crew are used to taking precautions against all sorts of transmittable diseases. For them, it's par for the course and just another thing to add to the list.
"In EMS, people don't realize or have never thought about the fact that every house we walk into and every call we get, we walk into someone else's environment," she said. "Flu, tuberculosis, measles, mumps, chicken pox - all that stuff is communicable diseases. I'm more worried about bed bugs, cockroaches, vermin. People can't believe the stuff we've seen and homes we've been in that we cannot walk through."
Carter said the other part of the job many people are unaware of is the hours crew members put in. Full-time employees work 24-hour shifts, although calls for patient transfers can be refused due to the size of the staff. Carter hopes to add either one full-time crew member or multiple volunteers in the near future. The city council was scheduled to take the matter up this month.
"The biggest thing is we had a couple people move out of town and those were both people that picked up some hours every month," Carter said. "By August, with the exception of two volunteers and our full-time staff, the rest of the staff combined only did 60 hours of on-call time."
Carter said she has needed to work as many as 15 consecutive days due to staff needs. When she is afforded a bit of time outside of the office, Carter has a bit of a green thumb.
"I love to garden," she said. "Flower, landscape. I just picked my first batch of tomatoes." 
She said her staff is the best, making the long hours doable. She loves the fact that they're all there for each other and there isn't any sort of hierarchy based on education or position when they're out on a call. If a driver sees something important a paramedic misses, they're empowered to speak up without worry of reprisal. 
"It's more like if you don't know how to do something that's OK. Let me help you. Let me teach you," Carter said.