A leap of faith brought Dr. Sara Anderson to Eldora 15 years ago. But hard work, determination and love has kept her busy and thriving in her dental practice over the years.
"It's kind of a whirlwind," said Anderson. "It's crazy that we came here, it's crazy that we didn't know anybody."
Anderson's dad was a dentist. He died of colon cancer when she was a sophomore in high school and she wanted nothing to do with dentistry. But she did want to do something in the medical field, so she started looking at becoming a pediatrician.
She bought all the books and was studying for her MCAT when she started dating her now husband, Marc Anderson.
"I had always been goal oriented towards school and wasn't worried about family. I have uncles that are physicians and they are always on call. They missed Christmas, they missed Thanksgiving, they missed birthday parties. And in dentistry, you don't," Anderson said. "You do every once in a while, but it is more conducive to having a family."
So, she switched gears and started studying for the Dental Admissions Test (DAT). She and Marc got engaged at the end of May and they married Sept. 1, the first week of dental school.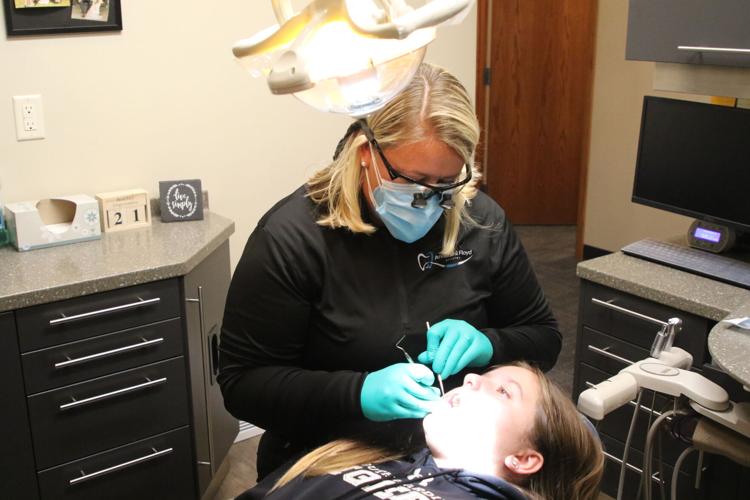 Her junior year of dental school, Anderson started looking for the couple's next stop. She sent 30 letters to small towns across Iowa (population 10,000 and smaller). She knew she wanted to live in a small town to raise a family.
Eldora happened to be one of the towns on the Andersons' list because Sara is from Creston and Marc is from Rockford, Ill., so Hardin County is a good split between the two.
She looked into buying an office on the southeast corner of the town square, but the owner was asking too much. So instead, she bought the building that was once Snow Cream.
"Looking back, we're nuts, to be honest with you," she said. "We moved here and I was like 'What are we doing?'"
When they moved, the current building still needed renovations. The City of Ackley called and said it had an office. The town's former dentist had just quit. While the equipment was older, it was doable. So with help from the City of Ackley for financing, Anderson worked for six months there before the Eldora office was ready. Marc helped with the business side of it, while Sara did all the dental work.
"You put yourself out on a limb and pray that everything is going to work out OK. But, for the first six months that I started, I probably didn't sleep a good night for months. It's like any new business that you start," Anderson said. "I guess I'm stubborn and didn't think I would fail. I knew I was hard working and I knew I was a people person, and I love people. So, you just pray that it works and go on."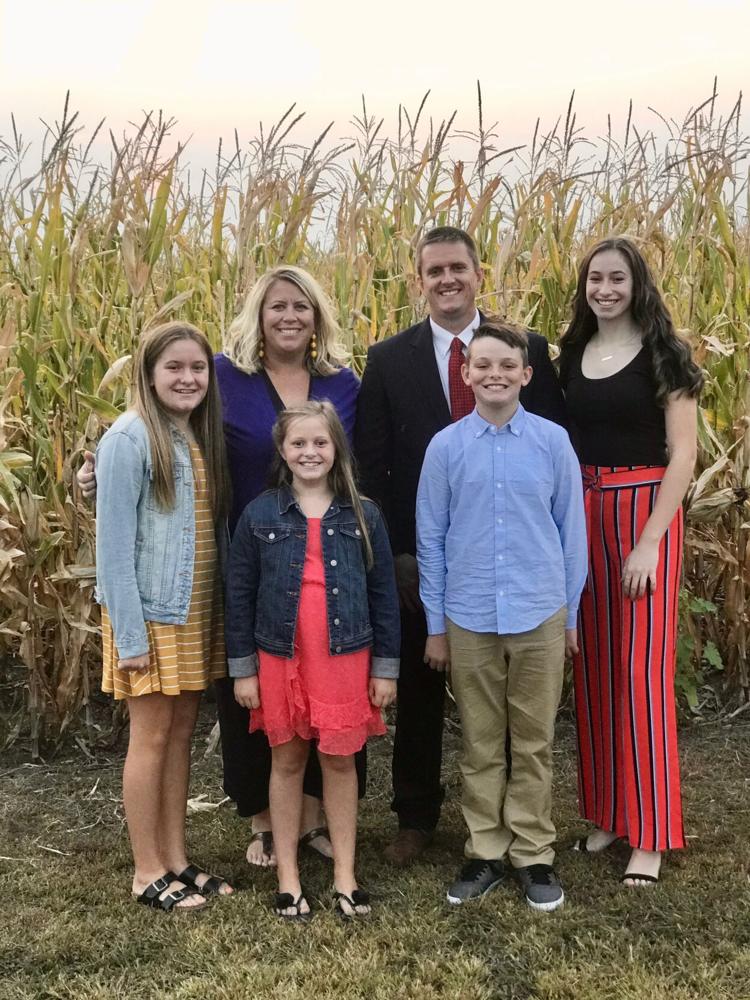 When the family moved, their eldest daughter (Ellie) was four months old. When Sara had twins Lucy and Garrett (who are now 11), Sara switched from working Monday through Saturday, and instead worked Monday, Wednesday, Thursday and Friday until noon.
In 2015, she sold the Ackley office and thought she would have a little more free time. But that assumption didn't come true, and as her four children (Sophie is 9) grew, Sara knew it was time to bring someone on to help with the work load. First, she worked with the University of Iowa to find a second dentist. When that didn't work out, she found a different connection. Her brother-in-law's first cousin had graduated from dental school and was working in public health.
After an hour of talking, they thought it was the perfect fit, and a week later Kale Floyd moved his family from Kansas City to Eldora – sight unseen.
Floyd started working in July 2017, and on Jan. 1, 2019 he bought into the practice, changing the name to Anderson & Floyd Dentistry.
"It's been one of the bet things that has ever happened to me," Anderson said. "I can coach my kids' games and I can go to Ellie's games and I can work less and be more of a mom."
One of the hardest things for the mother of four is mom guilt.
"Getting over that, 'Yes I'm going to be a mom and yes I can still be a good dentist' . . . it took me a long time to get to this point where I'm OK with myself. I think probably just because I'm older now," said Anderson. "Working and trying to be a good mom, I struggle with everything. Because you want to be a good example for your kids but at the same time be there. And my kids have said to me 'Why can't you stay home?' Well, that's not who I am."
In the early days, her husband worked the front desk and she had just one assistant. Now, there are 14 employees – and they added more space a couple of years ago. The building on Edgington Avenue started out 2,000 square feet and they doubled the size of it to add five more rooms.
"Marc has been a huge blessing," she said. "I'll be perfectly honest, I couldn't do what I do without having a supportive husband. Period."
For two months this spring, all Iowa dental offices were shut down. During that time, Anderson's office did a lot of teleconferencing. Patients messaged the office when they had problems, and they were diagnosed remotely. When needed, Sara did extractions.
Since returning, Sara said not much has changed. Employees in the office were already wearing masks and gloves, changing their gowns and wiping everything down.
"We wear N95 masks with a mask over it, and then either a face shield and goggles of some sort. We were already wearing gloves, we were already wearing gowns and long sleeves and we do all of our laundry on site so pants, tops and everything, you change your clothes and go home. So, yes, and no. The level of protection and the time that we allowed the chemicals to sit, yes. Like the time between patients, yes," Anderson said. "We have people check in, we screen them for COVID and then they go back out in their cars and sit. So you don't have people waiting sitting next to each other in the reception area. But other than that, we got 12 air purifiers. We bought a lot of extra stuff just to try to keep everybody safe. The length between the time that we sat the patients increased so that you could basically debug the area."
Though things can get a little busy with four kids – all in sports – and no family close by, Anderson wouldn't change a thing. She loves what she does and who she works with.
"I love dentistry. I love the kids. Our youngest patients I think are 1 and we have a 102-year-old woman that still comes in. It's kind of fun because you get to see every age and my days are never, ever the same," said Anderson. "I can do a root canal one morning and then 17 extractions in the afternoon. There's no one day that's the same. But, that's what keeps it fun. I'm not a good sitter.
"I always joke that I'm going to do a profession that people actually like to see, like I'm going to own my own flower shop in my next life," Anderson added. "But, no, I love it."