Jordan Derhammer isn't your typical pastor.
For one, she's young. She was the youngest member of her class at Iliff School of Theology in Denver, Colo. And she's the youngest pastor at the Iowa Annual Conference of the United Methodist Church.
She's also not a very serious person. In fact, she describes herself as "goofy".
But beyond that, she has all the markings of a pastor who wants to share her faith and create welcoming spaces for all people.
"My biggest goal is to share God's love and God's grace with people, no matter who they are, no matter what their past is," said Derhammer. "I want to meet people where they are and I want to create a place that is full of grace and full of love and is welcoming for who they are and not try to change them."
Derhammer is sharing that message as lead pastor at Alden United Methodist Church and as associate pastor at Iowa Falls First United Methodist Church. The Cedar Falls native has been serving the churches since July 2019. But she's known for many years that she was headed for a life in the church.
"When I was in eighth grade I saw how much the pastors loved and cared for their congregation and cared for people and I knew that I wanted to be able to do the same to give back."
Derhammer says she was an active youth at Cedar Falls First United Methodist Church, serving on committees and pitching in where she could.
"I was the crazy church youth person," she said. "I loved seeing the underbelly of the church. It was fascinating."
She describes a church as being like a piece of cross-stitch. The front is beautiful, with every stitch in its place. But the back, where thread is tied off or criss-crosses, is often messy.
"On the outside of the church when you go on Sunday morning, it's beautiful. Things are working," she said. "At church, you have those conversations, you talk about the ministry that God is calling the church to do, you work out things, you make sure the roofs aren't leaking. I love what it takes to create a church – the underside of things that normal everyday people that come to service don't see."
Derhammer got her first church assignment as a licensed local pastor after earning a degree in religion from the University of Northern Iowa in 2016. She spent several years at a rural Cedar Falls church while she was earning a master's degree in divinity. When that was complete in 2019, she underwent the process of becoming a provisional elder in the church. That included writing a 50-page paper and submitting to a day of intense interviews. She'll go through a similar process next spring before she can become an ordained minister.
In her current role as a provisional elder, Derhammer set a goal of building relationships over the course of her first year.
"It is difficult at first, but I believe that we're all children of God, we're all connected and so you just make connections," she said. "That's what the first year is all about – making connections, getting to know people. Getting to know each other and have them be able to get to know me. You have to create that relationship and trust."
But Derhammer's first year has proved to be anything but typical. Eight months in, the coronavirus pandemic was detected in Iowa, and everything about the work she does changed.
"Things were going great and then March happened," she said. "I keep telling people they didn't teach you this in seminary – how to deal with a pandemic. It's a wild adventure."
Almost immediately, the church was closed. Iowa's United Methodist bishop shut down church services and all in-person activities for the foreseeable future. There was no worship, no small groups could meet, youth groups were canceled.
"You had to think of innovative ways to reach people," Derhammer said. "We started recording our services live on Sunday morning. I started a small group via Zoom. I have the youth group online."
But this is rural Iowa, and Derhammer knew that a portion of the people she was used to seeing at church either could not or would not access the church's services online. Some areas of the county have unreliable internet service, and other people don't know how to use YouTube or Facebook.
"So I was always thinking of how could we reach them," Derhammer said. "We tried sending cards. But it was tough. It still is. And there are people who are still scared to come back to worship."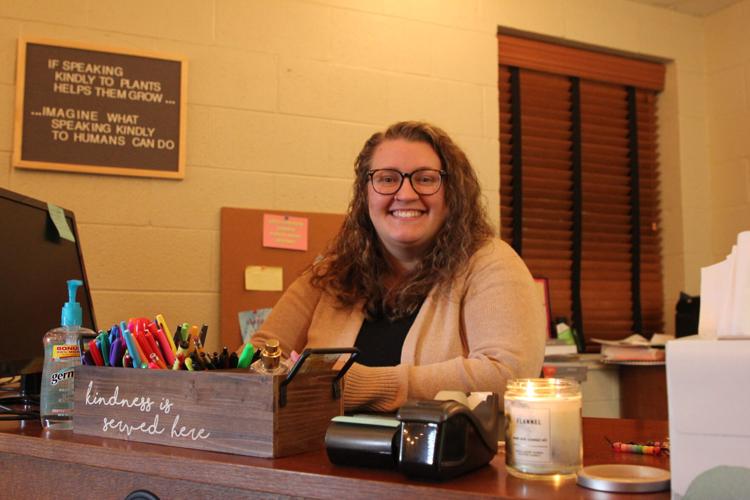 The church began in-person worship some time ago. Earlier this month, in-person Sunday School and youth groups resumed. Derhammer said she was excited, but nervous too.
"I'm worried that we might have to shut down again," she said, referring to continued COVID-19 activity. "How do you know when to shut down again? There's no magic number." For that, she'll rely on lead Iowa Falls First United Methodist Church Pastor Erling Shultz, as well as conversations with others in the local church community.
"It's a collective conversation," Derhammer said. "In the church nothing's a secret. We have committees. We have an ad council, we have staff parish relationships committee. We're always in constant conversation about what's next, what procedures we need to follow."
But even when COVID-19 is no longer a concern, Derhammer said she believes some of the things that were implemented because of the virus will remain.
"I don't think things are going to go back to what our normal used to be," she said earlier this month. "I think we're always going to have to have an online presence. That's just the way of the future. It's how we should be living.
"I think people are always busy on Sunday morning and people are going to be able to watch worship online," she said. "Also, in the winter people can stay home and feel OK staying home if we're still recording on Sunday mornings here."
There are things she won't miss. Masks on the faces of people at worship – "It's weird looking out into the congregation and seeing just eyes – no facial expressions," she said.
Derhammer's had to adjust her practices.
"It's hard to comfort people," she said of the restrictions intended to slow the spread of COVID-19. "It's really hard because I know people are in the hospital and I can't go visit. I know people who mental health is a big issue right now with quarantine. And being stuck in the nursing home, I can't go visit them because of the pandemic."
Outside of church, Derhammer enjoys time with her two cats, Rudy and Gertrude, and she likes to work with her hands. She's a crafty person – crocheting and cross stitch are her favorites, things she can do while listening to audio books.
"Doing things with my hands is really important," she said. "In the church world you don't always necessarily see the results and sometimes you need to have the satisfaction of having good results. You can see something physical in front of you."
Derhammer describes herself as "super chill, super easygoing". But she, like everyone else, has to remind herself that other people have opinions that differ from her own.
"I love all people, even the people that I disagree with," she said. "They are also children of God, and God loves them just as much as God loves me."