The description of the Emerging Iowa Leader Award leaves little wonder why Jacob Handsaker received it.
The Iowa State University alumni award honors agriculture and life science graduates "who have taken on significant leadership roles early in their careers in bettering agriculture and life sciences in Iowa through communications, education, relationship-building, engagement, and are providing outstanding alumni service. Honorees must be age 40 or younger at the time of nomination, live or work in Iowa, and demonstrate high potential for future professional growth."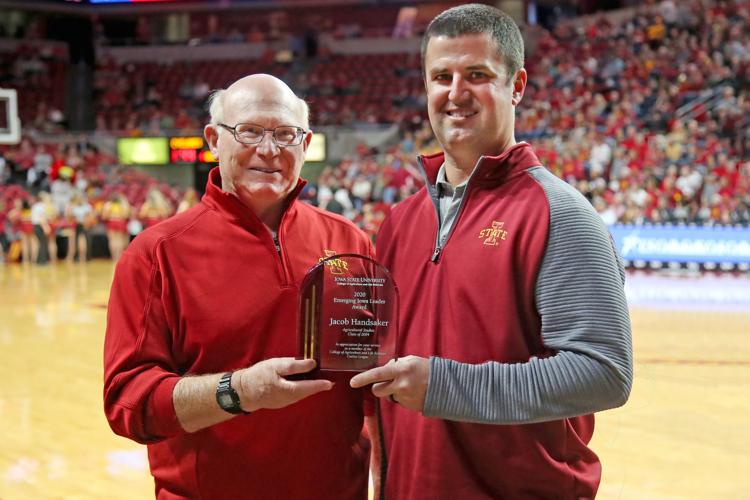 Handsaker fits that bill to a T as both a farmer and business owner near Radcliffe. He received the award from the Iowa State University College of Agriculture and Life Sciences on Feb. 8.
A farmer and pork producer in Hardin and Story counties, and co-owner of Hands On Excavating, Handsaker received his bachelor's degree in agricultural studies from Iowa State University in 2004. While he spent time working for an uncle at Innovative Lighting for a time in college and immediately after graduation, farming is all he ever wanted to do. There were other career options, but none as appealing.
"It was the goal all along I guess," Handsaker said. "I grew up on the farm with my dad and grandpa and brothers. I went to ISU for ag studies and entomology and came back home a few years later and have been here since. But there was never a push. It was always if we can make it work as a family, great, if you want to do something else, go follow the dreams."
Even while working for Innovative Lighting, he farmed as he could with the family. In 2008, the opportunity to join the farming operation full-time came about. Two years later, another opportunity arose with Hands On Excavating.
Handsaker said that business just kind of happened. His dad, Jim, and uncles bought an old excavator at an auction. The intent was to do their own excavating and tile work.
"We had backhoes around the farm to do our own stuff, but this was the right price at the time," Handsaker said. "It was a 'have it around to have it around' type of thing."
Bob Lepper, who had his own excavating business around Hubbard for some 30 years, had retired. Handsaker said he worked for him while he was in high school. They called him up and asked for help with the new piece of equipment.
"We had no idea even how to run one," Handsaker said. "So he came and showed us the ropes. Then people heard Bob was back in the area, so they started calling. So, utilizing his good name and experience, we learned a lot from him."
So much so that the Handsaker family started its own excavating business.
"Bob worked with us over the summers and then he'd go back down to Branson in the winter," Handsaker said. "We had a very steep learning curve and very accelerated learning. So my brothers Brett and Brian learned a lot and got started."
Now, a decade later, Handsaker said the excavating business has grown into eight full-time employees, five excavators, two skidsteers, two backhoes and a lot more. Most of their work is done in Hardin, Hamilton and Story counties.
"We stay pretty close to home," Handsaker said. "We've built a good client base that we work hard and do our best for. But word seems to spread and the phone calls keep coming."
Handsaker said he never thought owning a backhoe for personal use on the farm would lead to this.
"Not a chance, and now we've seen it grow every year," Handsaker said. "But I never really expected it. Certainly I didn't expect it to be where it's at and then continue to grow."
Handsaker still farms as much as possible, but he said he and his brothers have their little areas of expertise. He said he's more in the excavating business, with brother Brian bouncing back and forth between the excavating business and the farm. Brother Brett is in charge of the farming operation.
"I'm in the bidding and design stuff," Handsaker said. "I help out on the farm when I can. The neatest thing about our operations is that we all have a niche. We are all able to focus on our part of it."
As both a farmer and excavator, Handsaker said he and his brothers have special insight into both. As a farmer, he knows what a field needs to produce and deliver profit to the farmer. As an excavator, he knows why tiling is important and how what he does makes a difference in the environment.
"We understand more than just the base level of tiling or moving dirt," Handsaker said. "We like to think that we understand the full process, the why tiling or something else is needed to take care of the environment and make me more profitable as a farmer."
Handsaker said Hands On has been getting more into the conservation work of excavating. He said he's worked on wetlands, bioreactors and saturated buffers.
"It's the things that are going to enhance the water quality for everybody," Handsaker said. "We've done a lot throughout central Iowa. For me, as also a farmer, it's talk the talk and walk the walk. I get a lot of questions from customers who know us and our farming operation. We get told quite often to tile someone's farm the way we would tile it if it was ours. We feel a lot of responsibility to uphold that trust."
Handsaker said winning the ISU award was an honor, adding that what he and his family do every day is something they would do anyway. He remains active with ISU, and the family hosts visitors every chance they get. It's just part of sharing the story and showing people what's out there. That story has been shared with people from around the world.
"They are very interested in how things work, and that's a good thing because we want to share our knowledge and share what we're doing well we feel," Handsaker said. "There have been a lot of cool opportunities to share what we do and how we do it. It makes us all better, it holds us to a higher standard."
Handsaker said his family isn't the only one sharing their operation with whomever wants to know more. He said it's a good thing to do.
"There's a lot of farmers out there who do this stuff right," Handsaker said. "We're in the majority of the farmers who are working hard every day to make things and do things right for sustainability, the environment and profitability."
Opening up and being involved is what won the award. Handsaker said focus of this year's award was on entrepreneurship, and community and college involvement. All things, he said, he'd do even without the chance of receiving an award. He didn't even breach the idea of being worthy of the award or not. He didn't need to.
"Jacob is a highly active alumnus. From serving as a member of our young alumni program, the Curtiss League, to hosting university visitors on his farm operation and participating in water quality research projects with CALS faculty, Jacob has been a wonderful advocate and champion for Iowa agriculture and Iowa State University," said Daniel J. Robison, holder of the endowed dean's chair in the College of Agriculture and Life Sciences
Handsaker checked off all of those boxes to win the award.