For weeks, the number of active COVID-19 cases in Hardin County has been decreasing, but this week that number crept back up after reports of more new cases of the disease.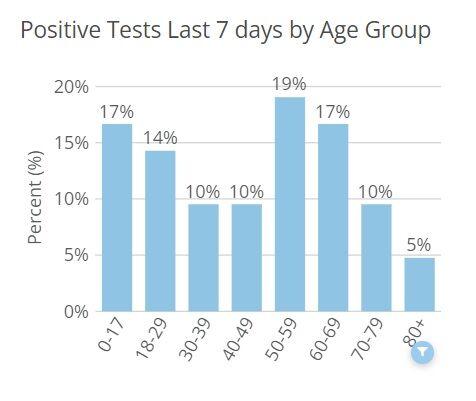 According to data published on the Iowa Department of Public Health's coronavirus website, there were 42 new cases of COVID-19 reported in Hardin County residents between Nov. 17 and 23. That's compared to 37 new cases the previous week, and 21 the week before that. Hardin County's new cases are spread out over age ranges. Nineteen percent are age 50-59, 17 percent each are in the 0-17 and 60-69 age ranges, and 14 percent are 18-29, with the rest distributed over the other age groups.
Of the 2,843 cases of COVID-19 that have been recorded in Hardin County since March 2020, 2,674 people are reported as having recovered and 53 Hardin County residents have died of the disease. That leaves 116 known active cases, up from 90 last week.
Hardin County's 42 new cases in the last week qualify it as an area of high transmission of the virus. According to guidelines published this summer by the Centers for Disease Control and Prevention, any county that has 100 or more new cases of COVID-19 per 100,000 population in a single week is an area of high transmission. Forty-two cases in Hardin County equates to 249 cases per 100,000 population. People in areas of high transmission are advised to wear face masks when they're inside public places.
Transmission of COVID-19 had slowed earlier this month after a surge in cases in September and October. But statewide data show infections and hospitalizations increasing across Iowa. IDPH reports that on Tuesday, 623 people were in Iowa hospitals for treatment of COVID-19, up from 544 one week earlier. A graph on the state's coronavirus website reports that as of Tuesday, 26.88 percent of the state's inpatient hospital beds were available. The state is no longer collecting or reporting data about county-level hospitalizations. 
Vaccinations continue
The rate of vaccination of Hardin County residents has continued at a slow, but steady rate. The state reports that as of Tuesday, 8,647 Hardin County residents – 51.3 percent – were fully vaccinated, an increase of 48 from the week before. The state doesn't break down the number of children age 5-11 who've received a single dose of the pediatric Pfizer-BioNTech vaccine since it received emergency use authorization two weeks ago. A chart on the website does report that 54.2 percent of Hardin County residents have received at least one shot of a COVID-19 vaccine.
ZIP code data released
A report issued last week by Hardin County Public Health shows the areas of the county with the highest transmission rates of COVID-19. Every Friday, the county's public health agency releases a report detailing infection totals per ZIP code. The Nov. 19 report showed the Eldora ZIP code had the highest transmission rate for the week of Nov. 12-19 with 15 new cases, which is 472 per 100,000 population. Hubbard had the second-highest transmission rate with five cases, which is 368 per 100,000 population.