Eleanor and Evelyn Schiller lived simple lives. After a childhood on a farm north of Alden, they left home to find work in offices. Their mother's health brought them back to Hardin County, and the sisters moved into a nondescript house on Alden's Main Street. They never married, never had children. They saved their money, visiting the library to read newspapers and books, and driving an old pickup truck to get around town.
"I swear most people who would see them on the street would swear they were homeless or didn't have any money," their attorney, Dan Stockdale, of Iowa Falls, said. "They didn't spend any money on anything."
But in the aftermath of the sisters' deaths – Eleanor in 2017 and Evelyn this year, both at age 94 – the fruits of the sisters' frugality are being made public. This week, their wishes were carried out when eight Hardin County organizations received donations totaling nearly $4.5 million.
"I'm just blown away by the impact of what they have done," Rachel Lewey, the sisters' Edward Jones financial advisor said. "The impact their gift will have on our little neck of the woods, on people, on families."
The sisters designated specific amounts of money to go to seven local organizations, with gifts ranging from $10,000 for Relay for Life of Hardin County, to $100,000 for the Ellsworth College Foundation. Other beneficiaries include the Alden Cemetery Association, Barlow Memorial Library, Grace O. Doane Alden Public Library, Hansen Family Hospital Foundation and Hardin County Historical Society. (Find photos of each group here.)
The rest of the money - $4,250,000 – goes to the Hardin County Community Endowment Foundation. HCCEF Program Director Tam Elerding and the organization's board members did not know how much money they'd be receiving at the check presentation on Thursday, and they reacted with a scream and tears.
The HCCEF donation will be added to the Schiller Fund, an endowed account the sisters established in 2016 with a gift of $150,000. Each year, the interest from that account – about $8,000 – is given to projects and nonprofit organizations in the Iowa Falls and Alden school districts area, a stipulation established by Eleanor and Evelyn Schiller. The infusion of $4.2 million in the fund means the Foundation will be able to give an additional $200,000 per year in grants in Iowa Falls, Alden and Buckeye.
"It's just so much to fathom," Elerding said Thursday afternoon. "I'm absolutely blown away."
* * *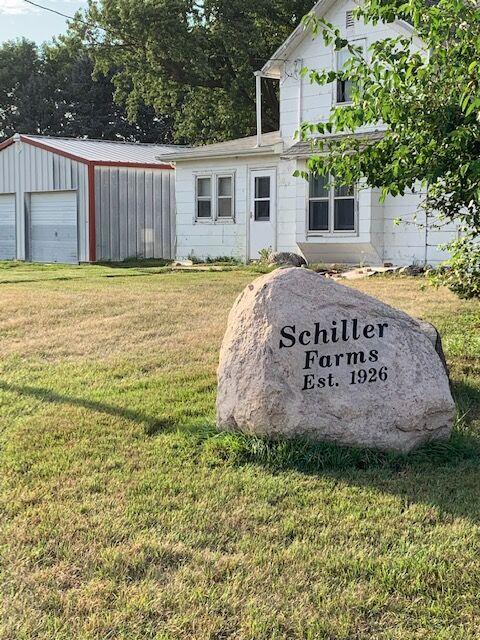 Those who knew the sisters say they wouldn't have wanted any attention paid to themselves or the gifts. The women were intensely private, and wanted no public thanks or even knowledge of their wealth.
"I'd say to them 'What you're doing is amazing,'" Lewey said of her conversations with the sisters about their plan to give the money away. "Evelyn would just wave her hand."
The Schillers' wealth came from several sources. First was their family farm. When Evelyn returned home to care for her mother, she took over management of it. The Schillers rented the land for years, and upon Evelyn's death, it was sold.
"They didn't think of the farm as being worth a whole bunch of money," Stockdale said. The sale netted nearly $2 million.
The sisters also lived very frugal lives, and they invested their money, although they had different ideas about the best way to invest.
"Eleanor would always make fun of Evelyn for putting her money in the stock market," Stockdale said. "Eleanor would put all of her money in CDs, and some years the CDs were a better investment. Every year they'd go back and forth about who was the smarter one."
It was good-natured ribbing.
"Eleanor had a great sense of humor and was always cracking jokes about her sister," said Mike Nissly, of Nissly & Nissly. He prepared their taxes for more than 20 years.
Lewey said she spent a great deal of time with the women, and "loved them dearly."
"Evelyn was one of the savviest stock pickers I have ever known," Lewey said. "She was very, very smart. A constant consumer of the Wall Street Journal and other financial publications. She ate those up. She'd call me up and say 'Rachel, what do you think about this stock,' and she always had Jim Cramer [host of the CNBC show Mad Money] on in the background as loud as can be."
Often, Lewey's phone conversations ended with their invitation for her to visit the sisters' Alden home, where she talked stocks with Evelyn and heard stories from Eleanor about their childhood on the farm.
It was the women's financial advisors – Lewey and Nissly, especially – who encouraged the Schillers to think about the future. The women didn't have wills until about five years ago. On the advice of others, they established a trust through Green Belt Bank & Trust. Dawn England is administrator of the bank's trust department, and she worked with the Schillers. On Thursday, she helped hand out checks from the trust to the recipients.
"It was such a good, happy feeling," England said. "It kind of felt a little overwhelming."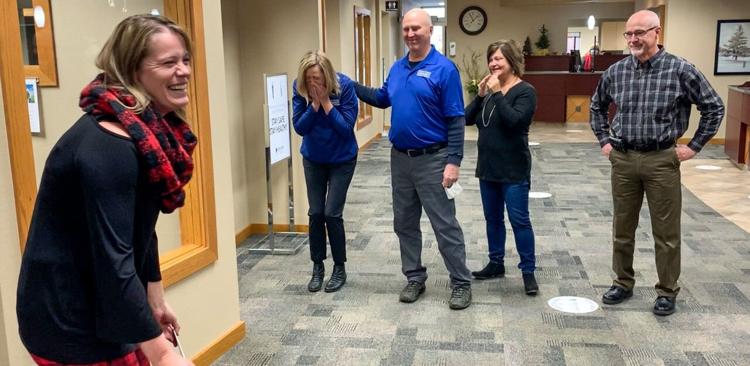 The impact of the Schillers' gift will be felt almost immediately. Elerding said the Schiller Fund is currently accepting grant applications, with a deadline of Feb. 5. The Schiller grants will more than triple the amount of money the Foundation gives every year. In the spring, HCCEF awards $80,000 to $90,000 in grants to organizations and projects throughout Hardin County. Now, that will grow by $200,000 every year.
"We need to have people apply for grants," Elerding said.
Stockdale said the Schillers' gift, which will last forever because only the interest on the money will be awarded as grants each year, sets an example of what can be accomplished with planned giving.
"It is an unbelievable legacy to leave behind that will affect people you don't have any clue who they are for generations," he said.
Those who knew the sisters – and even those who didn't – marveled at their generosity on Thursday, and the difference it will make in Hardin County.
"They didn't have to do that," Lewey said of the gifts. "They could have found some far-reaching relatives, but they didn't. They chose to enrich this area."