One person died and 19 more tested positive for COVID-19 in Hardin County in the last week.
According to the weekly report from Greenbelt Home Care/Hardin County Public Health, 259 people were tested in the county between Oct. 3 and Oct. 9. Three new hospitalizations also occurred during that timeframe.
Since the beginning of the pandemic, 336 Hardin County residents have tested positive for the virus. Of those, 261 have been deemed recovered and two people have died, leaving 73 active cases in the county.
The age ranges of the week's positive cases are as follows:
0-17: 3
18-40: 5
41-60: 2
61-80: 8
80+: 1
The individual who died last week was between the ages of 61 and 80.
For the last four weeks, the county's public health agency has released maps with its updates, showing the number of COVID-19 cases per Hardin County ZIP code. The total number of cases represented on the map does not match the total number of cases reported by the county. Hardin County Public Health Coordinator Rocky Reents said the state has not given her a reason for the discrepancy.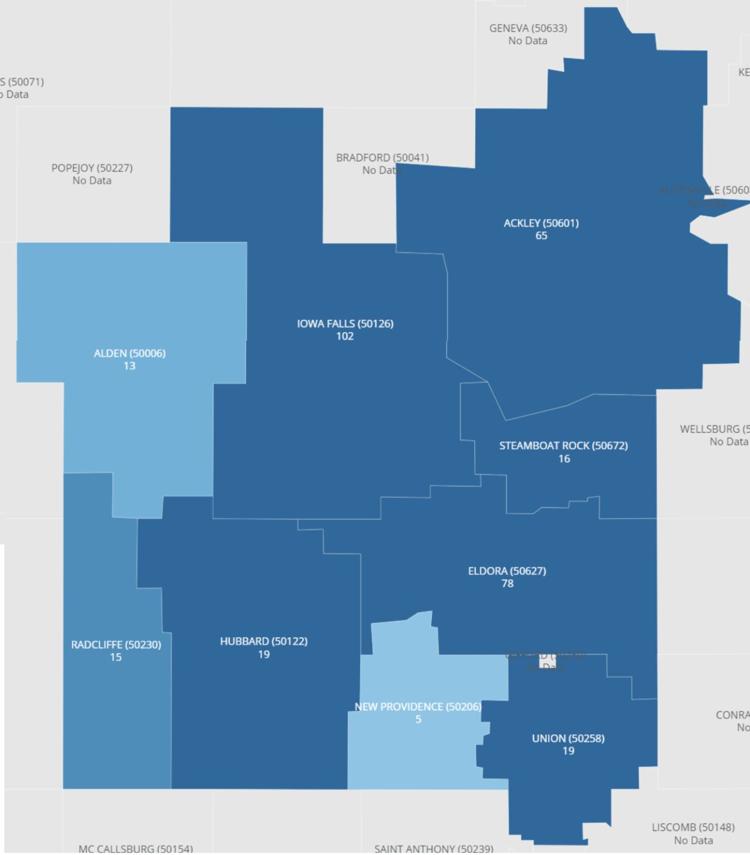 According to the map, infections in the Ackley ZIP code – 50601 – have increased in recent weeks, and that trend continued last week. The map shows that between Monday and Friday last week, the infection count in and around Ackley increased from 59 cases to 65. That ZIP code is home to about 14 percent of the county's population, but as of Friday, it had recorded almost 20 percent of the county's total COVID-19 infections. The number of cases in the Iowa Falls ZIP code – 50126 – also increased last week, from 95 on Monday, to 102 on Friday. That ZIP code is home to about 36 percent of the county's population, and it currently has about 30 percent of the county's COVID infections.
Statewide, 97,151 individuals have tested positive for the virus since March and 1,434 have died as of Friday at noon.
Hardin County officials advise you to be safe and stay home if you're ill. Limit your outings if you're over age 65, or have an underlying health condition. If you do go out, social distance by staying six feet apart from other people. Wear a face covering when social distancing is not possible, cover your coughs and sneezes and wash your hands frequently.