Positive cases of COVID-19 continue to skyrocket in Hardin County as the area set another one-week record over the last seven days.
Between Monday, Nov. 9 and Monday, Nov. 16 another 196 positive cases were reported on the state's coronavirus website. On Nov. 9 the state was reporting 705 cases in Hardin County since testing began in March. As of Monday morning the state was reporting 901 Hardin County cases. 
According to the state's data 424 of Hardin County's cases are considered recovered and nine people have died from the disease, leaving 468 active cases in the area.
As COVID-19 cases have grown around the state, so have hospitalizations. Last Monday the state had 1,034 people hospitalized because of the disease. Today (Nov. 16) the state is reporting 1,392 total hospitalized Iowans. 
Hardin County is considered to be in the "Red Zone" for coronavirus positivity rates. The county has a 14-day positivity rate of 22.1 percent, meaning that 22.1 percent of those tested have been positive for COVID-19 over the past two weeks. The county also had 1,126 cases per 100,000 in population from Nov. 7 through Nov. 13. The benchmark for being a "Red Zone" is 101 cases per 100,000 people. Hardin County is currently seeing cases at more than 10 times that rate.
Grande Jivanté reported an outbreak in its Ackley facility last month. The state's website is only reporting 12 cases and no one as being recovered. But, according to CEO Korey DeBerg's social media postings, the facility has had at least 19 residents and 10 staff test positive. DeBerg has reported eight cases in which the person is considered recovered. 
Schools report more cases as well
Each Hardin County school district releases new COVID-19 numbers each Friday. Last week new case counts were as follows:
Iowa Falls - Alden: 10
South Hardin: 7
AGWSR: 7
The Iowa Falls and Alden school districts announced last Thursday that beginning today students would be attending school on a hybrid model. Students are separated into two groups based on the first letter of their last name and will rotate attending class in person 50 percent of the time until Winter Break begins on Dec. 21.
The superintendents from AGWSR and South Hardin have indicated they do not have plans to switch to a hybrid model at this time.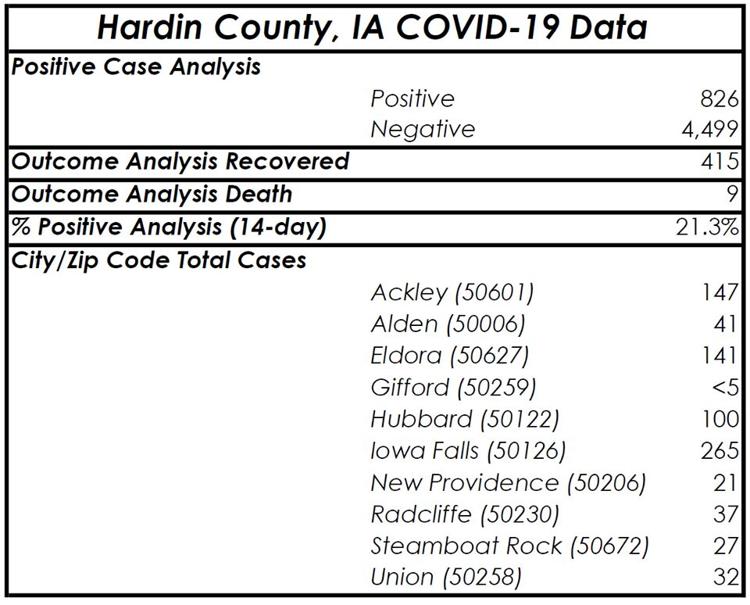 The state is also now releasing COVID-19 data based on ZIP code. According to the report, Ackley continues to be a hotspot for the virus, in part because of the assisted living center outbreak. The city now has 18.1 percent of the county's cases but is home to about 14 percent of the county's population.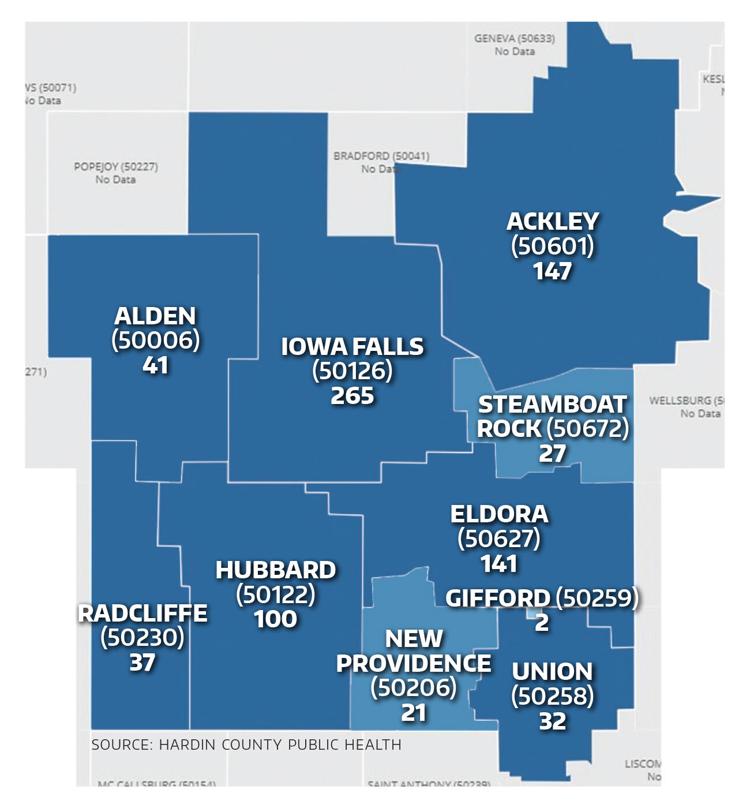 The Iowa Falls ZIP code (50126) saw 46 new cases last week. The city makes up about 30 percent of the county's population and now has 32.7 percent of Hardin County cases.
Health care workers are asking everyone to do what they can to help prevent the spread of the illness as hospital beds fill up across the state. They ask that you wear a face covering, wash your hands frequently, social distance when possible and stay home if you're not feeling well.