Beacons of light illuminated seeds of hope for student-athletes at high school athletic complexes in the state of Iowa Friday evening.
Per a recommendation from the Iowa High School Athletic Directors Association, school districts were encouraged to #bethelightIA and turn on the field/stadium lights for a period of 15 minutes. Each of those represented one school day missed due to the cornonavirus pandemic.
According to Iowa Falls-Alden Athletic Director Pat Norem, the gesture was made to show student-athletes they are missed during an uncertain time.
"Quite a few schools have jumped on board. What we are really trying to do is provide a little of hope for our kids, and a bit or a reminder of why we do what we do and why we miss it. We want to pump a little life into the athletic community," Norem said.
Community members were encouraged to drive by the lit-up fields to attend a quick activity that would get them out of the house.
All three greenbelt area schools - AGWSR, IF-A and South Hardin - took part in the activity.
A small host of vehicles circled around the parking lot at Cadet Field, forming a smaller version of scooping the loop.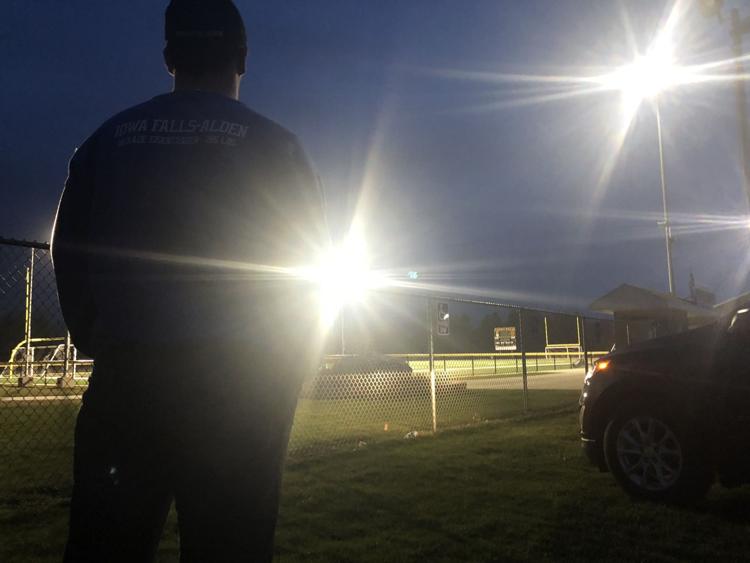 McKade Eisentrager, a multi-sport senior athlete at IF-A, said the last few weeks have been trying for his classmates, especially his fellow seniors. He said many are struggling with coming to terms that their high school athletic careers may be over.
While spring sports are tentatively set to resume May 1, some thing that is wishful thinking. Summer sports teams are set to begin their seasons with practice on May 18.
"I've been trying to keep up with everything and finish up my senior year. Walking across stage and finishing my sports seasons. It doesn't seem like it's going to happen right now," Eisentrager said. "All of us seniors have been talking and many don't think it's (going back to school) going to happen. We are trying to stay positive. I wanted to come out here because Cadet Field will always be a special place for me."
Many of the SH fans lined 24th St. in Eldora (the street that runs parallel to the Tiger Field) to take in the lights. Some were interested in seeing what the event was all about while others were looking for a chance to get out of the house.
Hubbard-Radcliffe Technology Director Barry Harrenstein admitted he is a high school football junkie. He was the manager for his high school team and being by the field and seeing the lights on a Friday night brought back good memories. He also wanted to show support for Tiger head coach Nick Eller and the SH program.
"It's a little bit of normalcy for everybody. This almost feels like football weather. It kinda feels like we are getting into late October, early November so I think, I love the idea of it," Harrenstein said. "When I saw that they were doing this I was like, that is the coolest thing I've ever heard. It's simple, but I definitely think it's something that can bring communities together."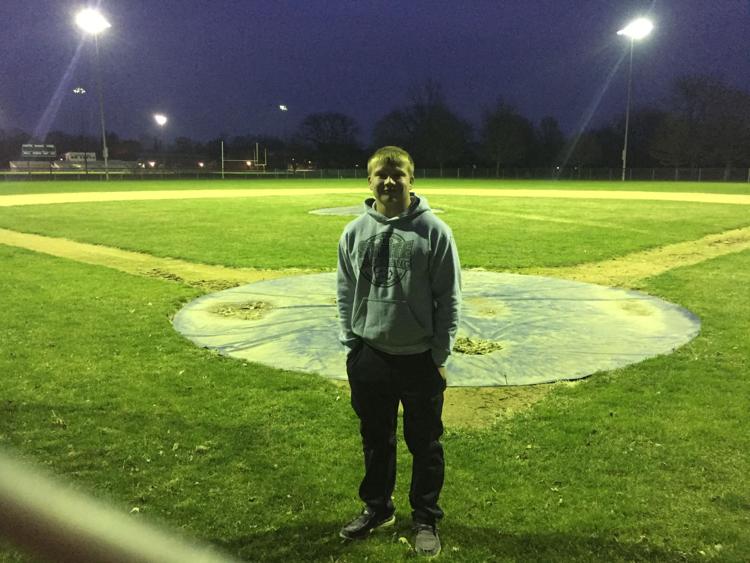 AGWSR senior Brody Roder said he was happy to see the athletic complex lights on once again.
Roder, a catcher on the Cougar baseball team, had been working with his pitchers before all activities were halted due to the pandemic. He also played football and wrestled for the school. He isn't in track, so this summer's baseball season would be his last hurrah in a high school uniform.
"I'd be upset if the season doesn't happen because we've already started working," Roder said. "And it's my senior year. It'd be heartbreaking. Since football and wrestling seasons ended, this is the last time I have to enjoy all of it. It's cool to see the lights on. I guess it gives some hope that the seasons will happen."
Norem said the gesture will continue every Friday until students return to school. For example, next Friday (April 17), the lights will remain on for 20 minutes, as five more school days will have been missed at that point.
"Today (April 10) was 15 minutes. Technically it would be more than that for us because we didn't have a spring break. But others did, so it was decided to start with 15 minutes," Norem said. "We are all trying to do what we can to get through this. It's a very strange time and situation for everyone."