The spread of COVID-19 in Hardin County remained consistent last week with 14 new cases, and that's enough for the Centers for Disease Control and Prevention to advise local residents to wear masks when they're inside public places, whether they've been vaccinated or not.
According to updated data published by the Iowa Department of Public Health on Wednesday, Hardin County recorded 14 new cases of the disease in the last seven days (July 21-28). That's the same number of new cases that were reported the week before (July 14-21). As of Wednesday, a total of 1,925 COVID-19 cases have been identified in Hardin County since March 2020. Of those cases, 1,850 people are classified as having recovered, and 44 county residents have died of the disease, leaving 31 known active cases in the county.
Of the 14 new Hardin County COVID-19 cases reported in the last seven days, the percent per age category are as follows:
44 percent are 1-17 years old
31 percent are 30-39 years old
13 percent are 40-49 years old
13 percent are 50-59 years old
The rise in case numbers across the country – due, in part, to the prevalence of the more contagious Delta variant of the virus – prompted new guidance from the CDC this week. On Tuesday, the agency recommended that fully vaccinated people wear a mask in public indoor settings in areas of "substantial" or "high" transmission. The CDC uses two metrics to determine rate of transmission: number of new cases per 100,000 residents, and the percent of COVID-19 tests that come back positive in a seven-day period. "Substantial transmission" is 50 to 99 weekly cases per 100,000 residents, or a positivity rate between 8 and 9.9 percent, while "high transmission" is 100 or more cases per 100,000 residents, or a positive rate of 10 percent or more. Of the two metrics, the higher one is used to determine a county's rate of transmission.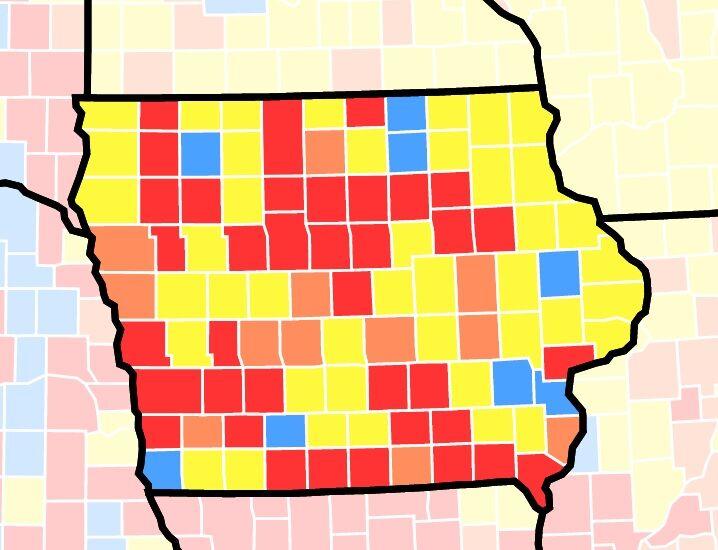 A map on the CDC website shows current rates of transmission for every county in the United States. According to that map, on Wednesday, Hardin County was classified as having "high transmission." Hardin County's 14 new cases in one week equates to 83 cases per 100,000 population. The CDC reports the county's percent positivity – the number of positive cases compared to tests – is 15 percent. Of Iowa's 99 counties, 36 are classified as having high transmission, and 11 have substantial transmission.
The CDC also announced Tuesday that its guidance now recommends masks for people who are immunocompromised or at an increased risk for severe disease from COVID-19, or those who live with someone who falls into that category. The agency is also recommending indoor masking for all teachers, staff, students and visitors to schools, regardless of vaccination status. In May, the Iowa Legislature and Gov. Kim Reynolds passed and signed legislation prohibiting mask mandates in schools.
Medical providers prepare
The increase in COVID-19 cases has been accompanied by an increase in hospitalization numbers, and local health care providers are preparing for what could become a surge in COVID-19 cases. On Wednesday, Hansen Family Hospital Interim CEO George Von Mock reported that the facility's incident command team, which took the lead on COVID-19 response and planning last year, will begin meeting again next week. It will be led by HFH's infectious controls specialist, Jill Schafer.
"She's bringing that group back together so we can try to get ahead of that again and see what we can learn from this," Von Mock said.
Scott Curtis, Vice President of Network Development at Mercy One, attended the HFH Board of Trustees' meeting Wednesday afternoon. He said MercyOne North Iowa in Mason City has seen an increase in COVID-19 patients. He reported about 10 people hospitalized for treatment of the disease, compared to zero one month ago.
"Those 10 are, by and large, folks that have not been vaccinated," Curtis told the board. "There's a healthy mix of the older population, but we're seeing a few that are under the age of 65 now, as well."
Curtis said the hospital's COVID-19 unit is equipped to care for 25 patients, but it can surge as high as 100. But he's concerned about how staffing shortages this year may affect the hospital's ability to care for that many COVID-19 patients.
"We cannot meet the expectations of what we were able to do a year ago because of staffing," he said. "We've got a lot of openings across the state. Even at MercyOne Des Moines hospital, they are – on a daily basis – evaluating whether they can keep all of the beds open and staffed, or whether they need to retract some. And if that happens, that has ripple effect to all of us for how many we can transfer there versus figure out how to take care of in our own network.
"So it's serious, and that's why we're watching it closely," he said.
The state has said it will release updated county-level COVID-19 hospitalization numbers every Wednesday, but as of Thursday this week, the new numbers had not been released. 
Vaccinations stagnate
Trinity Health announced earlier this month that it will require all of its employees to be vaccinated. While MercyOne is affiliated with Trinity, it is not owned by Trinity, so the mandate doesn't extend to Mercy facilities. Von Mock said Hansen Family Hospital employees are not required to be vaccinated, and a spokesperson for the hospital said she did not know – and could not find out – what percent of the hospital staff has received the COVID-19 vaccine.
Despite news of the increased spread of COVID-19 and an increase in hospitalizations, the vaccination rate in Hardin County barely moved in the last week. As of Wednesday this week, 7,565 Hardin County residents had been fully vaccinated. That's 44.8 percent of the total population, an increase of just 25 people in one week, or one-tenth of one percent of the population. Curtis said he doesn't expect to see another surge in vaccinations until the Food and Drug Administration gives full approval for the COVID-19 vaccines.
"You'd like to hope that it would ramp up here sooner than later as people start to see the reality of what's happening as the numbers grow," he said. "But again, I don't think, until the FDA approves this, you will see any measurable increase. That's my own opinion." Curtis said he's heard full approval may come as soon as August or as late as January.