A recent spike in COVID-19 cases among Hardin County residents is showing no signs of abating, and for the third week in a row, that kept Hardin County in the red zone, according to a report issued on Sunday by the White House Coronavirus Task Force.
The reports are distributed weekly on Sundays, one for each state. The Nov. 1 report, obtained by ABC News, uses data from Oct. 24-30 to identify coronavirus hot spots and make recommendations to state leaders. The latest Iowa report shows a jump in the number of new cases per 100,000 population, the measuring stick that's used to classify spread of the disease.
According to the report, Iowa had the sixth-highest rate of new cases in the U.S. during the week of Oct. 24-30, reporting 380 cases per 100,000 population, up from 254 per 100,000 the week before. During that same Oct. 24-30 week, Hardin County recorded 83 new cases, which equates to 492 cases per 100,000 population, while the national average was 165 cases per 100,000. States and counties with 101 or more new cases per 100,000 are classified as being in the "red zone," which indicates high levels of community transmission of the disease. The latest report puts 82 of Iowa's 99 counties in the red zone, up from 56 counties in the red zone last week.
The report includes historical information that it says illustrates that the increase in cases, hospitalizations and deaths is spreading southward across the country from the coldest climates "as people move indoors and cases increase exponentially."
"These maps demonstrate the previous impact of comprehensive mitigation efforts when implemented effectively in many areas and that partial or incomplete mitigation leads to prolonged community spread, hospitalizations, and increased fatalities," the report states. Previous reports have recommended mask mandates, but Gov. Kim Reynolds has refused to require masks in public places, saying she trusts Iowans to do the right thing. Reynolds, who regularly held press conferences early in the pandemic, has not held a formal press conference since Oct. 7. She plans to hold one on Thursday at 11 a.m. It will be streamed on her Facebook page.
The White House Coronavirus Task Force's report also points out that Iowa's COVID-19 testing data shows asymptomatic people are not being tested at a high enough rate, which means their infections aren't being found and isolated. It advises that the state "must change testing strategy to find asymptomatic individuals who are unknowingly spreading the virus."
The task force instructs the state to "act now" on the following clear messaging to Iowans:
Do not gather without a mask with individuals living outside of your household
Always wear a mask in public places
Stop gatherings beyond immediate household until cases and test positivity decrease significantly
On Wednesday, Hardin County eclipsed 600 total cases of COVID-19 since March, just six days after it exceeded 500 cases. As of Thursday morning, the county had recorded a total of 621 cases.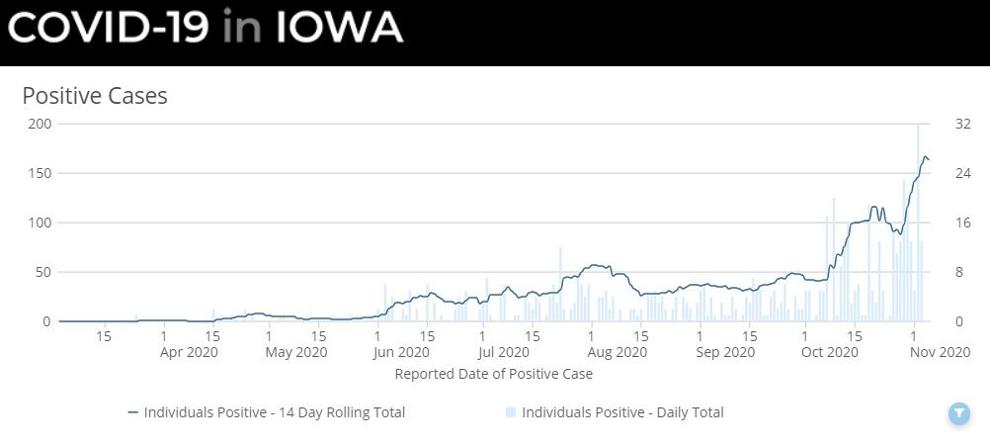 Of those 621 Hardin County cases, 349 are classified by the Iowa Department of Public Health as having recovered and seven county residents have died. That leaves 265 people currently infected. As of Thursday morning, the county's 14-day average positivity rate – the number of new cases divided by the number of COVID tests administered – was 15.7 percent. As of Nov. 3, two Hardin County residents were hospitalized for treatment of COVID-19 symptoms.
Outbreaks at two Hardin County nursing homes have likely contributed to at least a portion of the increase in local cases. As of Thursday morning, Hubbard Care Center, whose outbreak was first reported on the state website on Oct. 12, had recorded 58 cases with nine recoveries.
Grand JiVanté in Ackley reported its first COVID-19 case in an employee on Oct. 22. According to the state's coronavirus website, there have been a total of 12 cases in residents and employees. But a message posted on the facility's Facebook page on Wednesday, and signed by CEO Korey DeBerg reports that 19 Grand JiVanté residents have tested positive, and more were expected to test positive in the coming days. In addition, the post reads, "we add about two staff members per day who can not work because they have tested positive for COVID". However, DeBerg wrote, there have been no cases in the facility's Gemini Rehab Area, The Lofts Assisted Living or Genesis Independent Living. So far, all cases have been contained to the nursing home part of the facility.
Find more Hardin County COVID-19 data on the state's coronavirus website.