Iowa Falls School District leaders are preparing for whatever may await students and teachers when school resumes next month, whether that's in-person instruction with face shields, UV light sanitizers and disinfectant "foot baths," or remote learning at home. But whatever decision they make, they're bracing for the inevitable backlash.
"Since I've been here the two major things I've seen that people reacted to were moving second grade to Rock Run, and the field turf," Superintendent Tony Neumann said of controversial school board decisions in recent years. "I think those are going to be really small potatoes compared to what you're going to hear."
The board spent a portion of its meeting on Monday discussing the precautions that are being put in place at school buildings ahead of the new academic year, and how administrators will decide whether to go ahead with in-school instruction, or shift to virtual classes.
The district has not yet announced how students will attend school this fall, only that it's considering three options: in-person instruction, online learning, and a hybrid of the two. (The options were laid out in a letter to the public last week.) Neumann said a decision will be announced the first week of August. But even then, parents will be able to veer from the plan and keep their kids home for remote learning. And the district's education plan could change if the county's COVID-19 situation changes, or if a student or employee tests positive for the disease.
Beyond a set of guidelines that was released in June, the Iowa Department of Education has mostly refused to provide school districts with guidance on whether they should open or go virtual. And some information – including rules about whether online learning will count toward a district's educational hours requirement – have gone unanswered by the state.
"If we start in virtual learning and the hours don't count we'll have to make up those hours at the end of the year to get to 1,080," Neumann said, referring to the state's requirement that districts educate students at least 1,080 hours in a school year. "The state wants to know if you have a plan. They don't care what the plan is."
One thing is certain. If other schools in the North Central Conference and Hardin County decide to start the school year online, Iowa Falls won't be the only district doing in-person classes.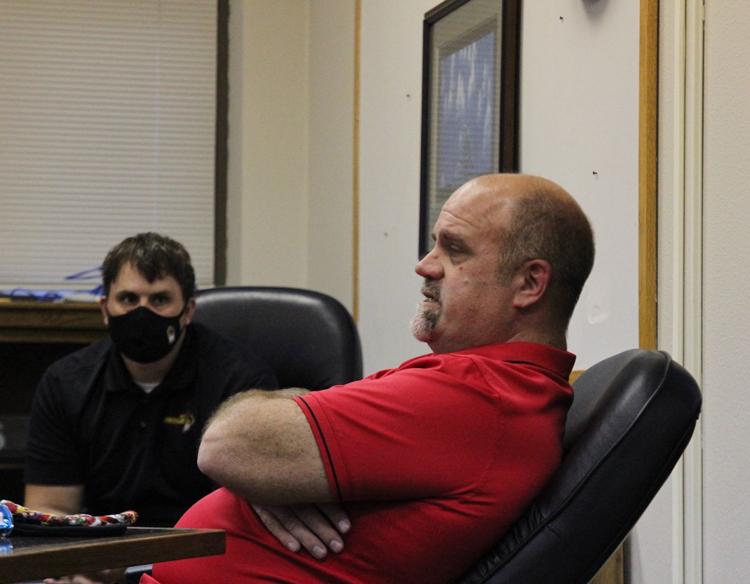 "I'm not going to be the maverick who brings everyone back if no one else is," Neumann said. "It could go the other way. If we're in a bad situation in Hardin County we could be the only ones doing virtual [learning]. I'll err that way. I won't err on everyone coming back even though everyone else is shutting down."
The district will use a survey in a letter next week to gauge families' and employees' comfort with returning to school. Neumann said the survey won't be the only factor in the district's decision-making process, but the data will be helpful in making a decision.
Neumann said the district is also looking for guidance on what it should do if a student or member of the staff tests positive for COVID-19. He said the responses being considered by other districts range from sending an entire classroom home to quarantine, to sending just the positive student or staff member home.
"I think it's inevitable that we'll have a positive case," Neumann said. "I think we're fooling ourselves if we think it won't happen here. I just need to know what the procedure is if it happens here."
Board members said they've heard from some parents and teachers in the district who are concerned about returning to in-person instruction. Neumann said some of the staff worries have been assuaged by the equipment that's being purchased to prevent the spread of COVID-19. 
The district has already purchased cloth masks for every student and staff member. Neumann said they're looking at purchasing a second mask for everyone. The district is also purchasing face shields, and may move to shields for everyone, especially young children who may not tolerate or fit a mask.
The district is also looking at ordering plastic dividers for some student tables, as well as secretaries', librarians', and teachers' desks. The district is on a wait list for a fogging machine that would disinfect the interior of vehicles, and it's looking into buying machines that project UV light throughout a room to disinfect it. That would be especially helpful in spaces like the wrestling and weight rooms, Neumann said. Other purchases have included infrared thermometers and individual hand sanitizers for each student and member of the staff.
Neumann said the district is also considering purchasing a "foot bath" that looks like a floor mat, but when people walk over it, it disinfects the bottoms of their shoes.
"That would help us get as clean a line as possible," he said.
"We're preparing to have every kid come in, so if that were the case, what would we need, and we can scale back from there," Neumann told the board. "The worst case would be if we're preparing for everyone to be at home and then everyone comes."
Neumann said the district won't necessarily mandate masks at all times. Instead, students would be instructed to put them on for group activities, and then take them off during individual work. And more people wearing masks will normalize them.
"I think it is a little less peer pressure when you see all of your teachers are wearing masks," he said. "Just be prepared. Whatever decision we make, we're going to get feedback on why we're wrong and why we're right."
Board members said they're supportive of administrators' decision moving forward, and they're ready to listen to families and staff, and prepared for the inevitable criticism that will arise.
"There's as much information to say we should [return to school] as to say we shouldn't and at the end of the day it's probably going to be a personal preference of do you feel your kid should be in school," said Board president Todd Bicknese. "I think our job as board members is going to be to listen, engage and understand we don't always have fun job. We're going to do what's best for kids and we've got to do what's best for all kids – not 10, not these six. We've got 1,000 kids to take care of."