As the number of COVID-19 cases in Iowa climbs, long-term care facilities have seen more than their fair share of cases. The Iowa Department of Public Health has reported COVID-19 outbreaks in three long-term care facilities, affecting residents and staff.
Care facilities in Linn, Washington and Tama counties are dealing with cases of the disease. That's especially concerning because the residents at those facilities are often more vulnerable to the effects of the disease and could face more serious illness as a result.
Last month the Iowa Department of Public Health (IDHP) recommended that nursing homes prohibit visitors to their facilities, and one day later, the federal government banned visitors to facilities. Iowa Gov. Kim Reynolds has also issued an order that requires long-term care facility employees to be screened for COVID-19 symptoms before they begin a shift.
On April 1, the IDPH required health workers wear protective masks and eye wear during interactions with patients.
In Ackley, Grand JiVanté CEO Korey DeBerg said families have been supportive of the measures, and he's been impressed with how people are following the guidelines.
"It's not ideal an situation we are in," said DeBerg. "Our residents all want to have face-to-face interactions with their families but this is the climate we are in."
The temperature of every Grand JiVanté staff member is taken before they begin a shift. DeBerg said employees who are not feeling well are encouraged to be honest about their symptoms. Each staffer also carries a bottle of hand sanitizer.
"We've encouraged the staff to shower before their work shift, no matter what time it starts. They have also been encouraged to wear a mask everywhere they go, if at all possible," DeBerg said.
While care facilities are taking precautions to keep residents safe, families are trying to adjust to a new normal of interaction. That means visits and celebrations for milestone such as birthdays are being altered.
Iowa Falls resident CJ Doering said he and his family were looking forward to celebrating his grandmother Esther Mae Cox's 100th birthday on April 21. Cox has lived at Scenic Manor since 2008, and enjoys frequent visits from family members.
Doering said it will be different not being able to celebrate with his grandma, but he understands the situation.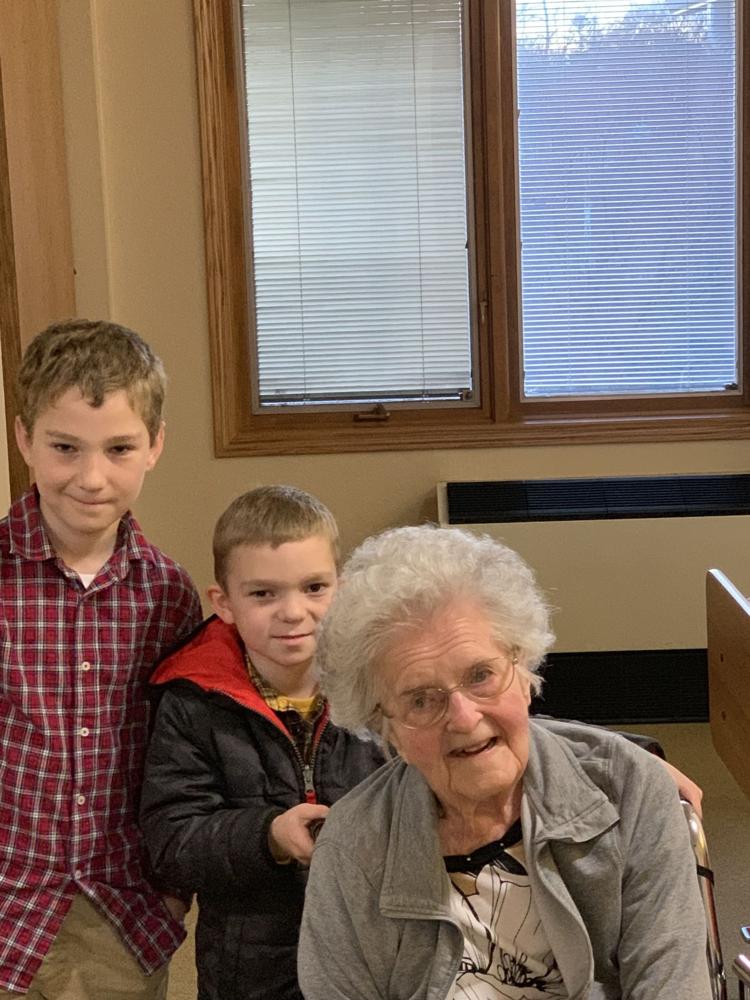 "Physically, she's pretty good but mentally, she has some dementia issues," Doering said. "We're not sure if she will understand what's going on for her birthday. We did have plans to celebrate with her because it is a pretty big milestone for her."
Doering said his family is planning to make a banner and sing "Happy Birthday" to her through a window or via a FaceTime video call. 
Scenic Living Communities Administrator Lora Juhl said one of the most popular ways families are connecting with residents is through window visits. Staff members help residents set up those visits and make a phone available so family members can have a conversation without having to yell through the window.
"There are so many ways that we can help facilitate a conversation and a visit during this time," Juhl said. "We send out messages and help them with Facebook, or they can do the Facebook Messenger. If they have an iPhone, we help with calling their loved ones. There's also WhatsApp, Skype and Zoom conferencing options. Some residents that are tech savvy already know what to do, but the ones that do not, we are helping coordinate that for them."
Juhl said some residents don't fully understand the pandemic, but most appreciate some form of communication with their family members.
"Our families have been unbelievably supportive. As soon as we told them what we needed to do, a few questioned it for a moment but then understood after we explained the process," Juhl said.
John Freeman - administrator at Iowa Falls' Heritage Care Center - said one resident's family "visited" him by standing in the vestibule between the facility's inside door and outside door.
Another Heritage Care Center resident will be turning 108 years old in the coming days. A card shower is being organized to let family and friends interact with them and wish them a happy birthday.
"On days like Tuesday, when the temperature rose over 75 degrees, our residents can have their windows open for fresh air but if someone comes to their window, we have to close them. That's the reality of the situation we are in," Freeman said. "Family members do understand, but it's not ideal."
DeBerg said the family of one Grand JiVanté resident brought a picnic table and placed it by a window. The family brought food and the staff went outside to get the food so the resident could have some too.
"We are also launching something where we have a facility iPad and are working with the families. We ask what time they want to call, we can schedule that and go room to room with the iPad," DeBerg said. "Many residents will write their Easter memories and post them to our Facebook page. Anything we can do to help out . . . That's why we are here. We want to make the best out of our current situation and give families that connection they might be missing from a typical visit."