Four new weekend COVID-19 diagnoses have lifted the county's total case count to 91, according to information released on Sunday by Greenbelt Home Care/Hardin County Public Health.
Public Health Coordinator Rocky Reents reported the four new cases. One is in a person age 18-40; one is age 41-60; and two are 61-80 years old. Last Thursday there were 84 cases, when another three - one age 0-17 and two age 18-40 - were reported.
Of the 91 total COVID-19 cases that have been reported since March, 48 patients are reported to have recovered. Last week, the recovered number for Hardin County stood at 50. Reents said local officials don't know what happened to cause that number to drop, but Greenbelt Home Care is communicating with the Iowa Department of Public Health to find an answer.
There have been no local deaths from COVID-19, but statewide, 752 Iowans have died of the disease.
The number of positive cases in the state has been ticking upward since June 24, and so have hospitalization rates. After reaching a peak of 413 Iowans hospitalized for the disease on May 9, the numbers had been decreasing, reaching a low of 118 on June 27. But since then, numbers have increased. As of Monday, 177 Iowans were hospitalized.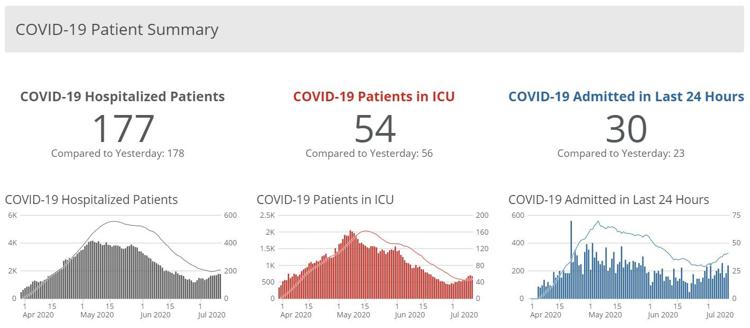 In April the state created six Regional Medical Coordination Centers to manage hospitalizations and supplies needed within regions and across the state. Hardin County is in RMCC 2, which on Monday morning had 24 patients hospitalized, and four in ICUs. Data on the state website show that as of last Thursday, no Hardin County residents were hospitalized for COVID-19.
A reported 2,027 Hardin County residents have been tested for COVID-19. That's about 12 percent of the county's total population. 
Also on Monday morning, the state was reporting that 135 Hardin County residents had received a COVID-19 serology test. The test looks for the presence of antibodies, which are proteins produced by a person's immune system to fight disease-causing bacteria or viruses. Health officials have said a positive serology test may indicate that a person has had COVID-19. Two Hardin County residents have tested positive for COVID-19 antibodies. Statewide, 35,436 Iowans have received the antibody test, and 2,430 have been positive.
People with COVID-19 have reported a wide range of symptoms including fever or chills, cough, shortness of breath or difficulty breathing, fatigue, muscle or body aches, headache, new loss of taste or smell, sore throat, congestion or runny nose, nausea or vomiting and diarrhea. If you are experiencing any of these symptoms, you're instructed to call your health care provider before going into the office. They will walk you through a series of questions and may ask you to report to a testing site. Hansen Family Hospital in Iowa Falls is able to test for COVID-19, but patients should not show up at the hospital. Call the HFH COVID-19 phone number at 641-648-7113 first.
Iowans are also asked to complete a health assessment on the state's TestIowa website. The assessment will ask you to enter information about your health and workplace, and will then give you the option of scheduling a COVID-19 test at a drive-through TestIowa site.
Find more county, regional and state data on the state's coronavirus website.