Hardin County added 101 new COVID-19 cases over the last week, boosting the total infection count to 1,258 on Monday morning. That weekly case count is down from the peak of 196 new cases between Nov. 9 and 16, but it's still enough to keep Hardin County in the White House Coronavirus Task Force's "red zone" for high community spread of the disease.
According to data on the state's coronavirus website, of the 1,258 COVID-19 cases since testing began in March, 721 Hardin County residents have recovered from the disease and 12 have died, leaving 525 people currently infected.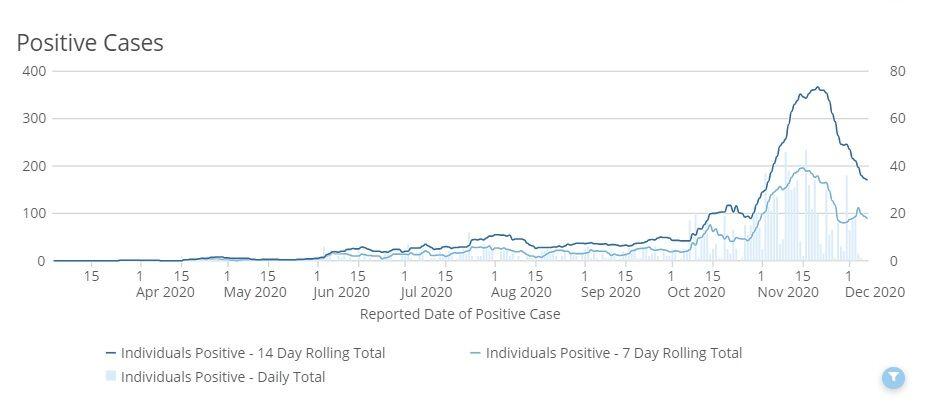 At least three of the cases added to the county's total over the last week were assigned to dates last month. Overnight Sunday into Monday, the state added one positive case to the count on Nov. 8, and two cases on Nov. 19.
Last week, the Iowa Department of Public Health updated the state's coronavirus website to make new data available. Now the public can see the total number of COVID-19 tests administered. For months, the state has been adjusting daily testing totals to report only "individuals tested," not total tests administered. That practice was criticized by multiple infectious disease experts, including Dr. Eli Perencevich, a physician at the University of Iowa. He said it's standard epidemiological practice to leave data unaltered.
"You can't go back and exclude people in the past based on new information now," he told the Times Citizen in September. "If they were tested then, you have to keep that information.
"It's a new glitch," he said of the data alterations, referring to a previous problem with the state's program that was backdating positive COVID-19 cases.
For two months, IDPH has declined Times Citizen requests to interview an epidemiologist or a member of the IDPH data team about the decision to exclude total tests administered.
In a press release issued last Friday, IDPH spokesperson Sarah Ekstrand wrote that "reporting total tests provides a more accurate reflection of current virus activity and provides Iowans with more comprehensive data."
The new data for Hardin County report that while 6,293 Hardin County residents have been tested for COVID-19 since March, a total of 16,756 tests have been administered to Hardin County residents. The larger "total tested" number is attributed to people being tested more than once. People who work in congregate settings like long term care facilities, for example, must submit to regular testing.
The website is also now reporting seven- and 14-day positivity rates, as well as the seven-day count of new cases per 100,000 population, a metric that's used by the White House Coronavirus Task Force to measure spread of the disease across the country.
ZIP code infection data updated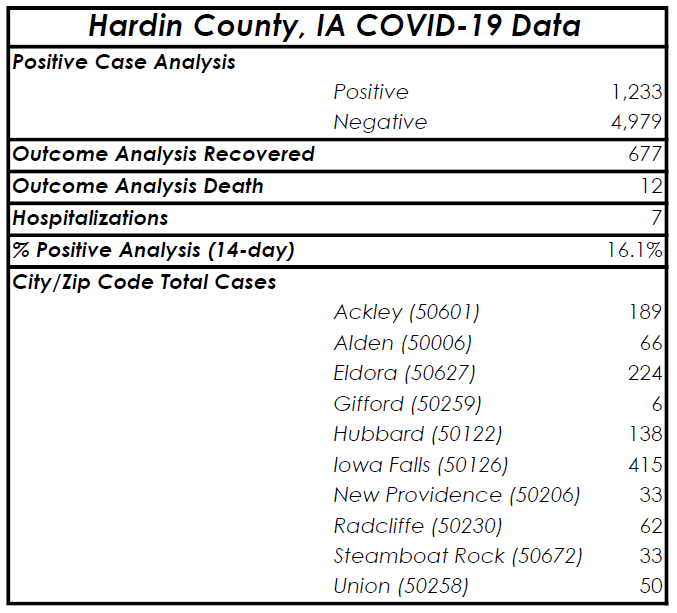 On Friday, Greenbelt Home Care/Hardin County Public Health released an updated list of infections per ZIP code across the county. The numbers show that the Iowa Falls ZIP code added the most new cases (35), followed closely by the Eldora ZIP code (32). 
Three ZIP codes in the county have a greater share of the county's COVID cases than they do population. The Ackley ZIP code is home to 14 percent of the population, but 15.5 percent of its COVID cases. The Eldora ZIP code is home to 17 percent of the population and 18.4 percent of the COVID cases. And the Hubbard ZIP code is home to 7.3 percent of the population, but 11.3 percent of the COVID cases.
Two of those communities - Ackley and Hubbard - are home to long term care facilities that have reported outbreaks of COVID-19. Hubbard Care Center's outbreak ended last month and Grant JiVanté in Ackley reported last week that all of its residents who had tested positive for COVID-19 have recovered.