The number of new cases of COVID-19 in Hardin County dropped over the last week, with 18 new cases reported by the Iowa Department of Public Health. That is the lowest number of new weekly cases of the disease since the week of Sept. 5-11 last year, when 12 cases were reported. 
On Monday morning, the Iowa Department of Public Health was reporting 1,650 Hardin County residents have tested positive for COVID-19 since last March. That's an increase of 18 over last week's total of 1,632. Of those 1,650 people, 1,520 are classified by the state as having recovered, and 34 people have died – an increase of one since last week. That leaves 96 active infections, a decrease from last week's 106 active infections. No Hardin County residents are currently hospitalized for treatment of COVID-19.
Testing for the disease, which has declined since reaching a high in mid-November, declined further last week. According to testing totals on the Iowa Department of Public Health's website, a total of 781 COVID-19 tests were administered to Hardin County residents last week, down from 791 the week before.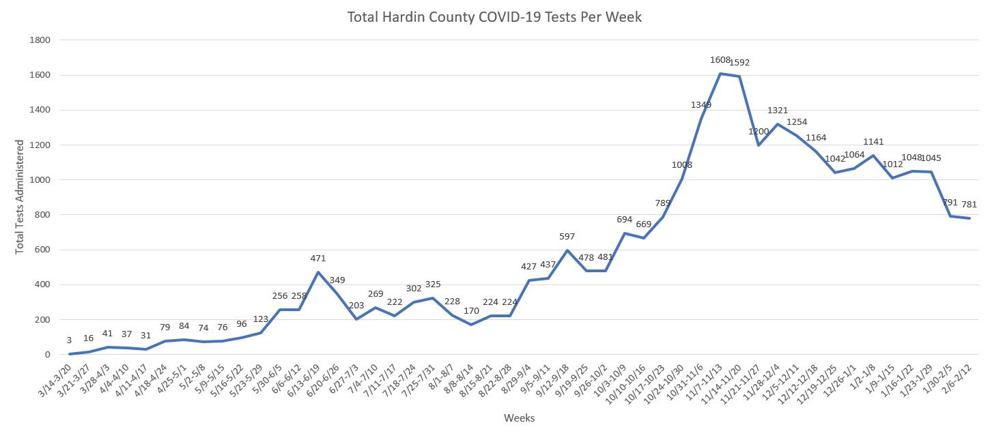 Scenic Manor in Iowa Falls is still listed as having an outbreak of COVID-19. According to the state, the facility has reported four cases of the disease and no recoveries. But Scenic Living Communities Executive Director Lisa Hoodjer told the Times Citizen on Feb. 4 that there had been 14 cases, the first on Jan. 21.
The state website has consistently lagged in reporting outbreaks of the disease at long term care facilities. Iowa Department of Public Health Spokesperson Sarah Ekstrand explained the delay to the Times Citizen last month: "There can be a delay from when a facility is deemed an outbreak and when the data is on the webpage, as we rely on case investigations which take time to complete and report, to determine cases associated with facilities." The state defines an outbreak as three cases of the disease in residents in a 14-day period.
Hardin County's public schools reported almost no spread of COVID-19 last week. Iowa Falls-Alden Superintendent Tony Neumann reported on Friday that there had been one new cases of the disease, and AGWSR Superintendent Erik Smith also reported one case. There were no new cases at South Hardin.  Ellsworth Community College also reported no new cases last week.
Vaccinations continue
The distribution of vaccine doses continues in the county. As of Monday morning, the state was reporting that 1,239 Hardin County residents have received a first dose of the vaccine, and 736 residents have received both doses, completing their inoculation.
Hardin County Public Health has distributed a total of 2,089 doses of the vaccine – 985 first doses, and 552 people have received both doses. Hardin County Public Health Coordinator Rock Reents reported last week that the county will receive 300 doses of vaccine each week this month. It is setting up clinics to vaccinate educators, child care providers, first responders and people age 65 and older. The local public health agency is still partnering with just Medicap Pharmacy in Eldora to administer its vaccine doses.
ZIP code data updated
Hardin County Public Health released data last week on total infections per ZIP code in the county. The breakdown, which tracked cases during the week of Feb. 5-12, showed an increase of 29 cases in the county, with 20 of those in the Iowa Falls ZIP code. Other ZIP codes that saw changes were Eldora with three cases, Ackley and Alden with two each, and Hubbard and New Providence with one each.
The Iowa Falls ZIP code, which is the most populous in the county, has seen a steep increase in the number of cases over the last month, with 70 since Jan. 15. To date, the 50126 ZIP code, which is home to 36.2 percent of the county's population, has had 36.1 percent of the total cases.
The Eldora and Hubbard ZIP codes still have had a greater share of the county's total COVID cases than they have population. The Eldora ZIP code, which is home to 17 percent of the county's population, has had 19 percent of its COVID-19 cases. And the Hubbard ZIP code, which is home to 7.3 percent of the population, has had 10.2 percent of the cases.