The spread of COVID-19 in Hardin County remained steady last week, infecting another 15 people. Hardin County's new case count has plateaued in recent weeks, signaling that the virus is still circulating even as vaccine distribution continues.
In total, 1,718 Hardin County residents have tested positive for the disease since March 2020 – about 10.2 percent – and 39 county residents have died of the disease. As of March 11, no Hardin County residents were hospitalized for treatment of the illness.
The 15 new cases last week are one more than the week before (March 1-8) when there were 14 new cases, and the same as the week before that (Feb. 22-March 1) when 15 new cases were reported.
Testing for COVID-19, which has been declining since cases surged in mid-November, fell again last week. According to the Iowa Department of Public Health, a total of 561 tests were administered to Hardin County residents during the week of March 6-12. That's down from 683 the week before, and a high of 1,621 the week of Nov. 7-13.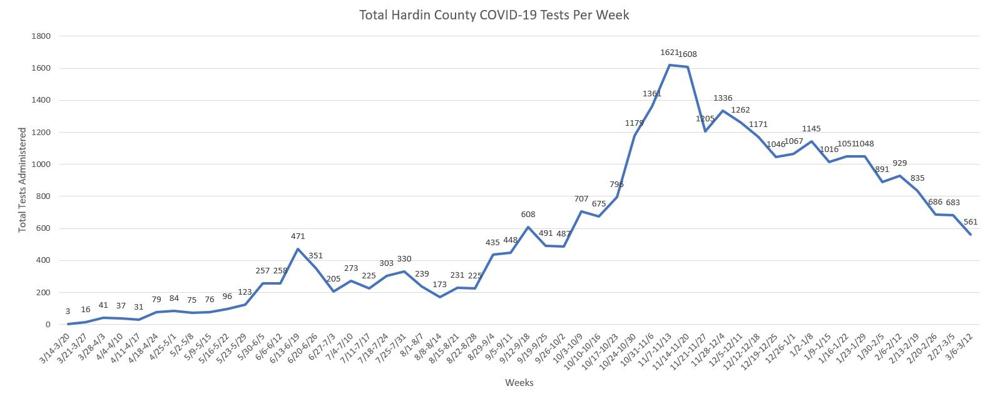 After three weeks of reporting no new cases of the disease, Iowa Falls-Alden schools reported two in two days of classes last week (there were no classes March 10-12 because of spring break). Both South Hardin and AGWSR reported no new cases of COVID-19. 
Ellsworth Community College reported seven new cases of the disease last week. That follows a report of six new cases last week. 
Vaccine rollout continues
Vaccinations have continued over the last week. One week ago, 1,910 Hardin County residents had received a first dose of the vaccine. This week, that number stands at 2,103. And in the last week the number of Hardin County residents who've been fully inoculated against the disease increased from 1,588 to 2,139, or about 12.6 percent of the county's population. In total more than 25 percent of the county's population has had at least one dose of a COVID-19 vaccine.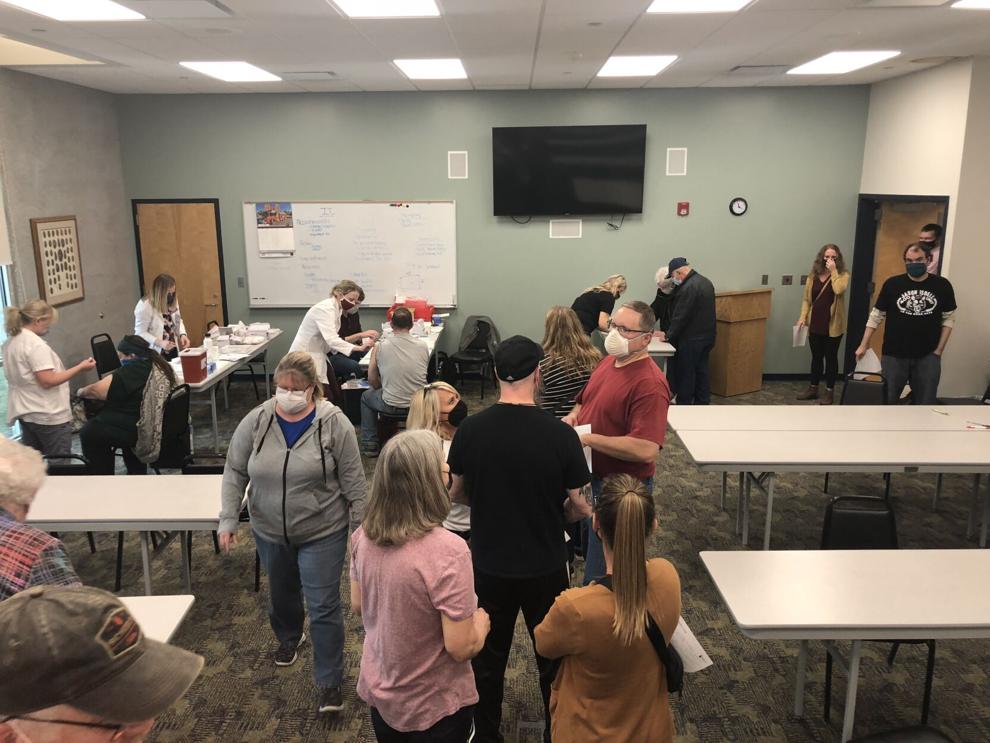 Last week, Hardin County Public Health officials said they anticipated that this week they would be moving to Tier 2 of vaccine eligibility, which includes food, agriculture, distribution and manufacturing workers and people age 64 and younger who have an underlying health condition. But after a refrigerator at Medicap Pharmacy in Eldora malfunctioned last week, public health and pharmacy employees had to use 180 doses of vaccine within 12 hours. While they were successful finding enough people, that will delay the rollout of vaccine doses to Tier 2. Public Health Coordinator Rocky Reents said the agency is tentatively planning to begin Tier 2 vaccinations the week of March 22.
Those who have not signed up to receive a vaccination through public health are urged to complete this form. And if you have previously completed the form but now would like to add information about an underlying medical condition, you're asked to complete the form again.
ZIP code map updated
On Friday, Hardin County Public Health updated the total number of COVID-19 cases per ZIP code in the county. The Friday update showed 16 new cases since the previous week. Of those 16 new cases, the Iowa Falls ZIP code saw the greatest share with nine. The Steamboat Rock ZIP code had four new cases, and the Ackley, New Providence and Union ZIP codes each recorded one new case.
In the last year, the Iowa Falls ZIP code, which is the county's most populous area, has reported the most cases. It is home to 36.2 percent of the population, and it has recorded 36.1 percent of the total cases. The Eldora and Hubbard ZIP codes continue to have recorded a greater share of the cases than they have population. The Eldora ZIP code is home to 17 percent of the population, but has had 18.6 percent of the COVID cases, and the Hubbard ZIP code is home to 7.3 percent of the population, but has had 10 percent of the cases.