After five weeks of decreasing COVID-19 transmission, Hardin County's cases inched up over the last week. It's a reminder that the novel coronavirus isn't gone, and that the public – regardless of vaccination status – should still take steps to prevent spread of the disease.
According to data released Wednesday by the Iowa Department of Public Health, Hardin County recorded 25 new COVID-19 cases during the week of Oct. 27-Nov. 2. That's an increase from the previous week, when 16 new cases were reported. The state also reported one additional death of a Hardin County resident from COVID-19, bringing the total since August 2020 to 52.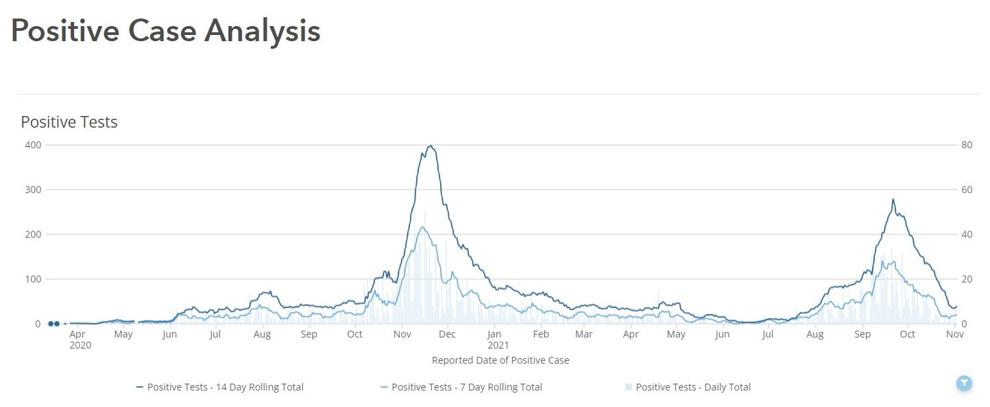 As of Tuesday, a total of 2,743 Hardin County residents had tested positive for COVID-19 since March 2020. Of that total, 2,561 are reported as having recovered and 52 people have died of the disease. That leaves 130 known active cases of the disease, a decrease from last week when there were 165 known active cases.
This week's Hardin County case numbers were high enough to move the county back up into the classification of "high" transmission, as defined by the Centers for Disease Control and Prevention. Last week was the first time since late July that the county had been downgraded to "substantial" transmission. The CDC defines high transmission as 100 or more cases of COVID-19 per 100,000 population in a week. Last week, the county sat at 95 new cases per 100,000; this week that rate increased to 148 cases per 100,000. People in areas of high and substantial transmission are advised to wear face masks inside public places, regardless of vaccination status.
Vaccinations of local residents increased over the last week. In total, the state is reporting that 8,518 Hardin Countians are fully inoculated against COVID-19. That's about 50.5 percent of the county's total population, and an increase of 49 people from last week.
Of the Hardin County population that is eligible to receive a vaccine (age 12 and older), 58.3 percent are fully inoculated. That percent will surely increase in the coming days after the U.S. Food and Drug Administration and the CDC recently approved the Pfizer BioNTech COVID-19 vaccine for use in children ages 5 to 11 and distribution of the doses was expected to begin this week.
Find more information about vaccines for children age 5-11 here.