Hardin County's COVID-19 death toll rose by almost 60 percent Tuesday evening after the Iowa Department of Public Health implemented a new methodology for classifying deaths attributed to the novel coronavirus.
As of Monday morning, Hardin County had recorded 12 deaths from the disease. By Monday night that count stood at 19.
In a press release issued Tuesday evening, the Iowa Department of Public Health and its interim director, Kelly Garcia, announced that the change will better align with national reporting.
"As we learn more about the virus and testing expands significantly, Iowa like many states has changed its methodology," the release states. "Throughout the COVID-19 pandemic response, states have adapted as we've learned new information and gained new tools."
Since March, a case has had to meet two requirements to be classified as a COVID-19 death in Iowa: there must have been a positive PCR COVID-19 test recorded in the state's system, and the case had to have been reported to IDPH as deceased, through case investigation or a death record.
Under the new methodology, which is based on Centers for Disease Control and Prevention practices, a positive PCR test is not required. Deaths will be counted as COVID-19 deaths if the disease is attributed through clinical diagnosis as either and underlying or a contributing factor to death. The distinction between "underlying" and "contributing" is noted on the state's coronavirus website. Of the 19 Hardin County deaths, COVID-19 is listed as an underlying cause in 17 cases, and it was a contributing factor in two deaths.
The change was applied retroactively, and increases the total number of COVID-19 deaths statewide from 2,721 to 2,898.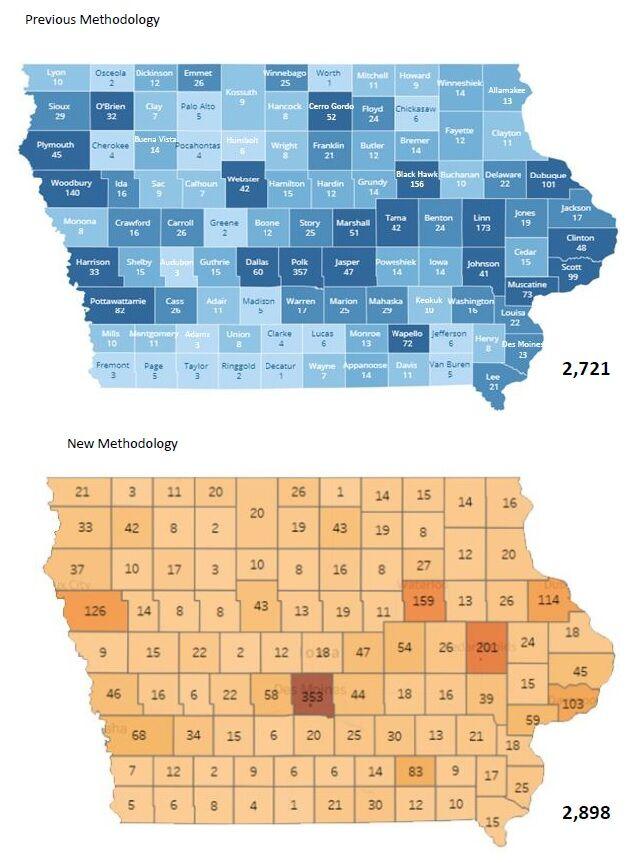 The increase of 177 deaths didn't equate to an increase in every county. In Franklin County, the total number of deaths decreased from 21 on Tuesday morning to 16 on Tuesday evening. Grundy County dropped from 14 to 11, and Butler County saw a decline from 12 to 8. Hamilton County increased by two deaths, from 13 to 15.
The state has not explained why some deaths were removed from counties' total as a result of the change in methodology.
The difference between the way the State of Iowa has been counting COVID-19 deaths, and the deaths it was reporting to the CDC has been noted and questioned. Laura Belin at the Bleeding Heartland blog reported on the discrepancy two weeks ago, noting that the state's report to the federal government did not match the numbers it publishes at coronavirus.iowa.gov. 
The state also noted that the new coding takes approximately seven days to complete and return to the state, which will increase the time between when a death is reported to the state and the date it will be published on the state's coronavirus website.
Find more data on the state's coronavirus website.