The practice of sending private chat messages to and from a local elected official during public meetings held via video conferencing over the last six months – something one open government advocate likened to passing notes – will stop after the county disabled the function last week amid concerns that it conflicted with Iowa's open meeting laws.
The coronavirus pandemic has forced changes to the way local government officials conduct business. One of the most visible changes was the shift by many boards and councils away from in-person gatherings, to conducting meetings through video conferencing platforms offered by Zoom and Google. A proclamation issued by Gov. Kim Reynolds on March 20 waived Iowa Code rules that require public boards to meet in person – not electronically – except in certain situations. Amid a global pandemic, electronic meetings have allowed government officials to continue to conduct business without gathering in person, and still making those sessions accessible to the public.
But the migration to new technology platforms isn't always mistake-free. One of those issues, revealed last week, is the private chat function available to users of Zoom. Hardin County's board of supervisors has been holding its weekly meetings on Zoom since March 25, when the courthouse closed to the public. The public is asked to call the courthouse to receive a link that allows anyone to join the meeting from wherever they are - including county employees and board members themselves. During a Zoom meeting, users can see and listen to the meetings. A chat box allows messages to be sent to and from the people who are participating. Any person attending the meeting can see a public message typed in the chat box. But Zoom also offers a private chat function that allows one user to send a private message to another user, and the message is viewable only to those two people.
A review of records requested by the Times Citizen and provided by County Attorney Darrell Meyer show that there have been 425 messages typed into the chat box during public meetings of the Board of Supervisors between March 25 and Sept. 16. Of those, 145 messages have been "private", sent to or by the Hardin County account. That account is connected to a computer in the supervisors' meeting room whose screen is projected onto a large television in the meeting room. Only people in that room with a view of the screen – no one joining remotely – would be able to read those private messages.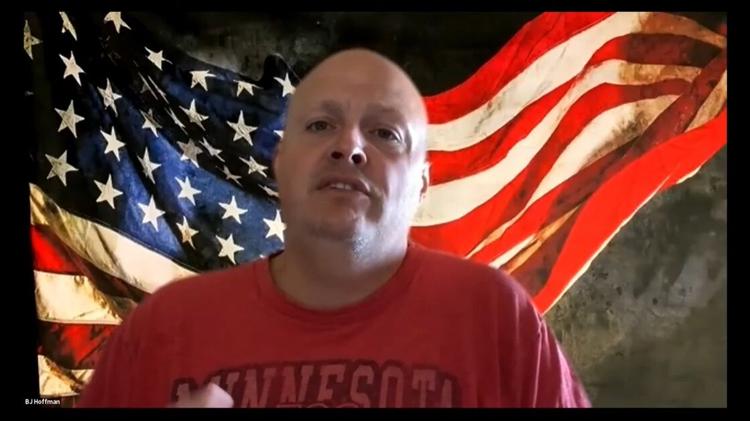 Of the 145 private messages, 55 were sent by Supervisor BJ Hoffman to the Hardin County account. Hoffman has attended in-person just nine of the supervisors' 26 meetings since March 25. The others he's attended remotely via Zoom. Supervisor Lance Granzow has attended all of the meetings in person, and Supervisor Renee McClellan has attended all but one of the meetings in person.
While most of the private messages sent between Hoffman and the Hardin County account are innocuous – Hoffman asking to be unmuted, or checking his microphone before the meeting starts – others pertained to conversations that were happening or questions that were asked during the meetings.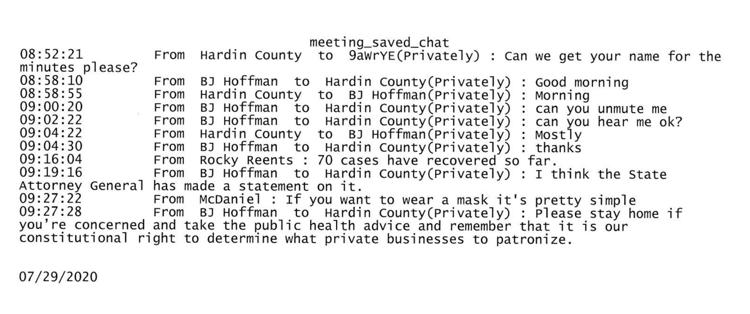 On July 29, during public comment, a person was speaking to the board about the need for stricter COVID-19 mitigation measures. Hoffman sent a private message to the Hardin County account saying, "Please stay home if you're concerned and take the public health advice and remember that it is our constitutional right to determine what private businesses to patronize."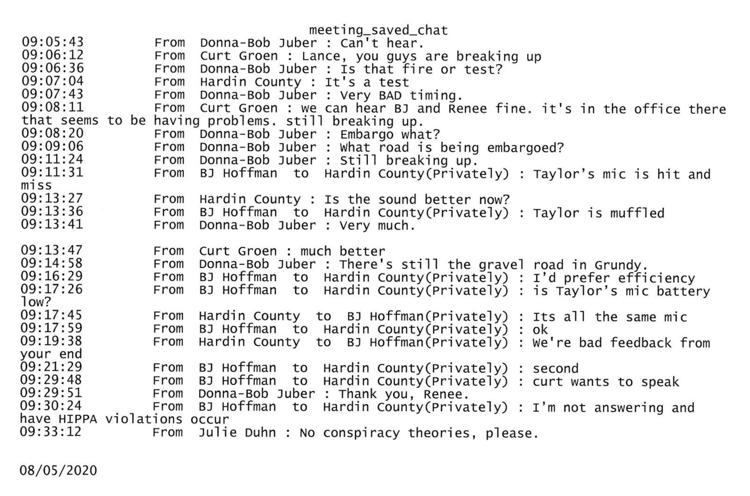 The next week, on Aug. 5, a member of the public asked McClellan and Hoffman why they were joining the meeting via Zoom instead of in person. McClellan said she'd been out the previous weekend and wanted to be careful to isolate herself in case she'd been exposed to COVID-19. Hoffman didn't answer the question, but chat records show he sent a message to the Hardin County account saying, "I'm not answering and have HIPPA violations occur."
In both cases, no one relayed the things Hoffman said via private message to the meeting, either by repeating them verbally, or typing them into the public chat box.
Hoffman said last week that he sometimes forgets to select the pull-down menu to change the chat setting from responding to a single person privately, back to responding to everyone.
"Even during a meeting I'll have individuals send private messages to me and so in trying to reply I can understand where if you don't pull the drop-down box back to 'Dave McDaniel' or 'Joe Q. Public' where it might not get to them."
While Hoffman sent 55 private messages to the Hardin County account during meetings over the last six months, he posted only one chat message that was viewable to everyone. Other private messages - between board members or a board member and a member of the public - were not part of the records provided by the county.
Whether the conversations happening in private chats during public meetings are germane to the discussion or not, they shouldn't be happening, says Randy Evans, executive director of the Iowa Freedom of Information Council.
"The whole purpose of public meetings is so that citizens understand the basis and the rationale for decisions that are made, and if one member or two members are offering their contributions by private message, the public is being deprived of that input," Evans said. "This would be easy enough to rectify if they would just confine their comments in the Zoom meetings to speaking to all of the people who are tuning in for the meeting, rather than sending a private message that is not visible to the public."
While the issue of private messaging isn't addressed in Iowa Code Chapter 21, which spells out the state's laws on holding open public meetings, Evans said it's a clear violation of the intent of the law.
"The technology has opened up a whole new avenue for people who want to circumvent the spirt of open meetings law by communicating away from the public during the meeting," he said. "That's very worrisome because if the meeting were open to the public in the traditional sense you would know if they were whispering to each other or if one were passing a note to each other."
The Hardin County Board of Supervisors is one of only a few Hardin County area government boards still using video conferencing to conduct public meetings. While some boards and councils embraced the technology early in the pandemic when stores, churches and schools were closed, most have resumed in-person meetings. The Iowa Falls School Board still makes its meetings available for attendance via Google, but all elected officials are in the board room together. The Eldora-New Providence and Hubbard-Radcliffe school boards meet in person, but stream video of their meetings on Facebook Live.
Hansen Family Hospital's Board of Trustees is the lone board still meeting remotely, with each of its members connecting via Zoom from different locations. HFH CEO Doug Morse said the HFH board is always careful to adhere to Iowa's open meeting laws.
"We are extremely aware of open meetings," he said. "There are no gatherings above quorum for any hospital business. Even when we were discussing the future of OB, we didn't have any meetings of more than two board members.
"Our Zoom experience has been publicly posting the meetings and what's talked about is the normal state of affairs," Morse said. "We have just been very, very open to following open meetings laws, Zoom-wise."
Hoffman said it wasn't his intention to bypass open meeting laws, and he advocated for ending private chat messaging.
"I think the constructive solution to this is to disable the chat function," he said. "Nobody can be tempted and it can't be an issue if it's not available."
County Attorney Meyer said Friday that the private chat function is no longer available on meetings conducted through Hardin County's Zoom account. The public chat box will still be an option, but messages posted there will be viewable to everyone logged on to participate in the meeting.