This year, more than previous years, voters have become interested in casting absentee ballots.
The coronavirus pandemic this spring prompted a push by Iowa Secretary of State Paul Pate and county auditors across the state to encourage absentee voting as an alternative to going to the polls in person for the primary election in June. Pate's office mailed absentee ballot request forms to every registered voter in Iowa ahead of the primary, and voters responded.
The primary drew participation by 2,153 Hardin County voters - far exceeding previous primary elections by as many as 1,000 votes. Of those ballots that were cast, 82 percent were absentee. With general election turnout traditionally higher than primaries, local election officials are bracing for an influx. The 2016 general election – the last election that featured a presidential race – drew participation by 8,597 Hardin County voters. About 40 percent of the ballots cast in Hardin County were absentee. If November's election follows the trend set in June, it could be a huge year for election officials.
"A presidential year is always really, really big," said Hardin County Auditor Jessica Lara. "Add to that COVID, and it's a hot mess."
But Lara said she and her staff are ready to meet the challenge. They've spent months preparing.
"With absentees, the bulk of the work is [at the courthouse], and we know how to handle it," she said. "It'll just be that the volume coming in is going to be that much bigger."
The anticipated increase in absentee ballots - many cast by first-time absentee voters - coupled with changes to some of the ballot request procedures and news of recent court battles over absentee ballot request forms, and confusing messaging about ballot drop boxes, has caused confusion for some voters. Employees in the Hardin County Auditor's Office at the courthouse in Eldora have seen that confusion play out in phone calls from frustrated voters.
"It's been incredibly challenging this year," Lara said. "There are a lot more people with an interest in voting by absentee than there ever has been. Whether it's COVID or they just decided they don't want to go in person.
"Every day we get new emails and guidance about what we can and can't do," she added.
The Times Citizen spoke with Lara last week to answer some basic questions about requesting absentee ballots, voting absentee, and the deadlines absentee voters should pay attention to.
Q: How can I get an absentee ballot?
A: Voters who want to cast a ballot absentee (not at a polling location on Election Day) must request an absentee ballot. Iowa Secretary of State Paul Pate's office is mailing request forms to voters this month (many area residents are receiving those forms this week). Some outside organizations and special interest groups have also sent absentee ballot request forms to voters.
Voters who have not received a form but would like to request a ballot can request one by printing a request form from the Iowa Secretary of State's website here, and completing and sending it. You can also write to the Hardin County Auditor's office to request a ballot. The request must include the voter's name; date of birth; driver's license or voter ID PIN; address; signature of the person requesting the ballot; name of the election; and address where the ballot is to be mailed. Mail the request to: Hardin County Auditor's Office, 1215 Edgington Avenue, Suite 1, Eldora, Iowa, 50627.
Q: When I'm filling out my ballot request form, what information does it require?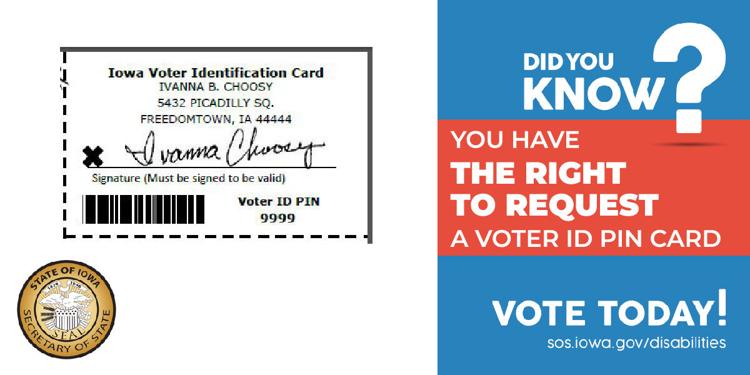 A: The absentee ballot request form requires a voter's name, date of birth, address and signature. They'll also need to have an identification number. For most people, that's a driver's license number. The number is listed on your driver's license. If you don't have a driver's license but you do have a DOT-issued identification card, you can use the number on that card. If you don't have either of those cards, you will need a PIN card. Iowa voters who don't have a driver's license or an ID card were issued PIN cards several years go. This is not the same thing as a voter verification card. If you don't have your PIN card, or you would like to request a PIN card (they are available to anyone who requests one), you must notify your county auditor's office and request one. The PIN cannot be given to a person over the phone or handed over in person at the auditor's office; it must be mailed to the voter.
Q: What are the absentee voting deadlines this year?
A: Voters who want to cast an absentee ballot must get their request form to the county auditor's office by 5 p.m. on Oct. 24. If that deadline is met, the ballot will be mailed to the voter. If it is missed, the ballot cannot be mailed to the voter.
Even if you've submitted your absentee ballot request form early, the county auditor's office cannot mail ballots to voters until Oct. 5. "People have wondered if it's the slow post office or what's going on," Lara said of the questions her office has received. "There's a gap in time between when they may get us their request form and when we can legally mail them a ballot."
Once you've received your ballot and completed it (following the instructions that were included with it), ballots are to be mailed back to the county auditor's office. They must be postmarked no later than the day before Election Day - Nov. 2. Lara said ballots can also be turned in to the auditor's office in person, and she also plans to install a drop box on the courthouse grounds where voters can drop their ballots.
Voters who want to track their absentee ballot can use this online tool provided by the Iowa Secretary of State's Office to keep track of when it is received by the county auditor's office.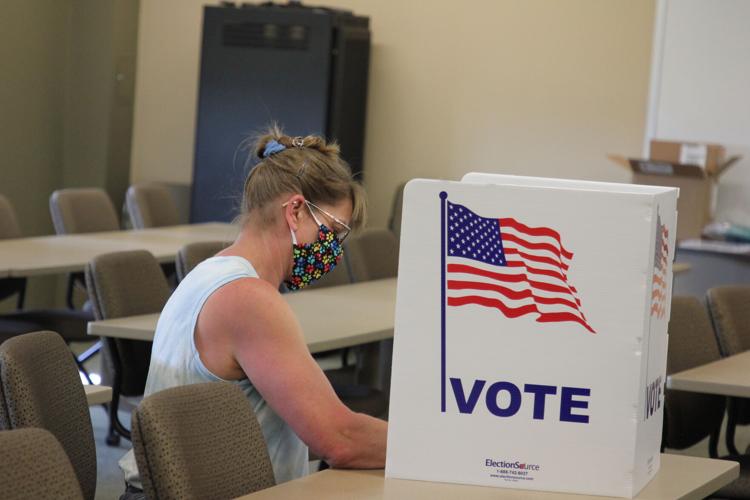 Q: What if I don't want to vote absentee?
A: That's fine. You can still go to your polling location on Election Day to cast a ballot. Lara warned that there may be longer waits at polling locations for the general election. In addition to an anticipated large voter turnout, there will be fewer poll workers, and the ones who work will have to manage cleaning the facilities to mitigate the spread of COVID-19.
"I'm not purposely reducing [polling location workers]," Lara said. "We have only so many people willing to work in that environment all day and put themselves at risk We're trying to mitigate that with all the safety precautions that we can. We still have to maintain six feet distance. So they may be standing in line while we disinfect a space."
The county is receiving grant money from the state to help fund some of those precautionary measures, including plastic dividers that can be wiped down, instead of the traditional cardboard partitions.
Lara said she's planning to have the same number of polling locations as she would any other year - there are eight in Hardin County. But the people working at those polling locations will have to work longer shifts to cover for fewer workers.
"It's disheartening when a lot of our usual poll workers are in that age group that puts them at risk. They send notes that say they miss working the election, but they just can't put themselves at risk," Lara said. "The flip side is the last time in the primary we recruited younger people who might not otherwise work. They were able to and it was fun to see that newer generation get involved in something like this. I'm hoping we can fill in the gaps and get some younger people."
Find more information about registering to vote, requesting an absentee ballot and voting on the Hardin County Auditor's website, and the Iowa Secretary of State's website.