With direction from the Iowa Department of Public Health that the next phase of COVID-19 vaccinations should begin no later than Feb. 1, Hardin County Public Health is solidifying plans for how it will distribute the shots. The only thing missing? Vaccine doses.
Hardin County Public Health received its first allotment of vaccine doses on Dec. 22. Since then, nearly all of those initial shots have been administered to health care workers and others who qualified as part of the state's phased vaccine distribution plan. But the county has received only one additional delivery of the vaccine - the second shot that completes the first round of inoculations.
Availability of the COVID-19 vaccine isn't just a Hardin County problem – it's statewide. During a press conference on Thursday, Gov. Kim Reynolds said Iowa ranks 46th nationally for the amount of doses that have been allocated to the state. Her comments were made during an explanation of the next phase of vaccine rollout that will prioritize first responders, educators, child care workers and Iowans age 65 and older.
The new guidelines published Thursday are different than those distributed by IDPH last week. On Jan. 12, the department said Iowans had to be at least 75 years old to qualify for group 1B. But on Thursday the guidelines were amended to includes Iowans age 65 to 75. There are more than 500,000 Iowans over the age of 65, including 3,800 in Hardin County.
But even though the new guidelines open up who is eligible to receive the vaccine, that doesn't mean everyone who qualifies will be able to get a shot.
"We again need to emphasize the demand for vaccine will vastly exceed our supply," Reynolds said. "This process is just going to take some time."
Local plans
This week, Hardin County Public Health began releasing information about how it will distribute the vaccine to residents who are eligible for Phase 1B. The agency will continue to use just one pharmacy – Medicap in Eldora – to distribute the doses it receives from the state. County Public Health Coordinator Rocky Reents said they chose to continue with that practice, rather than opening it up to other pharmacies, as she had suggested last week may happen, because it has worked well so far.
"We don't know what we're going to be allocated," Reents said. "We don't want to promise doses and then it comes time and we get a smaller amount. It's easier to stick with the processes we have in place. This helps with subprioritization. It's not just going to be a free-for-all."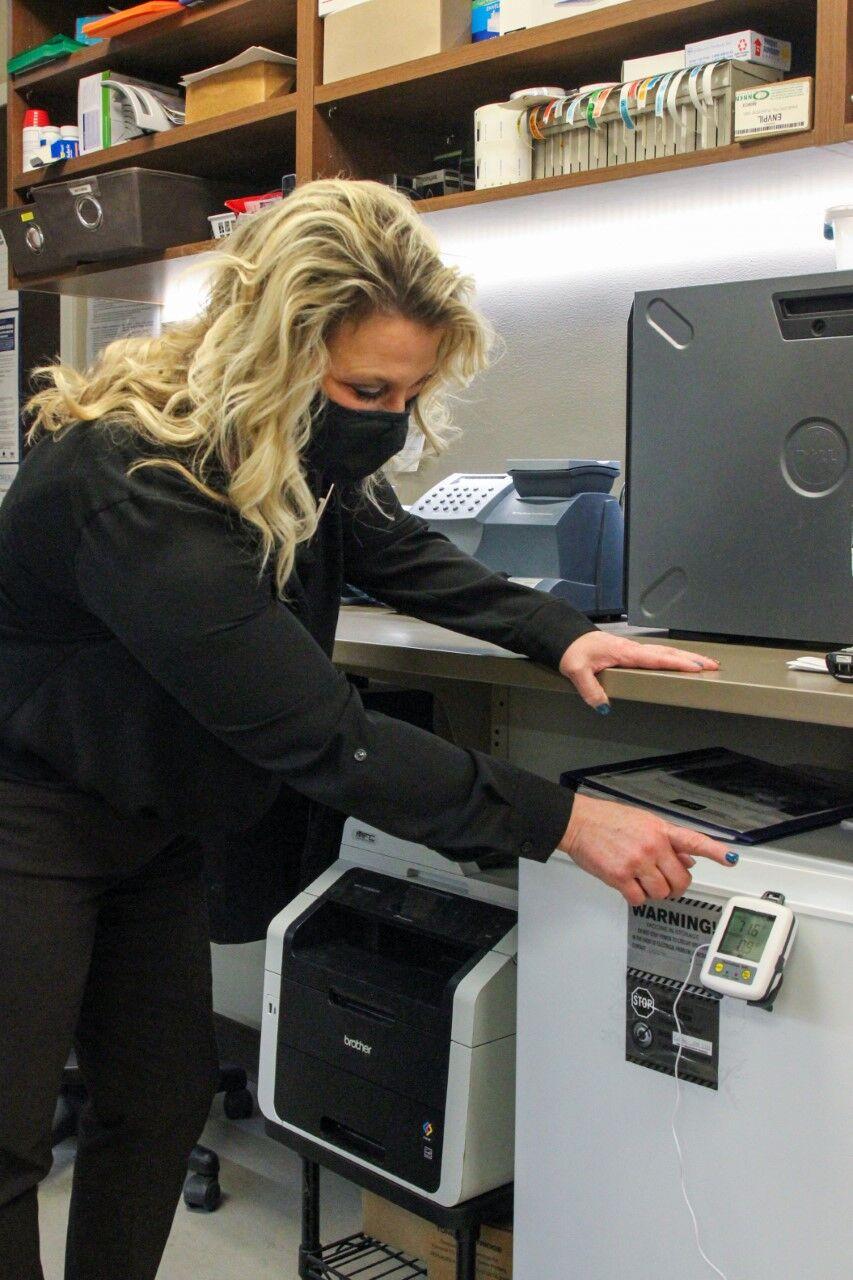 Reents is part of a group of Hardin County leaders that meets weekly to evaluate the COVID-19 situation and plan for vaccine distribution. Others in the group are Emergency Manager Coordinator Thomas Craighton, Sheriff Dave McDaniel and County Supervisor Renee McClellan. The group's decision to partner with one pharmacy has been criticized in recent weeks by Colette Venteicher, RPh, who owns Clinic Pharmacy in Hansen Family Hospital in Iowa Falls. Venteicher registered her business last year to be a COVID-19 vaccinator, and even equipped her office with a federal government-compliant freezer to store vaccine vials. She said last week that she's eager to help distribute Hardin County's COVID-19 vaccine, but so far her offer to help has been declined.
Hardin County officials said that's due, in part, to the requirements put on local public health agencies about how they distribute the vaccine doses. The doses that arrive for Phase 1B must be split 50-50, with half being administered to people age 65 and older, and half going to teachers, first responders and others who qualify.
"Managing that 50 percent to 65 and older and 50 percent to the rest of Tier 1, and saying this pharmacy 'You can only do this much,' I feel like it would be a lot to try to mange at this point," Hardin County Public Health Greenbelt Home Care Administrator Megan Harrell said.
There's been no directive from the state to local public health agencies about how many pharmacies they should work with, or which ones.
"Some counties are using multiple pharmacies, but it's just easier to work with the one to make sure the proper populations are being served," Reents said.
Harrell pointed to what she said has been a successful rollout of the first allotment of vaccines as proof that the local process is working.
"I feel very proud with the way this has been handled and how it's going so far," Harrell said. "We can get 10 to 12 doses out of each vial and we have not had to waste a single dose because we didn't have somebody to give it to."
According to the Iowa Department of Public Health, as of Jan. 19, Hardin County Public Health had administered 604 doses of the vaccine. In total, 905 Hardin County residents have been vaccinated. That number is higher because all but one of the county's long term care facilities received vaccines through the federal program and did not use the county's vaccine allotment.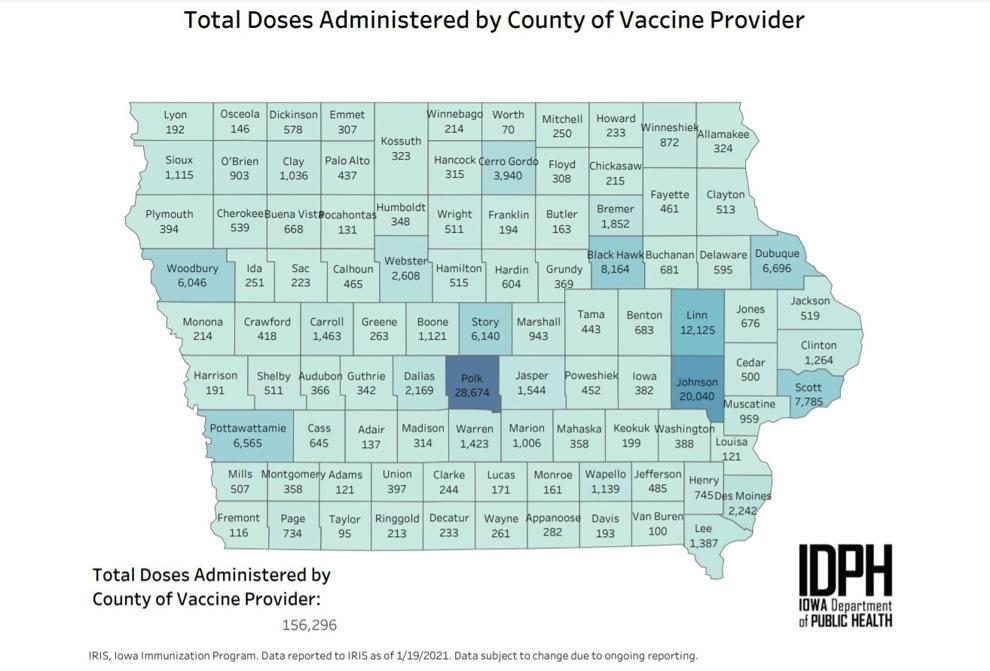 How to get the vaccine
The question on many Iowans' minds is how and when they will be able to get the vaccine. The short answer is no one knows. The county doesn't know when it will receive its next allotment of vaccine, and it does not know how many doses will be in that allotment, so for now they're waiting.
Distributing a limited vaccine supply to the next group of Hardin County residents will not be simple. Public health officials assume their supply will fall far short of the demand. Reents said she's been in communication with school districts throughout the county, as well as medical clinics, both of which could serve as locations where shots could be administered. She said Medicap Pharmacy plans to travel the county and hold as many vaccination clinics as needed to get the shots to the people who qualify for Phase 1B and want them.
How does one sign up? Reents said when the county knows when the next allotment will arrive, it will distribute information to the public – via the Greenbelt Home Care/Hardin County Public Health social media channels and local media – about how to sign up for a shot. While administration of shots to educators and child care providers will be coordinated through those people's place of work, vaccines for those 65 and older will be distributed "first come, first served."
Reents said the county usually receives an email two days before a new shipment of vaccine arrives in Eldora. When she receives that notice, she plans to use the agency's social media channels, local media and communication with partners in the county to let the public know how to sign up to receive the vaccine.
Vaccinating the educators
One of the top priorities of Phase 1B is vaccinating educators. The nature of school employees' jobs – being in close contact with children and other adults – puts them at greater risk of contracting the disease. And outbreaks of the disease in schools can force a shift to virtual school, which can affect children's education and families' work schedules. In preparation for vaccinating Hardin County educators, Reents said she's been in touch with local school districts and child care facilities to begin discussions about how the vaccine may be rolled out to them.
"They're aware we don't know what we're getting. They're pretty OK with that," she said. "They know they're going to get it eventually, but not on Feb. 1."
Two of Hardin County's superintendents are taking similar approaches to preparing for the vaccine's arrival. Both Tony Neumann, superintendent of the Iowa Falls and Alden districts, and Dr. Adam Zellmer, who leads the Eldora-New Providence and Hubbard-Radcliffe districts, said they've been surveying staff to measure interest in the vaccine. Neumann said about 97 percent of the 130 people who've responded to his survey are interested in receiving the vaccine, and Zellmer said he's heard from 100 employees who'd like to get the shot. But both know they're in a holding pattern until they receive further instruction from Hardin County Public Health. And they know even when the vaccine arrives, the supply will likely require prioritization of the people on their vaccination lists.
"I think we're definitely looking at people that would have a medical condition," Zellmer said. "We'll be looking at age of our staff when we determine who's going to get the opportunity to get it first."
Zellmer said bus drivers will also be near the top of the list because it's difficult to find substitutes for them. He and Neumann both said elementary school teachers may take priority over middle school and high school teachers because older students can more easily shift to online learning in the case of an outbreak.
Neumann said it may also be important for the district to stagger administration of the vaccine, rather than vaccinating a block of teachers at once.
"We don't want all of the kindergarten or first grade teachers getting it at once because if there's a reaction to all of them, they're all out," he said.