The number of new COVID-19 cases in the county decreased last week from the week before as spread of the disease eased slightly. According to data reported by the Iowa Department of Public Health, there have been 1,753 cases of the disease since March 2020, an increase of 13 cases since Monday, March 22. During the previous week, there were 22 new cases.
In addition to the 13 new cases of the disease, the county reported one new COVID-19-related death. That brings the total number of local deaths from the disease to 40 since August 2020. As of Saturday, one Hardin County resident was hospitalized for treatment of the disease.
Testing was down again last week, continuing a trend that began late last year. According to the Iowa Department of Public Health, 514 tests were administered to Hardin County residents March 20-26. The previous week's testing total was 610, and the week before that was 600.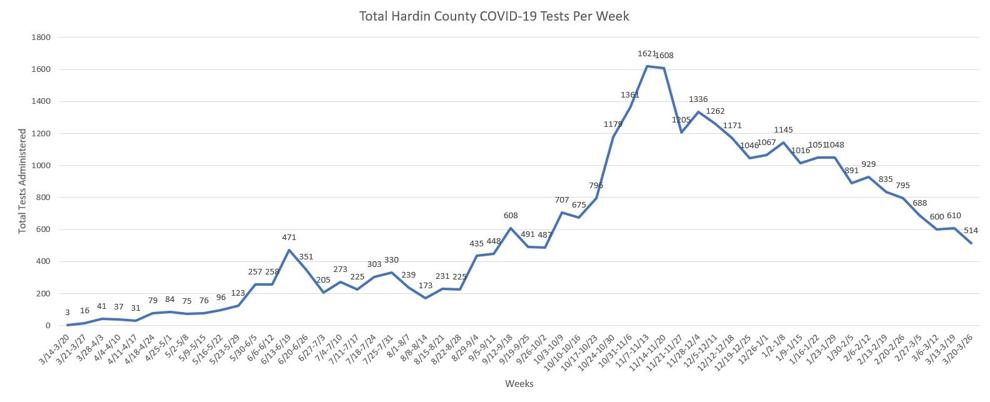 Vaccine distribution continued last week. As of last Monday, 2,686 Hardin County residents had been fully vaccinated – about 15.9 percent of the county's population. One week later, the Iowa Department of Public Health is reporting that 3,178 – or 18.8 percent of the population – has been vaccinated. That number was boosted by an increase in the number of doses of Johnson & Johnson vaccine that have been administered locally. Unlike the Moderna and Pfizer vaccines, Johnson & Johnson requires only one dose of vaccine to fully inoculate a person. Of the 492 new fully-vaccinated local residents over the last week, 57 received Johnson & Johnson.
Hardin County Public Health is continuing to receive 300 doses of vaccine each week, and is administering those who qualify for Tier 1 and Tier 2 (see chart at right). That includes educators, people over 65 and people who age 64 and younger who have underlying health conditions. Earlier this month, Gov. Kim Reynolds announced that all Iowans would be eligible for the vaccine beginning April 5, but Hardin County Public Health has not announced an expansion of its eligibility requirements. Public health is not the only distributor of vaccines in the county. HyVee Pharmacy in Iowa Falls and NuCara Pharmacy in Ackley are also distributing the vaccine through the federal allocation program.
Hardin County's schools reported some new cases of the disease last week, although spread has been minimal. Iowa Falls-Alden schools reported one new case last week, a decrease from the previous week when four cases were reported. South Hardin schools, which were on spring break two weeks ago, reported three new cases last week. AGWSR Superintendent Erik Smith, who has been issuing weekly reports about cases in the school district, said last week that he will no longer report on new cases in the district, but he will "continue to monitor the data and send updates as needed."
Ellsworth Community College, which has been testing all student athletes and coaches every week, reported no new cases of the disease last week.
An updated ZIP code map of COVID-19 infections shows the bulk of last week's new cases were reported in the Iowa Falls area. The 50126 ZIP code had five of the 14 cases reported by Hardin County Public Health last week. The Eldora and Hubbard ZIP codes each reported three new cases, Alden reported two and the Radcliffe ZIP code had one case. Only the Eldora and Hubbard ZIP codes have had a greater share of the county's total COVID-19 cases than they have shares of the total county population.