In the last week, an additional 21 Hardin County residents have been diagnosed with COVID-19, the disease caused by the novel coronavirus. Those new cases have pushed the county's total cumulative case count since March to 214.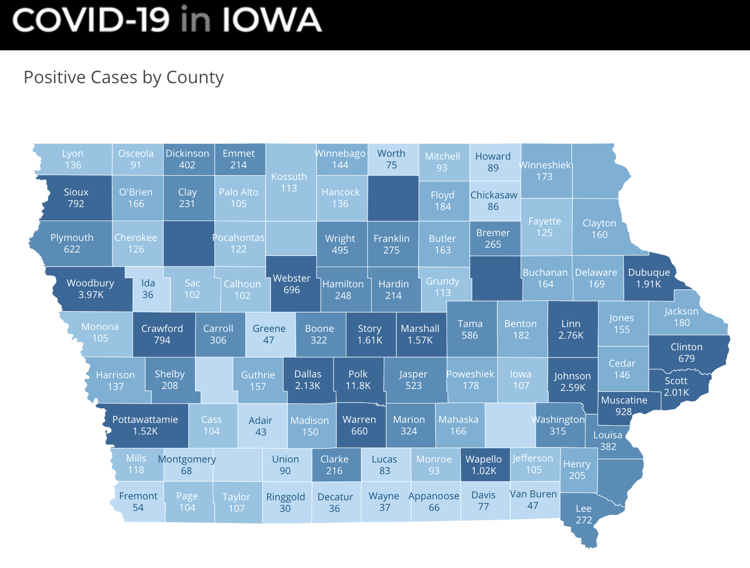 The new cases were reported as part of Greenbelt Home Care/Hardin County Public Health's weekly COVID-19 case report. For four months, the agency reported new cases daily or at least several times a week. On July 23, Public Health Coordinator Rocky Reents announced the reports would be issued weekly - on Mondays - going forward.
Of the 21 new cases reported on Monday afternoon, the age breakdown was as follows:
5 age 0-17
6 age 18-40
9 age 41-60
1 age 61-80
Of the 214 Hardin County residents who've tested positive for the disease, at least 146 were classified as recovered on Monday. That means 68 are still infected. One Hardin County resident is currently hospitalized for treatment of COVID-19 symptoms. One person has died.
Last week, Gov. Kim Reynolds and officials at the Iowa Department of Public Health acknowledged that for months the computer system has erroneously been backdating positive and negative tests of Iowans who've received the COVID-19 test more than once. That glitch was reportedly corrected on Wednesday last week, and many of the daily testing numbers, as well as positive and negative test results were altered to report what state officials say are now correct numbers, which also changed many counties' 14-day positivity rates - the number that's being used by school districts and the Iowa Department of Education to determine whether schools must offer in-person education. As of Tuesday, Hardin County's 14-day positivity rate was 8.3 percent, up from 6.4 percent last Wednesday.
School in the Iowa Falls and Alden school districts is starting this week. The South Hardin schools and AGWSR School District will begin classes next week.
In recent weeks the number of Iowans testing positive for COVID-19 has been on the rise. On Monday, the state's rolling 14-day total number of cases reached a new high since the pandemic began. It was 7,439, topping the previous high of 7,427 on July 19. Media reports in some Iowa college towns have shown images of crowded bars and parties with very few masks on the people in attendance. 
Last week, when Greenbelt Home Care/Hardin County Public Health announced the first COVID-19 death in Hardin County, Reents urged all county residents to take steps to stop the spread of COVID-19, including:
Stay home as much as possible. Leave only for essential errands like groceries or getting medication. When you run these errands, send only one person from the household if possible.
Stay home even if you're only mildly ill (the kind of illness that normally wouldn't prevent you from your everyday activities)
Cover coughs and sneezes with a tissue or your elbow/upper arm 
Wash your hands frequently with soap and water for at least 20 seconds.
People with COVID-19 have reported a wide range of symptoms including fever or chills, cough, shortness of breath or difficulty breathing, fatigue, muscle or body aches, headache, new loss of taste or smell, sore throat, congestion or runny nose, nausea or vomiting and diarrhea. If you are experiencing any of these symptoms, you're instructed to call your health care provider before going into the office. They will walk you through a series of questions and may ask you to report to a testing site.
Hansen Family Hospital in Iowa Falls is able to test for COVID-19, but patients should not show up at the hospital. Call the HFH COVID-19 phone number at 641-648-7113 first.
Testing is also available through the state's TestIowa sites and clinics. Complete an online assessment at TestIowa.com and you may be prompted to schedule an appointment at a TestIowa site. Find a list of TestIowa sites on the state's coronavirus website. The closest sites to Hardin County are in Waterloo and Marshalltown.