Four more Hardin County residents - all between the ages of 18 and 40 - have tested positive for COVID-19. The cases were announced by Greenbelt Home Care/Hardin County Public Health on Thursday evening and Friday morning.
Earlier this week, the local public health care agency issued a press release reminding the public that COVID-19 is still spreading in the county, and it's still a threat. In recent weeks, more young adults - people age 25 and younger - have been testing positive for the disease.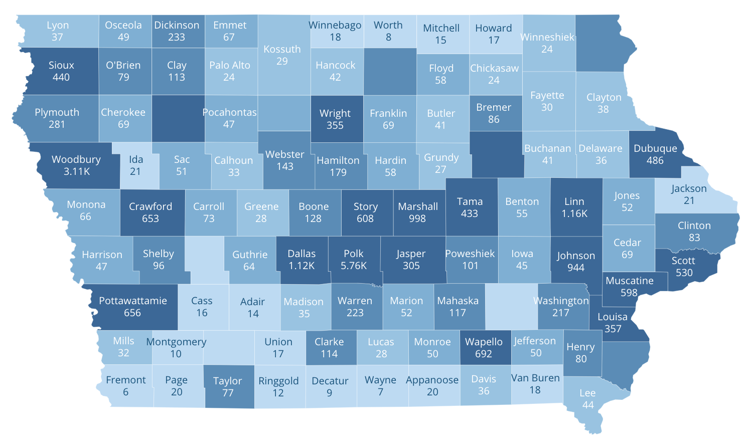 Since last Monday, June 15, Hardin County has recorded 14 new COVID-19 cases. Of those, one person is age 0-17, 12 are age 18-40, and one is 41-60 years old.
Other counties - Story and Johnson, in particular, where the University of Iowa and Iowa State University are located - have also seen an increase in the number of young adults testing positive for COVID-19. Those counties' public health departments issued similar press releases to the one distributed by Hardin County officials.
The press release reads, in part, "While we recognize asking well community members to stay home is isolating, the need to protect others is greater, especially the most vulnerable people in our communities, those who are 65 and older, are immunocompromised, have underlying medical conditions or live in nursing homes and long-term care facilities."
Since March, 58 Hardin County residents have tested positive for COVID-19. The state is reporting that 24 of those people have recovered. As of Wednesday, one county resident was reported hospitalized. And while there have been no deaths reported in Hardin County, a total of 701 Iowans have died of the disease.
On Friday morning the state was reporting that 1,509 Hardin County residents had been tested for COVID-19. That's one of every 11 local residents, or about 9 percent of the total population.
Hardin County Public Health Coordinator Rocky Reents and Public Health Nurse Rachel Loyd are urging the public to take precautions to prevent the spread of COVID-19. That includes staying home when you're ill, washing your hands frequently, staying at least six feet from other people, and wearing a face mask when you're out in public.
"The face coverings are not necessarily to protect yourself, but to protect the vulnerable population," Reents said earlier this week.
The public is also asked to take note of COVID-19 symptoms, which have changed in the three months since Iowans began testing positive for the disease. Loyd said that can be frustrating - for the public and for health care professionals. 
"This is so new that even we're learning that the signs and symptoms have changed," Loyd said on Tuesday. "[Iowa Department of Public Health] sends us our updated resources each time they decide they need to update anything that's changed . . . You get overwhelmed. We thought we knew the guidance."
People with COVID-19 have reported a wide range of symptoms including fever or chills, cough, shortness of breath or difficulty breathing, fatigue, muscle or body aches, headache, new loss of taste or smell, sore throat, congestion or runny nose, nausea or vomiting and diarrhea. If you are experiencing any of these symptoms, you're instructed to call your health care provider before going into the office. They will walk you through a series of questions and may ask you to report to a testing site. Hansen Family Hospital in Iowa Falls is able to test for COVID-19, but patients should not show up at the hospital. Call the HFH COVID-19 phone number at 641-648-7113 first.
Iowans are also asked to complete a health assessment on the state's TestIowa website. The assessment will ask you to enter information about your health and workplace, and will then give you the option of scheduling a COVID-19 test at a drive-through TestIowa site.
Find more county, regional and state data on the state's coronavirus website.