Sixty-seven Hardin County residents tested positive for COVID-19 in the last week. It's the smallest number of new cases the county has seen since late October, and continues a recent trend of declining numbers after November's month-long surge.
According to the Iowa Department of Public Health's coronavirus website, as of Monday morning, 1,325 Hardin County residents had tested positive for COVID-19 since March. At the same time last week, the number was 1,258.
Of those 1,325 Hardin County cases, 914 were classified as having recovered on Monday, and 20 have died. That leaves 391 people currently infected with the disease. The state's latest reported shows six Hardin County residents hospitalized for COVID-19.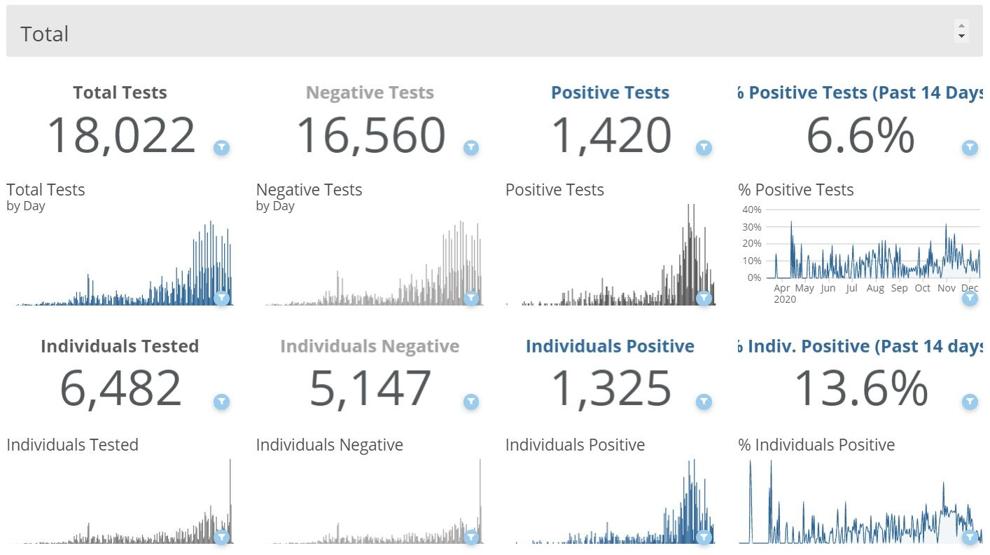 Public health professionals - and the White House Coronavirus Task Force - are warning the public that just because the recent surge in new cases is subsiding doesn't mean it's safe to let your guard down. They continue to advise mask wearing, social distancing, hand hygiene and other practices that have been shown to prevent spread of the virus.
Contributing to the number of positive cases in the county are recent outbreaks at two nursing homes in Eldora. Last week, Susan Eichmeier, administrator of Eldora Specialty Care and Valley View Specialty Care, confirmed outbreaks at both long term care facilities. Only one of the outbreaks is being reported on the state coronavirus website. According to the Iowa Department of Public Health, Eldora Specialty Care has reported 14 positive cases, with 12 of those coming in the last 14 days.
Hardin County's public schools are continuing to report numbers of new cases. According to reports issued by each area district, schools reported the following number of new cases last week:
Iowa Falls-Alden: 5
South Hardin: 7
AGWSR: 6
Ellsworth Community College classes wrapped up for the semester last week. The school has been operating almost entirely virtual since Thanksgiving break. The most recent cases reported by the college were three during the week of Nov. 16. In total this fall, ECC reported 88 COVID-19 cases among students.
ZIP code map updated
On Friday, Greenbelt Home Care/Hardin County Public Health released an updated list of COVID-19 cases per ZIP code. The majority of the new cases were reported in the county's three most populous ZIP codes. Of the 65 new cases in the report, 51 were in Ackley, Eldora and Iowa Falls. Most of Hardin County's ZIP codes saw only one or two new cases last week.
The Iowa Falls ZIP code, which is home to about 36 percent of the total population, saw 20 new cases in the last week, increasing its total to 435. That's about 34 percent of the total cumulative cases.
The Eldora ZIP code, which is home to about 17 percent of the county's population, has seen 19.2 percent of the county's cases. In the last week it reported 22 new cases. It is unclear how many of those cases can be attributed to the outbreaks at two long term care facilities there. In total, Eldora has reported 246 COVID-19 cases since March.
Find more COVID-19 data - at the state and county level - at coronavirus.iowa.gov.