The 50126 ZIP code - home to Iowa Falls, and the most populous of Hardin County's nine ZIP codes - has seen the most COVID-19 infections this year. That's according to new data released by the local public health agency on Monday evening.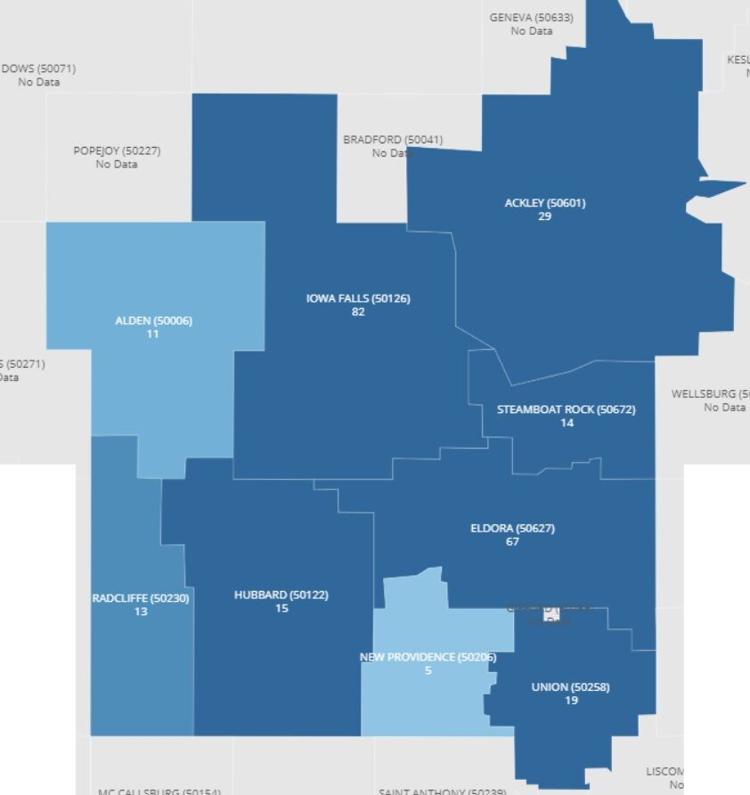 Since March, Greenbelt Home Care/Hardin County Public Health has released information about COVID-19 infections for the entire county without breaking it down by town or ZIP code. The reports were released daily beginning in March, but in July the agency switched to weekly reporting. This spring, local public health officials were inundated with questions from residents who wanted town-specific infection rates. But Hardin County Public Health Coordinator Rocky Reents said officials weren't allowed to release information that could be used to identify people who'd fallen ill with the disease that's caused by the novel coronavirus. While ZIP code information was available through the state's local public health reporting portal - and could be used to notify first responders of homes where people had tested positive for COVID-19 - Reents said it was difficult to generate reports that summarized the data.
This week, the state followed through with a promise made to local public health officials more than a month ago, making a new infection tracking system available to county public health agencies. Reents said the new system - called DOMO - breaks down infection totals per ZIP code. That information was released by Hardin County Public Health via its Facebook page on Monday evening.
The numbers are broken down by ZIP code - not by town. According to the data released, cumulative infections for Hardin County ZIP codes - total number of COVID-19 cases since March - are as follows:
Alden (50006): 11 cases
Ackley (50601): 29 cases
Eldora (50627): 67 cases
Hubbard (50122): 15 cases
Iowa Falls (50126): 82 cases
New Providence (50206): 5 cases
Radcliffe (50230): 13 cases
Steamboat Rock (50672): 14 cases 
Union (50258): 19 cases
The percent of total infection per ZIP code closely follows a ZIP code's percent of the total population. Hardin County's most populous ZIP code, 50126, also has seen the most cases. The ZIP code is home to 36 percent of the county's population, and 32 percent of its COVID-19 cases. Eldora's ZIP code, 50627, is home to 17 percent of the population, and 26 percent of the total COVID-19 cases. Alden (ZIP code 50006) has 9 percent of the county's population, and about 4 percent of its total COVID-19 infections.
According to the map, there have been 255 total infections, but updated numbers released by Greenbelt Home Care/Hardin County Public Health on Monday showed 261 total infections. It was unclear Tuesday morning what was causing the discrepancy.
Reents said the ZIP code data show what's been reiterated months - that COVID-19 is in every community and spreading, and residents should take precautions to prevent its spread.
Reents said the ZIP code data will be released on Mondays, along with the county COVID-19 infection data. Monday's coronavirus report for the county showed 12 new cases in the six days since the county's last report, which was a day later than normal due to the Labor Day holiday.
According to numbers released Monday afternoon, of the 12 new cases diagnosed over the last week, two people were age 0-17; four were age 18-40; three were age 41-60; two were age 61-80; and one was over age 80.
Of the 261 Hardin County residents who've tested positive for COVID-19 since March, 192 have recovered and one person has died, leaving 68 active infections. As of Monday, two Hardin County residents were hospitalized for treatment of COVID-19 symptoms. 
Real time COVID-19 data for the state of Iowa and Hardin County is available on the state's coronavirus website.
Hardin County schools have reported nine COVID-19 cases since classes began last month. That includes five in the last week: two at Iowa Falls-Alden; one at South Hardin; one at AGWSR; and one at Ellsworth Community College. Whether those students and/or employees are included in Hardin County's infection total depends on where they live. COVID-19 infections are tracked by a person's residence - not their place of work.
A review of data also shows that the Iowa Department of Public Health is continuing its practice of altering the dates of past tests. Earlier this month, IDPH Spokesperson Amy McCoy said that when an Iowan is tested more than once, the latest result is used and the older result is removed. Between Friday, Sept. 11 and Monday, Sept. 14, 38 tests were removed from 31 dates between April 16 and Sept. 4. This practice has been criticized by medical professionals. Eli Perencevich, and infectious disease doctor at the University of Iowa, said altering past data hinders state and medical leaders' ability to get a clear picture of the disease in Iowa and whether mitigation strategies that have been put in place have had any effect. The Times Citizen asked follow-up questions about the IDPH's practice of changing test dates, but McCoy has not responded to those questions.