Hardin County's COVID-19 transmission rate fell again over the last week, marking the fifth consecutive week of declining new case numbers. But even as reports of new cases decline, the county continues to record deaths from the disease.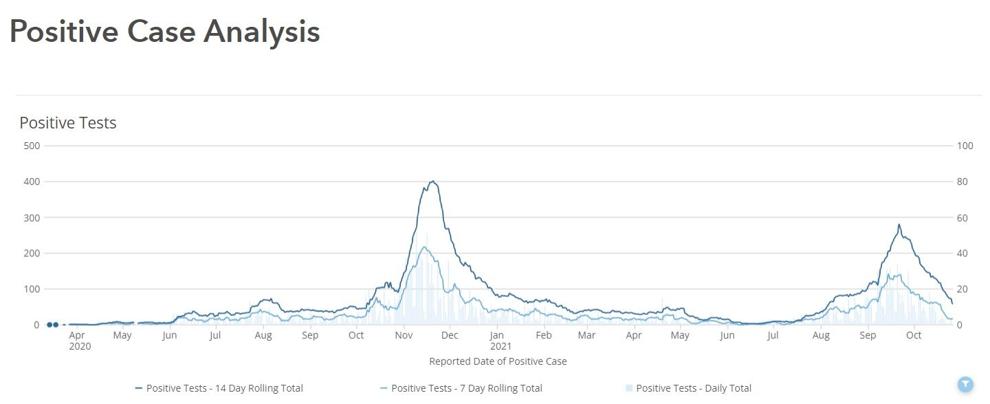 According to data released Wednesday by the Iowa Department of Public Health, there were 16 new cases of COVID-19 in Hardin County between Oct. 20 and 26. That's the lowest weekly new case count since the week of July 22-28. The state also reported on Wednesday that two more Hardin County residents have died of COVID-19, bringing the total to 51 deaths from COVID-19 since August 2020.
Of the 2,718 Hardin County residents who've tested positive for COVID-19 since testing began in March 2020, 2,502 are reported as having recovered and 51 have died. That leaves 165 known active cases of the disease in the county, a decline from last week's 250 known active cases.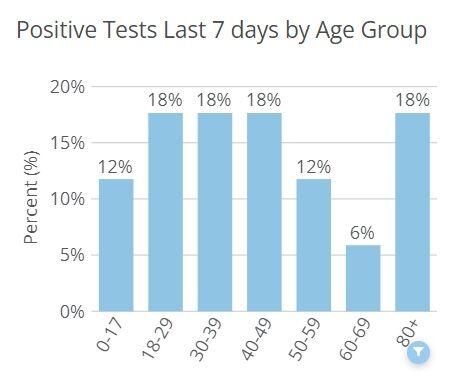 The 16 new cases this week are spread relatively evenly across age groups. According to a chart on the Iowa Department of Public Health's coronavirus website, 18 percent of Hardin County's 16 cases were in the age groups 18-29, 30-39, 40-49 and 80-plus-year-olds, each. 
Hardin County's 16 new cases in a week equates to 95 cases per 100,000 population. It's the first time since late July that the county has fallen below the range of "high transmission" and into the range of "substantial transmission," according to guidelines issued in July by the Centers for Disease Control and Prevention. High transmission is defined as 100 or more new cases in a week per 100,000 population. Substantial transmission is 50-99 new cases per 100,000. According to the CDC, people in areas of high and substantial transmission should wear masks when they're inside public places, regardless of vaccination status. 
Vaccination rate increases
Vaccinations continued at a steady pace over the last week. Forty Hardin County residents became newly fully vaccinated, lifting the total of fully vaccinated residents to 8,469, or 50.2 percent of the county's total population. When that number is adjusted to count only the county residents who are eligible to receive the vaccine (those age 12 and older), 57.9 percent of the county is fully vaccinated.
The vaccination of children age 5-11 could begin as soon as next week. On Tuesday, a panel of outside advisers to the U.S. Food and Drug Administration voted to recommend authorizing the two-doze Pfizer vaccine for children age 5 and up. Before the vaccine can be distributed, the FDA will have to adopt the panel's recommendation and an advisory panel for the Centers for Disease Control and Prevention, which is meeting early next week, will have to give its recommendation. Reports this week indicate the soonest the vaccine may be available is later next week.
Hardin County Public Health, which has coordinated distribution of the COVID-19 vaccine since it became publicly available early this year, is still waiting on guidance from the Iowa Department of Public Health about how to distribute the vaccine to younger children. Rocky Reents, Hardin County's public health coordinator, said the agency is participating in webinars as the state prepares to roll out the vaccine to a newly-eligible group.
In the meantime, Hardin County Public Health has begun hosting clinics to distribute Moderna COVID-19 vaccine booster shots to people who qualify for them. The first such clinic was held on Wednesday this week, and Reents said more are planned weekly in Eldora. The clinics are for people who received the two-shot Moderna series of vaccine at least six months ago. In addition, booster shots are currently reserved for:
People 65 years and older
People 18 years and older who reside in long-term care settings
People aged 18 years and older with underlying medical conditions
People aged 18 years and older who work or live in high-risk settings
Sign up for a booster clinic using this link. Hardin County residents who received the Pfizer or Johnson & Johnson vaccine and qualify for a booster are instructed to reach out to their pharmacy for information about obtaining a booster shot.