The number of new COVID-19 cases reported in Hardin County was down considerably last week – half what it was the week before – but testing for the disease was also down, the lowest it's been since October.
On Monday this week, the Iowa Department of Public Health was reporting a total of 1,542 COVID-19 cases in Hardin County since testing began in March 2020. That's 25 more than one week ago when the state was reporting 1,517. Of those 1,542 COVID-19 cases, 1,393 people are reported as having recovered, and 29 Hardin County residents have died of the disease, leaving 120 people currently infected. One week ago, on Monday, Jan. 11, there were 153 active cases. Six Hardin County residents were hospitalized for treatment of COVID-19 as of Jan. 14.
Testing over the last week declined to levels not seen since last fall. The state reports that a total of 943 tests were administered to Hardin County residents between Jan. 9 and 15. That's the smallest number of tests administered since the week of Oct. 17-23. Recent weeks' testing totals have been as follows:
Jan. 9-15: 943
Jan. 2-8: 1,130
Dec. 26-Jan. 1: 1,062
Dec. 19-25: 1,041
Dec. 12-18: 1,164
Dec. 5-11: 1,254
The Iowa Department of Public Health announced last week that two TestIowa sites would close on Friday in anticipation of blizzard weather conditions. All five TestIowa sites and the state Hygienic Lab are closed today for the Martin Luther King Jr. federal holiday.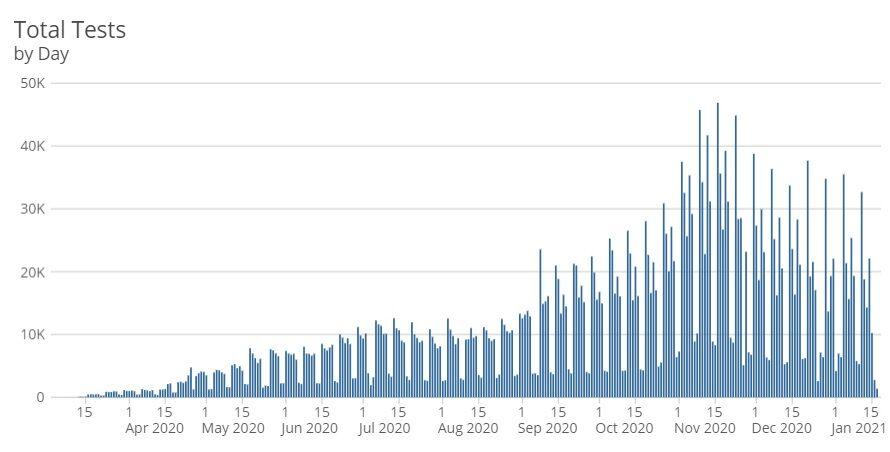 The White House Coronavirus Task Force, in a Dec. 6 report, warned that decreases in testing could allow rapid spread of the disease because it doesn't identify asymptomatic carriers of the disease, which it said are "responsible for the majority of the infectious spread."
The release of the task force's reports changed last month. Previously, they were issued weekly to each state's governor, but in late December the task force began issuing the reports only to governors who requested them. The reports evaluated the number of new cases being reported in states, counties and metropolitan areas across the country to identify areas where rapid spread was occurring. They used the metric "new cases per 100,000 population," and any area that saw more than 101 new cases per 100,000 was designated as being in the "red zone." The last time Hardin County saw fewer than 101 new cases per 100,000 population was Sept. 5-11. Last week it reported 148 per 100,000.
Heritage Care Center in Iowa Falls is still listed on the state's coronavirus website as having an outbreak of COVID-19. The facility's administrator, John Freeman, said last week that a total of seven residents had tested positive, the first on Dec. 7. The state's website was reporting on Monday that there had been no new positive cases in the previous 14 days.
Vaccinations continue
A new link on the state's coronavirus website reports the number of COVID-19 vaccines that have been administered. An updated report was released on Friday. It shows that as of Jan. 14, 811 Hardin County residents have received their first dose of vaccine. And of the 600 doses received by Hardin County Public Health, 567 had been administered by Jan. 14. Hardin County Public Health's vaccines have primarily gone to health care workers in the county. They were also used to vaccinate residents and staff of Grand JiVanté in Ackley, which did not sign up through the federal vaccine program.
Schools release reports
Superintendents of Hardin County's public schools released new infection reports on Friday. It was the second week of students being back at school after winter break. The following new cases were reported:
Iowa Falls-Alden: 1
South Hardin: 2
AGWSR: 0
Ellsworth Community College has not released a COVID-19 infection report since the week of Dec. 7. Students left campus for the Thanksgiving break, and most remained away - attending classes remotely - through the end of the term. The spring term at the college will begin on Tuesday, and students will be back on campus.
New ZIP Code map released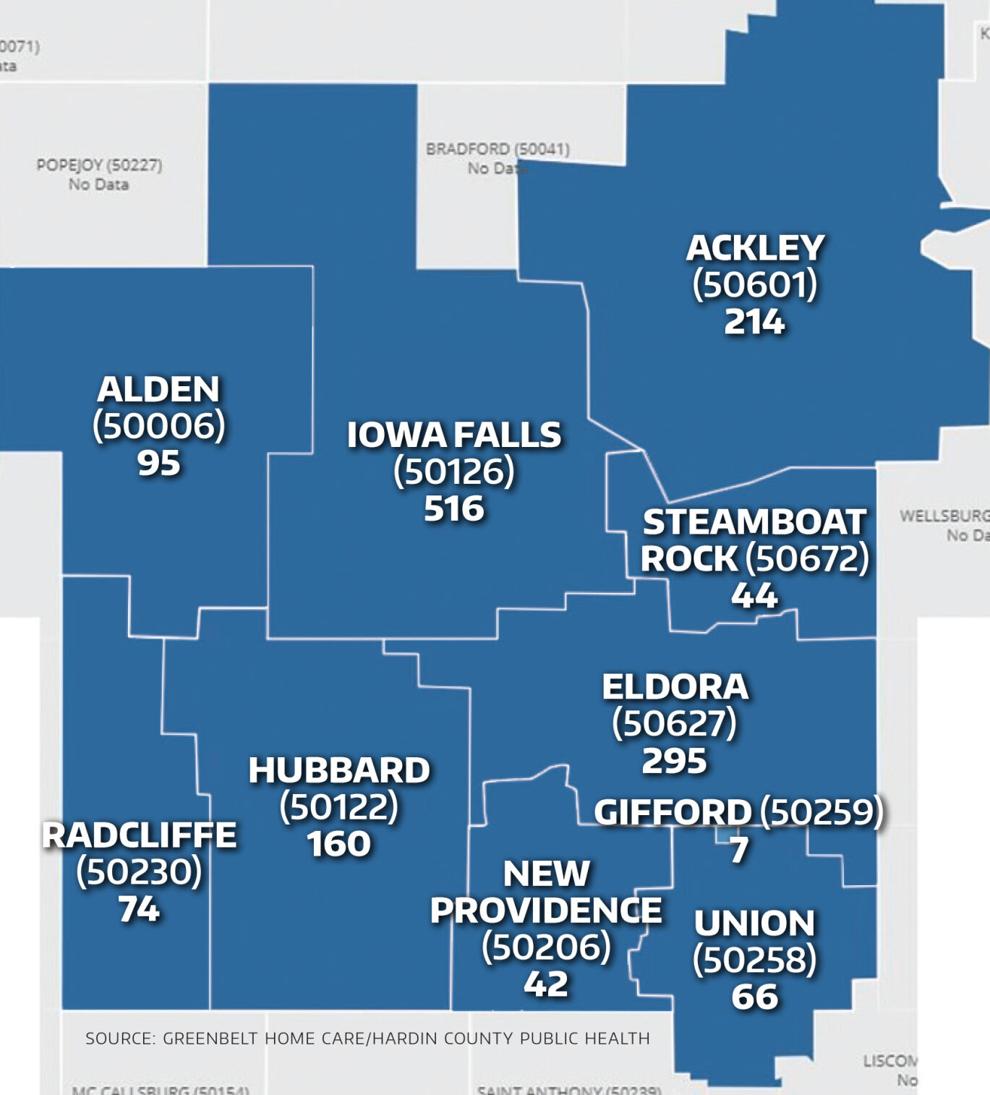 On Friday, Hardin County Public Health released an updated list of COVID-19 cases by ZIP code. The cumulative count has been released weekly since September. Last week's list shows an increase of 31 cases across all ZIP codes. The Iowa Falls ZIP code led the list with 12 new cases, and Alden's ZIP code reported seven.
To date, Eldora and Hubbard remain the ZIP code areas with the highest percentage of cases proportional to population. The Eldora ZIP code, which added three cases last week, has had 19.5 percent of the total COVID-19 cases, while it is home to 17 percent of the population. And Hubbard, which added one case last week, has had 10.6 percent of the COVID-19 cases while it is home to 7.3 percent of the population.
Every ZIP code on the report, with the exception of Gifford, reported at least one new case last week.