The number of new positive COVID-19 cases in Hardin County was down over the last seven days, making it the second consecutive week of decreasing new positive cases, indicating an easing of Hardin County's coronavirus surge, which began in early August.
The Iowa Department of Public Health publishes updated COVID-19 data every Wednesday. This week, the data for Hardin County showed a total of 2,603 cases since testing began in March 2020. That's an increase of 65 cases between Sept. 29 and Oct. 5. Last week, the state reported Hardin County had 93 new cases. Since Aug. 4, 656 Hardin County residents have tested positive for COVID-19.
On Wednesday, the state reported one additional death of a Hardin County resident from COVID-19, taking the total number of deaths to 48 since August 2020.
Of the 2,603 Hardin County cases, 2,130 people are classified as having recovered and 48 have died, leaving 425 known active cases of the disease in the county as of Tuesday this week. That's up just four cases from last week.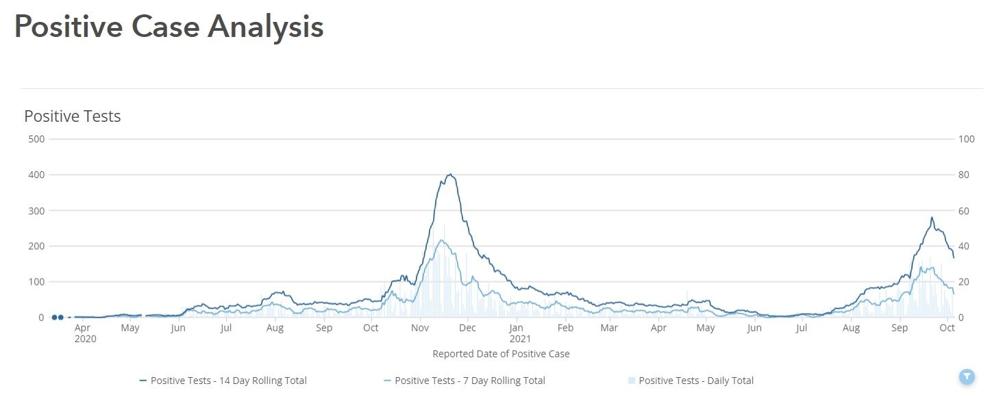 Despite the decline in the number of new cases, Hardin County remains an area of high transmission of COVID-19. According to the Centers for Disease Control and Prevention, counties that report 100 or more new cases of COVID-19 per 100,000 population in a seven-day period are classified as an area of high transmission and the public in those areas are are advised to wear face masks when inside public places, regardless of vaccination status. Over the last seven days, Hardin County has recorded 385 cases per 100,000. That's down from the peak of 812 cases per 100,000 Sept. 15-23, but still high enough to qualify for the CDC's mask recommendation.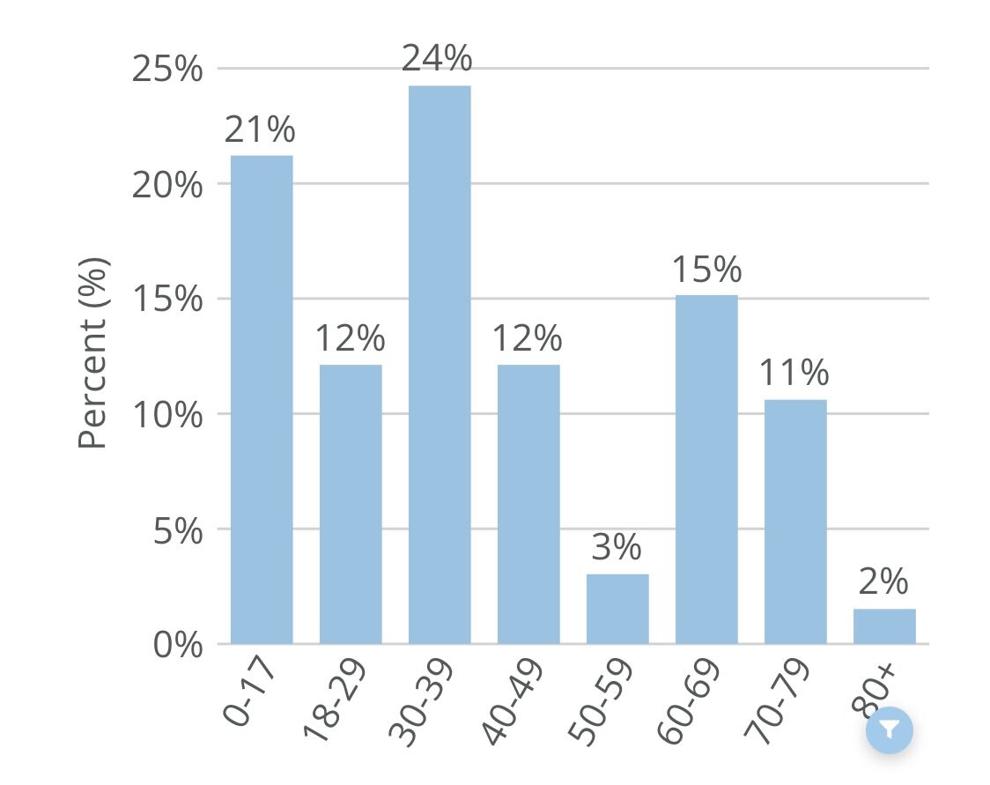 For the first time in six weeks, children weren't the greatest share of Hardin County's new COVID-19 cases. While health officials do not release specific data about the people who've tested positive for the disease, a chart on the Iowa Department of Public Health's website shows a breakdown of the age ranges of the Hardin County residents who've tested positive in the previous seven days. According to the state, of the 65 people who tested positive over the last week, 24 percent were age 30-39, 21 percent were age 0-17 and 15 percent were age 60-69.
Hospitalizations for treatment of COVID-19 have remained relatively stable over the last week, from 624 people in Iowa hospitals on Sept. 28, to 626 on Oct. 5. A total of 157 people were in Iowa's ICUs for treatment of COVID-19 last week, and this week that number was down to 141. The state publishes county-level hospitalization data every Thursday. When that information is made available by the state this story will be updated to include it.
Vaccinations increased again over the last week, but still less than half of Hardin County's total population is fully inoculated against COVID-19. The state reported that as of Tuesday, 8,346 Hardin County residents – 49.5 percent of the total population – had been fully vaccinated. That's an increase of 83 people from last week's report. Of the Hardin County population that is eligible to receive the vaccine (people age 12 and older), 57 percent have been fully vaccinated.
ZIP code data released
Hardin County Public Health issues its weekly COVID-19 reports on Friday. It includes the number of cases broken down by ZIP code in the county. The numbers reported on Oct. 1 showed Radcliffe had the largest jump in new cases when numbers were adjusted for population. The Radcliffe ZIP code recorded nine new cases of the disease between Friday, Sept. 25 and Oct. 1. That's 857 cases per 100,000 population. Iowa Falls was second with 37 new cases, or 548 per 100,000, and Alden was third with seven new cases, which is 424 per 100,000. Steamboat Rock was the only ZIP code that reported no new cases of the disease.