The upward trajectory of new COVID-19 cases in Hardin County advanced on Wednesday when the Iowa Department of Public Health published the latest coronavirus data. The update showed 48 new cases of the disease in the last week, an increase from the 22 new cases that were reported last Wednesday. The county hasn't recorded 48 new cases in a week in all of 2021.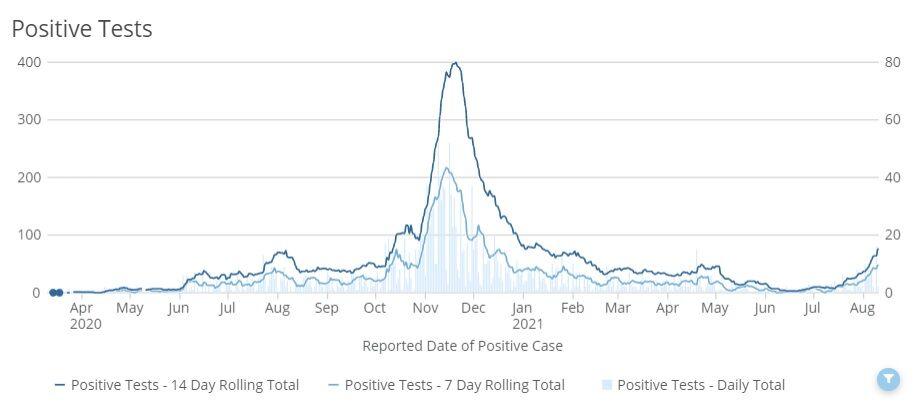 In total, since March 2020, 1,995 Hardin County residents have tested positive for COVID-19. Of that total, 1,851 are classified as having recovered and 44 county residents have died. That leaves 100 known active cases of the disease in the county, up from 55 last week.
For weeks, the number of new cases across Iowa and the rest of the country has grown at a faster pace as the more contagious delta variant of the virus has spread. On July 27, the Centers for Disease Control and Prevention issued new recommendations that Americans in areas of high transmission of the virus – defined as 100 or more new cases per 100,000 population in a seven-day period – should wear a mask inside public places, regardless of vaccination status. Hardin County remains an area of of high transmission this week with 285 new cases of the disease per 100,000 population.
Last week, Dr. Katie Haverkamp, a physician at Iowa Falls Clinic in Hansen Family Hospital, said upticks of new cases of COVID-19 are to be expected as the virus mutates and new variants are detected.
"What the delta variant has done in other areas [of the country] when it has surged, is it goes up for three to five weeks and then it goes down," Haverkamp said on Aug. 4. "But you can protect yourself and others around you and decrease the risk of getting it yourself and spreading it to people by wearing a mask."
Despite the increase in new cases, testing for COVID-19 was down slightly last week, averaging 121 total tests per day, as opposed to the week before when the average was 133 total tests per day.
Hospitalizations have increased across the state since last week's update. According to the state coronavirus website, 355 Iowans were hospitalized for COVID-19 on Aug. 11, compared with 214 one week earlier. Hospitalization numbers for Hardin County were not available on Wednesday afternoon. The state updates county numbers on Thursdays.
The number of Hardin County residents who are choosing to get vaccinated has increased, albeit marginally. On Aug. 4, the state reported that 8,023 Hardin County residents had received at least one shot of a COVID-19 vaccine. This week, that number was up to 8,149, which is about 48.3 percent of the county's total population. That increase, week to week, in the number of people who have either started or completed their vaccination, was 126 people between Aug. 4 and 11. The week before, from July 28 to Aug. 4, the increase was 101 people. And the week before, from July 21 to 28, the increase was 75 people.
The new COVID-19 cases in Hardin County do not appear to be centered in one area. Every Friday, Hardin County Public Health publishes an update of local coronavirus data. It includes a list of infections divided out by ZIP code. Last Friday's update showed that new cases are being identified across the county. At the time of the last report – which included data up to Aug. 6 – the Eldora ZIP code had the most new cases with eight between July 30 and Aug. 6. The Iowa Falls ZIP code had six cases during that week, Ackley and Hubbard ZIP codes had five each, Alden and Radcliffe had two each, and New Providence and Union had one each.