The number of active COVID-19 cases in Hardin County has nearly doubled in the last two weeks, reaching 372 on Tuesday – the highest it's been since mid-December.
Data released by the Iowa Department of Public Health shows the uptick in cases that began in Hardin County in early August inched higher with 137 new cases reported between Sept. 14 and 21 - the most cases in a week since November. A total of 2,445 Hardin County residents have tested positive for COVID-19 since March 2020. Of that total, 2,026 people are classified as having recovered and 47 Hardin County residents have died of the disease. That leaves 372 known active infections as of Tuesday this week, up from 286 last week and 189 the week before. By comparison, on July 27 there were 25 known active cases in the county.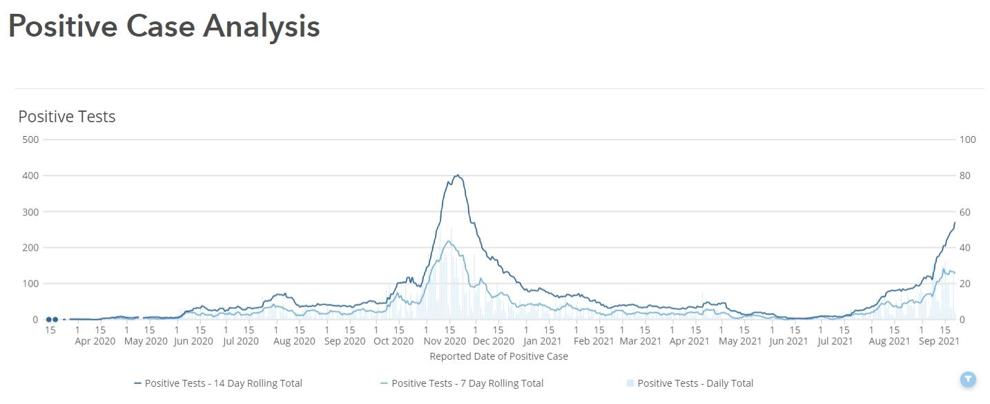 The county remains an area of high COVID-19 transmission, as defined by the Centers for Disease Control and Prevention. Guidelines released by the CDC in late July define an area of high transmission as any county that has recorded 100 or more new cases of COVID-19 per 100,000 population in a seven-day period. Hardin County's 137 new cases over the last week equate to 812 cases per 100,000 population. In areas of high transmission the public is advised to wear face masks inside public places, regardless of vaccination status.
Hardin County's vaccination rate inched higher over the last week. The state reports that 8,195 Hardin County residents - about 48.6 percent of the total population - are fully vaccinated, an increase of 100 people from the previous week. According to the CDC, 59.3 percent of Hardin County's population age 12 and up has received at least one dose of vaccine.
Virus reported in local children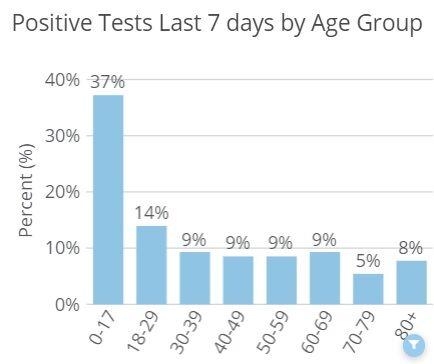 The greatest share of Hardin County's new cases in the last week has been in children. The Iowa Department of Public Health does not release data about individual cases, but its website publishes a graph showing the age ranges of the new patients over the previous seven days. Of the 137 new cases in Hardin County in the last week, the state reports that 36 percent were in children age 0-17. The second greatest percentage of new cases was in 18- to 29-year-olds, who accounted for 14 percent. The rest of the age groups, from 30 to 80-plus years old, were 9 percent or less each.
At least 20 Iowa school districts have implemented new mask rules in the wake of a federal judge's ruling last week that blocked enforcement of a law that banned mask mandates. None of Hardin County's school districts have moved to require masks, and none of the county's school boards have discussed the issue publicly since the Sept. 13 ruling.
Hospitals adjusting to increased patient volumes
As case numbers have increased in Hardin County and across the state, so have hospitalizations. Statewide numbers released Wednesday show 638 people hospitalized in Iowa for treatment of COVID-19, up from 578 on Sept. 14. County-level hospitalization data is posted on the Iowa coronavirus website on Thursdays. This week the state reported seven Hardin County residents are hospitalized for treatment of COVID-19, up from four last week.
As the latest COVID-19 surge continues and hospitalizations climb, health care providers are struggling to keep up with the influx of patients. Scott Curtis, Vice President of Network Development at MercyOne North Iowa, reported to the Hansen Family Hospital Board of Trustees on Wednesday that as of Tuesday, the hospital in Mason City was treating 29 COVID-19 patients, 14 of whom were in the ICU. HE said the 18-bed ICU includes two beds that are kept open for emergency procedures like heart surgery.
"We don't have nearly enough capacity," he told the board. "We've spent recent days expanding and opening another ICU at the hospital that will accommodate an additional eight beds. And we're planning for a third area for ICU care.
"It's concerning for us all as we try to prepare for that," he told the board. "As we've said before, staffing is a factor. We don't have nearly the level of staffing as we did last year – not because we don't want to, but because we can't get them."
Of the COVID-19 patients hospitalized in Iowa, the state reports that 80.5 percent of them are unvaccinated. In Iowa's ICUs, the unvaccinated account for 83.9 percent of patients.
ZIP code data shows transmission hot spots
Last Friday, Hardin County Public Health released its weekly COVID-19 update, which includes total infections per ZIP code. According to the data, the Iowa Falls ZIP code continues to see the highest rate of transmission of the virus. Between Sept. 10 and 17, the Iowa Falls ZIP code recorded 50 new cases. Since Aug. 27, that ZIP code has recorded 149 new cases of the disease. 
Other Hardin County ZIP codes recorded the following for new cases between Sept. 11 and 17:
Ackley: 7 cases
Alden: 12 cases
Eldora: 20 cases
Hubbard: 10 cases
New Providence: 3 cases
Radcliffe: 1 case
Steamboat Rock: 3 cases
Union: 4 cases
It is unclear how many Hardin County cases may be attributable to outbreaks at long term care facilities. In July, the state stopped reporting which facilities were experiencing outbreaks, and instead reports only the total number of outbreaks in the state. On Wednesday, that number was 29.