The coronavirus continues to spread in Hardin County, locking into a steady rate after falling from a surge earlier this fall. While transmission is down from where it was in September and early October, it's still high enough that government health officials recommend everyone wear masks, regardless of vaccination status.
According to Iowa Department of Public Health data updated Wednesday, there were 37 new cases of COVID-19 among Hardin County residents Nov. 10-16. For the first time since Oct. 12, there were no additional deaths reported in Hardin County. A total of 53 county residents have died of the disease since August 2020, with five reported in the last four weeks.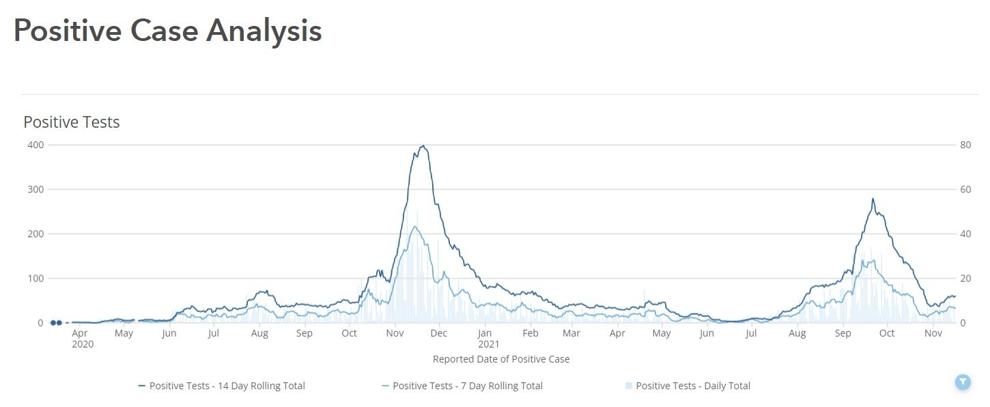 In total, since March of last year, 2,801 Hardin County residents have tested positive for COVID-19. Of those, 2,658 have recovered and 53 people have died. That leaves 90 known active infections in the county as of Tuesday this week, an increase of one case from the same time last week.
The 37 new cases in the last week equate to 219 new cases per 100,000 people, which qualifies as "high transmission" according to guidelines established by the Centers for Disease Control and Prevention. 
The rate of Hardin County residents who have become fully vaccinated against COVID-19 ticked up again last week, but only at the same rate as previous weeks. As of Tuesday, 8,599 Hardin County residents had been fully inoculated against the disease. That's about 51 percent of the county's total population, and an increase of 41 people from the week before. Since Oct. 12, each week, about 40 people have become newly fully vaccinated. That number does not account for children who may have received their first dose of the Pfizer-BioNTech COVID-19 vaccine in the last two weeks, since it received emergency use authorization by the U.S. government for children age 5-11. That vaccine requires two shots 21 days apart for a person to be considered fully vaccinated. In total, the Iowa Department of Public Health is reporting that 53.8 percent of Hardin County's total population has received at least one COVID-19 vaccine shot.
The state is also not reporting the number of Hardin County residents who've received a booster dose of a COVID-19 vaccine.
Hospitalizations increase in Iowa
The Iowa Department of Public Health reported on Wednesday that hospitalizations for COVID-19 have increased in recent days. While county level hospitalization data was not available on Wednesday, state hospitalization numbers reported 544 people were hospitalized in Iowa on Tuesday for treatment of COVID-19. That's up slightly from 524 one week earlier, and 483 hospitalizations two weeks ago.
In the north central Iowa region, of which Hardin County is part, 38 people were hospitalized on Tuesday. That's lower than this area's peak hospitalizations in late September, but higher than the hospitalization numbers two weeks ago.