After more than a month of closures, some Hardin County businesses will be allowed to open later this week, albeit under restrictions.
The announcement was made by Gov. Kim Reynolds at a Monday morning press conference. Reynolds cited data in making the decision, which will open up restaurants, fitness centers, malls, libraries, race tracks and retail stores at partial capacity in 77 counties. Restrictions on the number of people who can attend religious and spiritual gatherings have also been lifted.
A week and a half ago, President Donald Trump issued guidelines for states to follow to ease their lockdowns and reopen businesses. The three-phase proposal starts with a "downward trajectory of COVID-like syndromic cases reported within a 14-day period."
Iowa has seen a spike in the number of confirmed COVID-19 cases in recent days. Since Wednesday last week, the Iowa Department of Public Health has announced 2,185 new confirmed cases of the disease for a total of 5,868 as of Monday. Most of those cases have been part of "hot spot" testing at nursing homes and meat packing plants in the 22 counties that were exempted from the governor's Monday proclamation easing closures. 
In announcing her decision to lift some business restrictions, Reynolds said that the move was driven by data.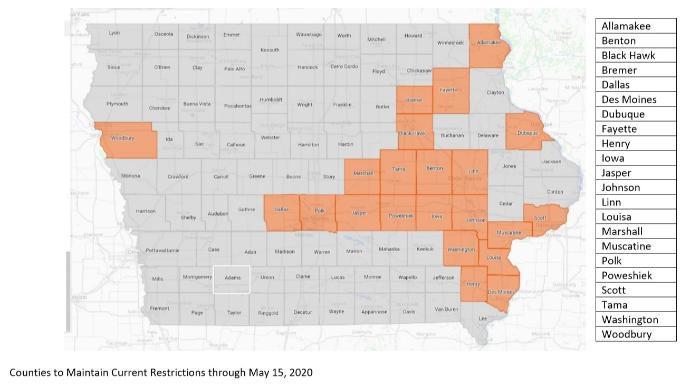 "Counties that we have opened up have stabilized and demonstrated a downward trend for 14 days, and so the counties that remain in the orange they have seen an increase in cases," Reynolds said referring to a map of the 22 counties where restrictions will stay in place. "That's why we're continuing to keep the restrictions the same in those counties and why the counties that have demonstrated that they have stabilized and saw a downward trend in the number of cases we've opened up or loosened some of the restrictions."
Hardin County is among the counties whose restrictions will be loosened, even though the number of confirmed cases has risen from three to seven since last Monday. Hardin County Public Health Coordinator Rocky Reents said that's probably because the number hasn't grown in the way others have in places like Black Hawk and Woodbury counties, which have seen triple-digit case numbers.
"Even though cases here are slightly increasing, I don't think they're considering us a hot spot," Reents said of the state's decision.
Reents and others at Greenbelt Home Care/Hardin County Public Health have been keeping tabs on the local COVID-19 patients. When a person tests positive for the disease, Greenbelt's public health nurse, Rachel Loyd, reaches out to them. She interviews that person, asks them who they've been in contact with and advises them to contact those people to let them know about their positive test.
County public health officials continue to monitor a COVID-19 patient's health - with regular phone calls to ask about symptoms - until the patient has gone three days without a fever. Of the seven COVID-19 patients in Hardin County, one - Eldora businessman and pastor Justin Weber - is still hospitalized outside the county. One person has recovered and is no longer being monitored, and five people are still being monitored by public health.
As of Sunday morning, the state's coronavirus website was showing that 174 Hardin County residents - about 1 percent of the 16,868 residents - have been tested for COVID-19.
Public health officials are continuing to urge social distancing and proper personal hygiene to prevent spread of the disease. The state is urging Iowans to complete a personal assessment at its new website, TestIowa.com, which uses data from residents to identify possible "hot spots" and set up COVID-19 testing.
Symptoms of COVID-19 include cough, fever (100.4 or greater) and shortness of breath. If you are experiencing any of these symptoms, you're instructed to call your health care provider before going into the office. They will walk you through a series of questions and may ask you to report to a testing site. Hansen Family Hospital in Iowa Falls is able to test for COVID-19, but patients should not show up at the hospital. Call the HFH COVID-19 phone number at 641-648-7113 first. Hansen Family Hospital is not a TestIowa site. The public should not show up at the site and expect to be tested for COVID-19.