Hardin County saw another sharp increase in the number of active COVID-19 cases this week, continuing an upward trajectory that began in late July after weeks of minimal virus transmission.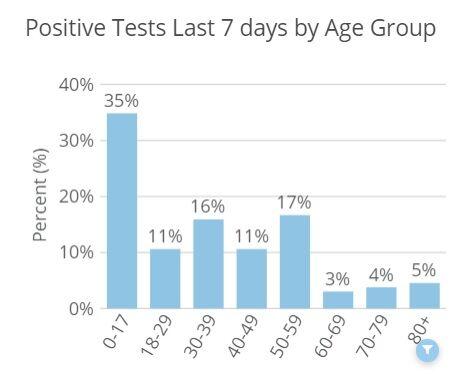 According to data released by the Iowa Department of Public Health on Wednesday, 125 Hardin County residents tested positive for COVID-19 between last Tuesday, Sept. 7, and this Tuesday, Sept. 14. A chart on the state's website shows that children age 0-17 make up the largest share of those new cases at 35 percent, confirming reports from local health care providers and public health officials.
"We have tested a lot of students that have been positive," Hardin County Public Health Coordinator Rocky Reents said on Wednesday. "This never happened last year. These are kids that are having symptoms, kids that are not feeling well."
Last weekend, Dr. Thomas Waters, a physician at Iowa Falls Clinic in Hansen Family Hospital, told the Times Citizen he'd seen more children with COVID-19 in the previous week than he did at any time last year.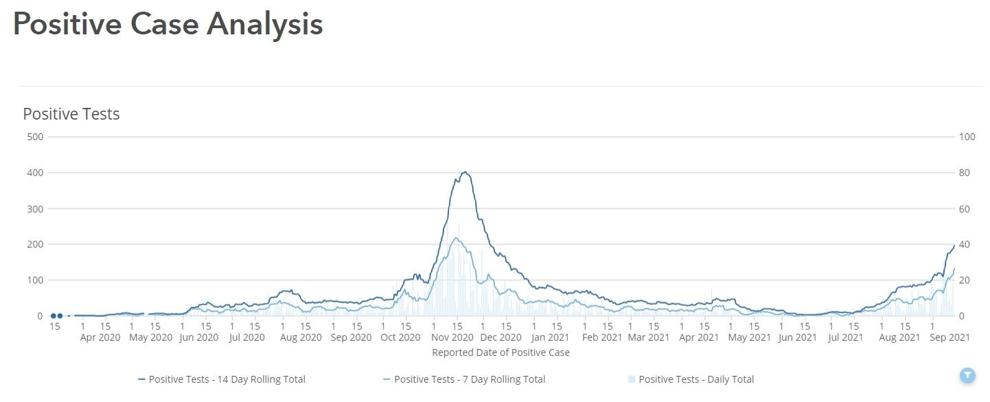 The 125 new cases over the last week – the most in a single week since last November – boosted the number of active cases in Hardin County. According to the state, as of Tuesday a total of 2,308 Hardin County residents have tested positive for COVID-19 since March 2020. Of that total, 1,975 are classified as having recovered, and 47 local people have died of the disease. That leaves 286 active cases, up from 189 one week ago. In contrast, on June 14 the county reached its lowest number of active cases in a year with 12.
The state reported on Thursday that four Hardin County residents were hospitalized for treatment of COVID-19, down from five people the week before. Statewide, hospitalizations remained steady at 578 people being treated for COVID-19 as of Wednesday.
Vaccinations slowed over the last week. According to the Iowa Department of Public Health, 8,095 Hardin County residents were fully vaccinated as of Sept. 14. That's about 48 percent of the county's total population, and an increase of 71 vaccinations from the week before. Each of the previous three weeks, the state reported 124, 90 and 99 newly-fully-vaccinated residents, respectively. Of the Hardin County residents who are eligible to receive a COVID-19 vaccine (people age 12 and up), the Centers for Disease Control and Prevention reports 55.5 percent are fully vaccinated.
Judge's order leaves mask rules up to schools
Until Monday this week, Iowa schools were prohibited from requiring masks in school buildings. A bill passed by the Iowa Legislature and signed into law by Gov. Kim Reynolds in the early morning hours of May 20 made school mask mandates illegal. But on Monday this week, U.S. District Court Judge Robert Pratt issued a temporary restraining order stopping enforcement of the mask mandate ban. While some Iowa school districts – Des Moines, Iowa City, Cedar Rapids and Council Bluffs – acted quickly to implement mask rules, none of Hardin County's school boards have issued new rules, and superintendents said there are no immediate plans to take up the issue.
"What we need to understand about these situations is that they're very complex," Dr. Adam Zellmer, superintendent of the Eldora-New Providence and Hubbard-Radcliffe districts, said in a video published on social media Tuesday afternoon. "They're challenging to interpret, and it's going to take time to work through legal channels and those rules making processes before these things are settled and before we can apply them effectively as a school district."
Iowa Falls and Alden school districts' superintendent Tony Neumann said he is waiting on guidance from attorneys, and he's waiting to see how appeals to Pratt's temporary restraining order play out.
"We need a little more time to see what's going to happen," he said. "We're kind of saying let's wait a week and see what happens with appeals. If we're constantly going back and forth, we'll never know what's going on."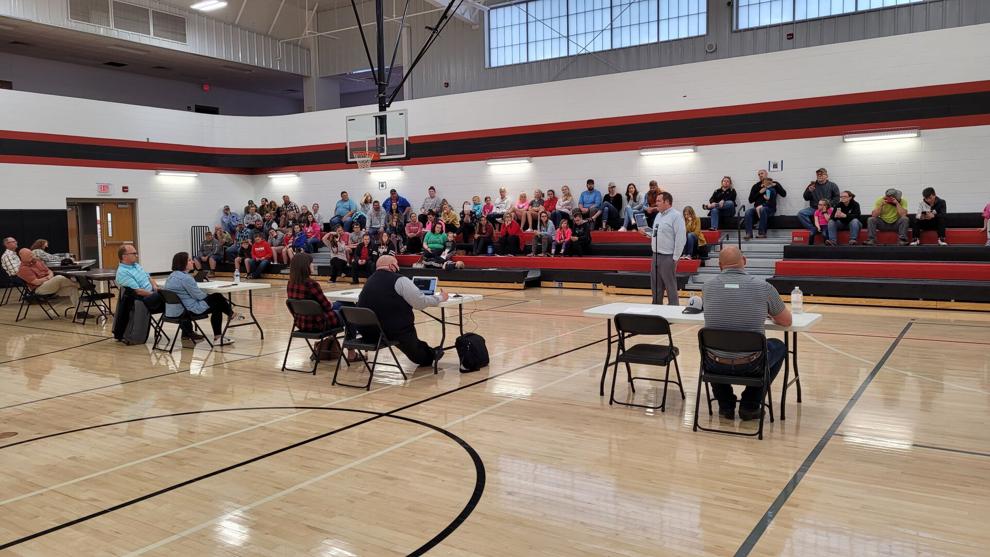 Schools in the Iowa Falls, Alden, E-NP and H-R school districts had mask mandates in place at the start of the 2020-2021 school year. In May, following a change by the Iowa Department of Public Health in quarantine guidelines for people – including students – who'd been exposed to COVID-19, the Iowa Falls School Board voted on May 10 to make masks optional beginning May 24. The Alden School Board rescinded its mask rule on May 18. The South Hardin school boards followed suit, citing the IDPH guidance as reason to lift its school mask mandate on May 17. In almost every district, school board members were confronted overwhelmingly by parents who argued - some vehemently - that the masks were more of a burden than a benefit.
Neumann said the district's attorneys from the Des Moines firm Ahlers and Cooney are working on memos that will provide some guidance on mask rules. Neither masks nor the current surge of COVID-19 cases was discussed at Monday's Iowa Falls School Board meeting. In Eldora, two parents addressed the E-NP School Board during public comment at Monday's meeting to request that coronavirus mitigation measures be put back in place. Board members did not respond publicly. Neumann said the Alden School Board is not planning to discuss masks or COVID-19 mitigation at its meeting next Monday.
While all of the local school districts released weekly student and staff COVID-19 case numbers last year, none of them are doing that this year.