Happy chatter filled the lobby of Medicap Pharmacy in Eldora on Wednesday afternoon as Hardin County's first doses of COVID-19 vaccine were injected into frontline workers' arms.
The scene is a familiar one by now – a rolled sleeve, a poised needle, squinted eyes that hint at smiles behind face masks. It's a light in the tunnel. A glimmer of hope at the end of a long and difficult year.
Almost nine months to the day after Hardin County Public Health reported the first local COVID-19 case, vaccinations have begun. Hardin County Public Health is working with Medicap Pharmacy in Eldora to distribute the vaccine to health care workers, who are first in line to get the shot.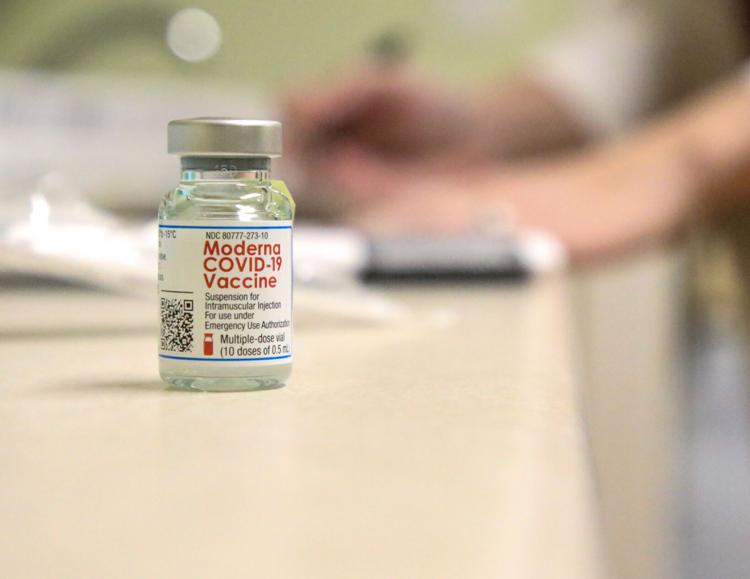 Hardin County's initial allotment of 600 doses of the Moderna vaccine arrived this week. Hardin County Public Health Coordinator Rocky Reents said there's been no communication to indicate when the next allotment of doses will arrive, but eventually she expects to receive a new batch every other week. The Moderna vaccine requires two shots, about 28 days apart. Unlike the Pfizer-BioNTech COVID-19 vaccine, it does not require ultra-cold storage.
Hardin County Emergency Management Coordinator Thomas Craighton was the first person to receive a vaccine on Wednesday. He was followed by a line of Greenbelt Home Care/Hardin County Public Health employees. They've spent months coordinating the local response to the pandemic by tracking cases, testing for COVID-19, and distributing information from the Iowa Department of Public Health to area schools, nursing homes, businesses and the public.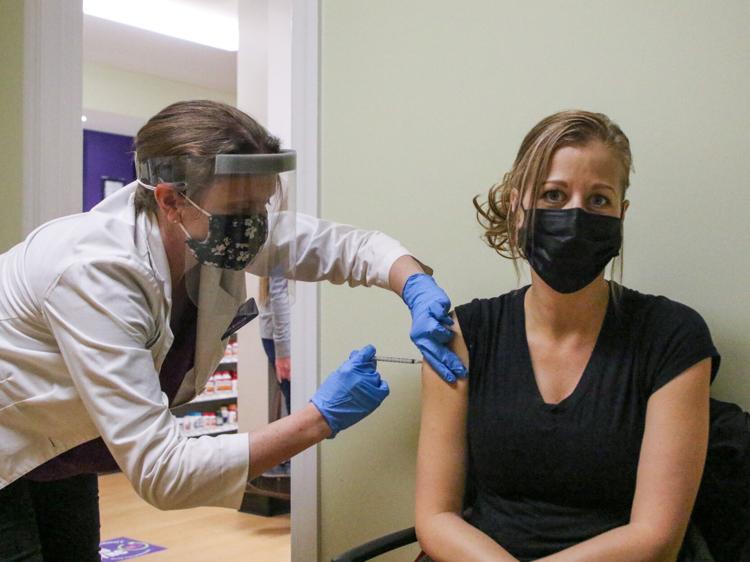 The COVID-19 vaccine rollout is a massive effort led by the U.S. government and state and local public health agencies. While there's much anticipation about when the vaccine will be available to the general public, a tiered system put in place by the Centers for Disease Control and Prevention prioritizes people whose work puts them on the frontline of the pandemic, followed by people whose age or medical condition would make them vulnerable to complications if they contracted COVID-19.
As more vaccine doses become available, the government will expand the groups who qualify to receive it. It is still unclear when the vaccine will be available to the general public, or exactly how it will be made available in Hardin County.
HFH prioritizing employees
Employees at Hansen Family Hospital, who since the beginning of the pandemic in March have been testing for COVID-19 and treating those infected by it, will begin vaccinations next week. Shelby Guevara is the hospital's quality manager and clinic coordinator at Ackley Medical Center, and she's been overseeing preparations to distribute the vaccine to hospital employees. With so much up in the air, the job has required patience and flexibility.
"We still don't know for sure when we're getting them," she said of the vaccine doses, which will come from Hardin County Public Health. "They're saying next week, so that's what we're planning on."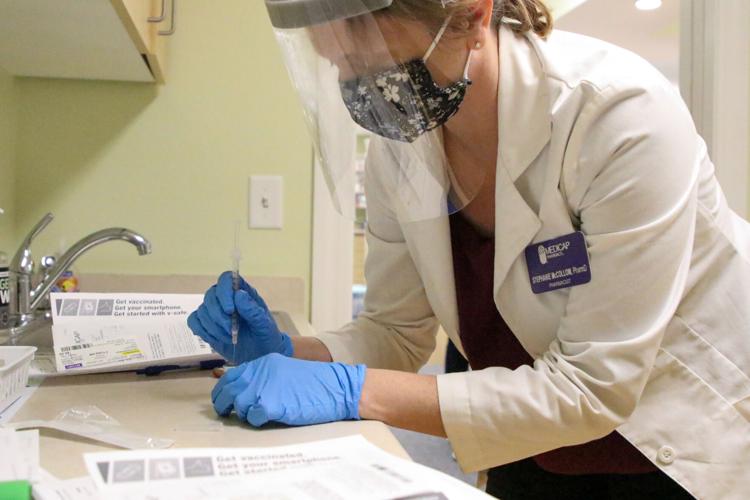 The Moderna vaccine will be rolled out to hospital staff in a tiered system that prioritizes employees based on their risk of exposure to COVID-19. The first group is employees who do COVID-19 testing and treat patients who are infected. Next up is employees who work with patients in the clinics. They come into contact with people who are ill and may later test positive for COVID-19. The third group will be "patient-facing" employees who do not have contact with COVID-19 patients, like the therapy department. And finally will be employees in non-patient care areas like administration and maintenance.
Vaccination is not mandatory, but it is "highly recommended," Guevara said. The hospital is distributing information about the vaccine to its employees.
"We have had some employees that have been a hard 'no' for various reasons, but we actually have had a lot of people say yes," Guevara said. "There have also been a lot of people who've changed their mind. They were a 'no' and then they did some research.
"They're thinking of the bigger picture," Guevara said of people who've decided to get the vaccine. "They see that this helps our patients and it helps our community and it's doing our part."
'We're heading in the right direction'
Waiting in line for the vaccine behind health care workers are some of Iowa's most vulnerable citizens: nursing home residents. Unlike health care and frontline workers, long term care facilities will receive their vaccine doses directly from the federal government. The Pharmacy Partnership for Long-Term Care invited long term care facilities to sign up with one of three pharmacies earlier this year. Now those pharmacies - Walgreens, CVS and Community Pharmacy - will take on the work of vaccinating long term care residents and staff. Reents said every long term care facility in Hardin County except Grand JiVanté in Ackley signed up through the federal program. Grand JiVanté's vaccine doses will be provided by Hardin County Public Health.
At Scenic Living Communities in Iowa Falls, Walgreens will be on site early next month to vaccinate nearly 200 people. That will include residents of the campus' nursing home (Scenic Manor) and its assisted care facility (Ashbrook), as well as all Scenic Living Communities employees. Residents of Scenic Living's Cedar Ridge - its independent housing - do not yet qualify to receive the vaccine.
Scenic Living Communities Executive Director Lisa Hoodjer said the facility learned on Tuesday that the first round of the Pfizer-BioNTech vaccine will be administered on Jan. 4. It requires two shots 21 days apart, so Walgreens employees will return to campus on Jan. 25 and Feb. 15 to administer follow-up doses.
Heritage Care Center in Iowa Falls has partnered with CVS to receive its vaccines. About 140 residents and staff there will be vaccinated early next month. Administrator John Freeman said the tentative first date of vaccinations is Jan. 14.
Both Hoodjer and Freeman said there's been good response to news of the vaccine. Neither facility mandates vaccinations of residents or staff, but - like the hospital - it is highly recommended.
After months of isolation, they said the vaccine is a signal that life may get back to normal sometime soon.
"There's not a lot of information about what our post-vaccine world will look like, but we know it's going to be better than it is now," Freeman said. "It feels like we're seeing some light at the end of the tunnel."
There's been no communication from the Centers for Disease Control or the Iowa Department of Public Health to indicate when visitor restrictions can ease at long term care facilities, but the new year brings hope.
"It's not an immediate fix," Hoodjer said, "but we're heading in the right direction."