Hardin County has seen a surge of new COVID-19 cases in recent days, setting records for most cases in a single day and week.
Last Monday, the Iowa Department of Public Health was reporting that Hardin County had recorded a total of 328 cases of COVID-19 since testing for the disease began in March. Today, Oct. 12, the state is reporting a total of 373 cases. Two days last week – Oct. 7 and Oct. 9 – saw double-digit new cases of 16 and 18, respectively.
At least part of the surge in cases seems to be attributed to Ellsworth Community College, which reported Monday morning that there had been 19 positive COVID-19 tests during the week of Oct. 5.
The previous one-week record for new COVID-19 cases in Hardin County was July 21-27, when 35 new cases were reported. That was during an outbreak of COVID-19 at the State Training School in Eldora.
Hardin County's 14-day average positivity rate, as of Monday morning, was 10.3 percent.
The surge in cases wasn't reflected in Greenbelt Home Care/Hardin County Public Health's weekly COVID-19 infection report issued on Friday morning. That report showed 19 new COVID-19 cases between Oct. 3 and 9. The additional cases showed up on the state's coronavirus website over the weekend. The new, updated case count was confirmed by Hardin County Public Health on Monday morning.
There also has been one additional COVID-19 death. On Sunday, Greenbelt Home Care/Hardin County Public Health Coordinator Rocky Reents announced the death and reported that the person was an older adult, age 61-80. Three Hardin County residents have died from complications of COVID-19. The first death was announced Aug. 19, and the second on Oct. 6. All three have been age 61-80.
Of the 373 COVID-19 cases diagnosed in the county since March, 280 people are reported as having recovered. That leaves at least 90 Hardin County residents currently infected with the disease.
Local schools have continued to issue reports about new COVID-19 cases, although the numbers have decreased. The reports do not distinguish between cases in students or employees. In reports issued on Friday, Hardin County schools reported the following for new cases:
Iowa Falls-Alden: 1
South Hardin: 0
AGWSR: 0
Ellsworth Community College: 19
ECC Athletic Director Nate Forsyth confirmed last week that some students were in quarantine while they awaited the results of COVID-19 tests. He said he did not know the number of students in quarantine last week.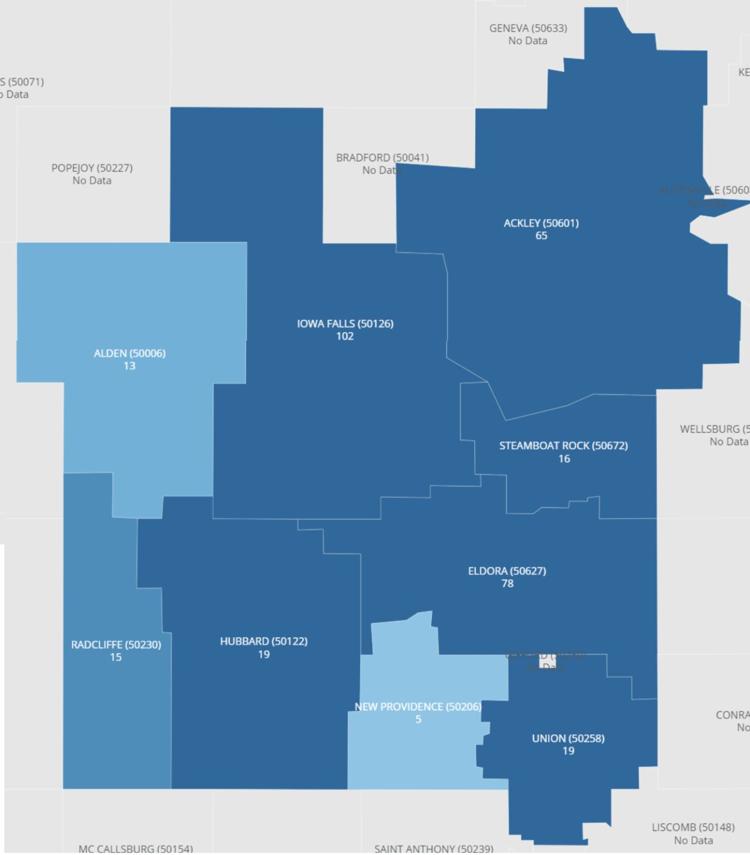 With its report on Friday, Greenbelt Home Care/Hardin County Public Health released an updated ZIP code infection map. The map showed a total of 332 cases, even though the county was reporting a total of 336. The numbers on the map and the total number of cases in the county have not ever matched, and the state has not answered questions about the discrepancy.
According to the map, the Iowa Falls ZIP code - 50126 - saw the largest case number increase in one week, from 95 to 102, but the Ackley ZIP code - 50601 - also continued to grow, from 59 to 65. While the Ackley ZIP code is home to about 14 percent of the county's population, it has seen almost 20 percent of the county's total COVID-19 cases. Meanwhile, Iowa Falls is home to about 36 percent of the county's population and it has seen about 30 percent of the county's total cases.
*This story was updated at 10:15 a.m. on Monday, Oct. 12 to include the number of new cases at Ellsworth Community College.