EDITOR'S NOTE: This story was updated at 5:30 p.m. on Wednesday, June 3, when additional COVID-19 cases and information about the cases were announced by Scenic Living Communities.
Four cases of COVID-19 have been diagnosed at the Scenic Living Communities campus in Iowa Falls. They are the first cases of COVID-19 confirmed to have been diagnosed at a senior living facility in Hardin County.
Lora Juhl, executive director of Scenic Living Communities, said Wednesday that the first case was announced to residents and families on Saturday, the second and third on Tuesday, and the fourth case was announced on Wednesday. Two of the cases are staff members, and two are residents at Ashbrook Assisted Living.
Scenic Living Communities offers a continuum of care, from long term care and rehabilitation at Scenic Manor, to assisted living at Ashbrook, and independent living at Cedar Ridge.
As of Wednesday, there have been 19 confirmed cases of COVID-19 in Hardin County, including two announced Wednesday afternoon. Greenbelt Home Care Public Health Coordinator Rocky Reents could not confirm whether the Scenic Living Communities cases are part of the county total.
Juhl said diagnosis of the cases at Scenic Living Communities won't change anything the organization is doing to prevent the spread of COVID-19 because staff and residents have been taking all recommended precautions since March.
"Staff have been masking, wearing eye protection, answering screening questions and taking their temperature as they arrive and leave for months," said Juhl. "Everything we've implemented we've done with the assumption that we already had [COVID-19] here."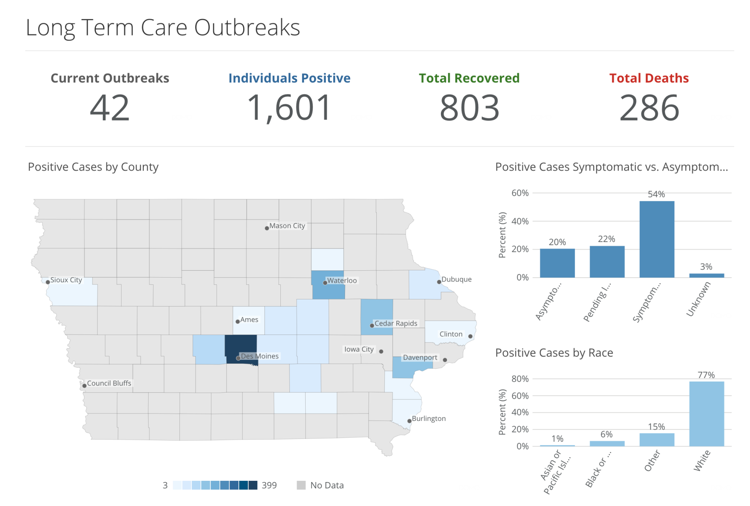 The Iowa Department of Public Health tracks outbreaks of COVID-19 at long term care facilities in the state. A long term care outbreak is defined as three or more cases among residents at a single facility. However, the state does not classify assisted living facilities to be long term care facilities. As of Wednesday there were 42 outbreaks at long term care facilities in Iowa, but none in Hardin County.
Juhl said staff at Scenic Living Communities - and at facilities throughout the state - are adhering to strict guidelines that keep preventative protocols in place, including closing the doors to all visitors and most deliveries and contractors.
"When the state started to reopen we had people who wanted to do a social distance visit with family members and we had to say no," Juhl said.
The closure has been difficult for families and for residents.
"The effort to keep this population safe has consequences," Juhl said this week. "[COVID-19] is awful, but the alternative for our residents is awful as well. They don't get to see family, they don't get socialization."
Juhl said on Monday there had been no blanket testing of staff or residents at Scenic Living Communities. Instead, some staff and residents were tested if they exhibited symptoms of the illness, all with negative results. In those situations isolation protocol was always followed. On Wednesday this week Juhl said more staff and all of the residents at Ashbrook will be tested for COVID-19.