The Hardin County COVID-19 case count reached 40 on Thursday, doubling the number that was being reported a week ago. One local health care professional is warning local residents that the coronavirus pandemic is still a threat, and people should continue to take measures to protect themselves.
Greenbelt Home Care/Hardin County Public Health reported one new case on Tuesday and three on Wednesday, all in patients age 18-40. Another three new cases were reported Thursday morning, one in a person age 18-40, and one in someone who is 41-60 years old.
But while local health officials are reporting 40 cases, the state's coronavirus website is showing 39 cases. Hardin County Public Health Coordinator Rock Reents said she doesn't know the reason for the discrepancy. For several days last week, the site was showing one more case than had been confirmed. That mistake was corrected on Tuesday, but then within a few hours it was showing a number that was one less than the total number of case.
Among the COVID-19 cases reported in the last week have been employees at several Iowa Falls businesses. Last Friday, the Casey's General Store on the west end of Washington Avenue in Iowa Falls was closed for cleaning after one of its employees tested positive for COVID-19.
Scenic Living Communities has also reported cases at its senior housing campus in Iowa Falls. Last week Executive Director Lora Juhl reported that four SLC employees and two residents of Ashbrook Assisted Living had tested positive. That led to more widespread testing - of an expanded group of employees as well as every Ashbrook resident. Juhl reported this week that all of those test results have come back and there are no additional positive results to report.
On Tuesday this week, Las Flores Mexican Restaurant in Iowa Falls announced via Facebook that one of its employees has tested positive for the illness. The restaurant will be closed until further notice, the post said, to "work our hardest to make sure to clean and make sure everyone is healthy to return safely."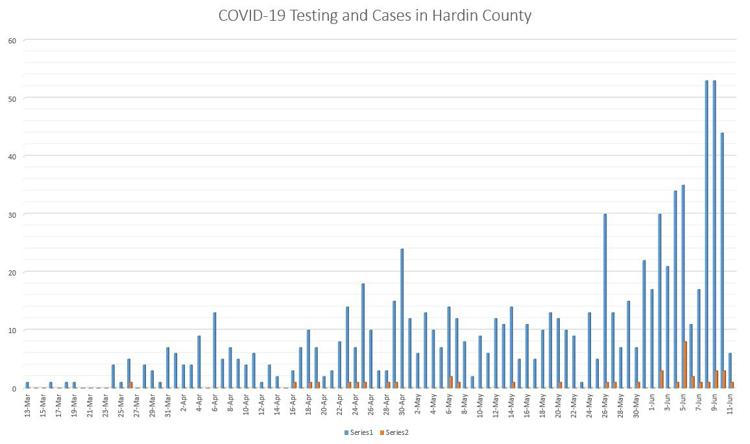 Testing of Hardin County residents has increased over the last week. In the first three days of this week, 150 residents were tested for COVID-19. In seven days last week, 170 Hardin County residents were tested. To date, a total of 876 county residents have been tested for COVID-19. That's one of 19 local residents, or about 5.2 percent of the county's 16,868 residents.
Jessie Harken, lab director at Hansen Family Hospital in Iowa Falls, said the hospital has seen an increase in the number of tests it's performing. Not all of those tests are processed at the hospital - some are sent out for processing. And not everyone who wants a test can get one in Iowa Falls.
Harken said the hospital's testing protocol remains the same as it was three months ago. If someone is feeling ill they're asked to call the HFH COVID-19 phone number at 641-648-7113. They'll go through a screening process for signs and symptoms of COVID, and they may be directed to see a provider via video conferencing. From those screenings they may be asked to go to the hospital for a COVID test. If a person is not feeling ill, but they know they've been in contact with someone who has tested positive for COVID-19, they're also asked to call 641-648-7113, and they'll go through a series of screening questions. But it's unlikely they will be tested at HFH. Harken said those people who don't qualify for a test in Iowa Falls, but still want to be tested, can make an appointment at one of the state's TestIowa sites. That requires completing an assessment on the TestIowa website.
For months, public health officials at the state and local levels have repeated the same advice to the public to prevent the spread of COVID-19: stay home if you're ill, wash your hands frequently, social distance from other people, and wear a face mask when you're out and about. HFH Chief Nursing Officer Lori Krenos repeated that advice on Wednesday. She said the threat of coronavirus hasn't subsided, even though Iowa Gov. Kim Reynolds has given restaurants, swimming pools, amusement parks and other establishments permission to resume operations.
"Even though the governor released all the restrictions, people should know COVID is still an issue," said Krenos, who reported seeing people shopping in local stores not wearing masks. "People are letting their guard down and they shouldn't."
Find more information about county and state COVID-19 case numbers, testing, and other data on the state's coronavirus website.