The number of active COVID-19 infections in Hardin County leapt by 50 percent over the last week, surging at a level not seen since November 2020, when transmission rates prompted hybrid school days and a statewide limited mask mandate.
The Iowa Department of Public Health reported on Wednesday that between Jan. 5 and 11, there were 161 new cases of COVID-19 detected in Hardin County. That increases the total number of infections since March 2020 to 3,391. Subtracting the number of people who are reported as having recovered (2,966) and the number of Hardin County residents who've died of COVID-19 (55), leaves 370 known active cases of the disease in the county as of Tuesday this week, an increase from 248 last week.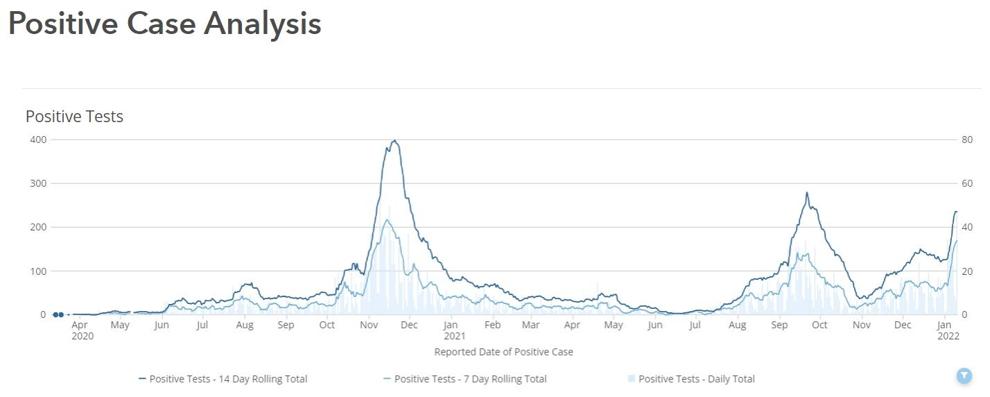 Hardin County's infection rate over the last week – 161 new cases – is the third-most active week since COVID-19 was first detected in the county in March 2020. The top three weeks with the highest infection rates are:
Nov. 7-13, 2020: 206 new cases
Nov. 14-20, 2020: 173 new cases
Oct. 31-Nov. 6, 2020 and Jan. 4-11, 2022: 161 new cases
COVID-19 infections in Iowa have spiked with the arrival of the omicron variant, which is much more contagious. Iowa Capital Dispatch reported on Wednesday that 62 percent of the coronavirus samples evaluated at the State Hygienic Lab in the last two weeks were omicron. The variant has been confirmed in 44 Iowa counties, but Hardin County is not among of them.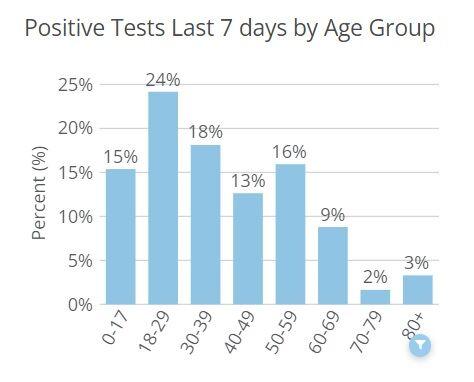 A quarter of Hardin County's 161 new cases are in people age 18-29. The 30-39 age bracket accounted for 18 percent of the new cases, 50-59 was 16 percent, and 0-17-year-olds were 15 percent of the new cases. Data reporting the vaccination status the new COVID patients is not made available by state or local public health officials.
Hospitalizations – like case numbers – were up across Iowa over the last week. Last Tuesday, Jan. 4, there were 792 people hospitalized in Iowa for treatment of COVID-19. This week that number was up to 923, higher than any day in 2021, but still less than the 2020 hospitalization peak of 1,527 in November of that year. Of the people hospitalized for treatment of COVID-19, the Iowa Department of Public Health reports that 72.6 percent are not fully vaccinated.
It is unclear how many Hardin County residents are hospitalized for treatment of COVID-19. The state stopped collecting and reporting the county of residence of hospitalized COVID-19 patients in November 2021.
The state reports that 9,060 Hardin County residents – about 53.7 percent of the total population – are vaccinated, an increase of 48 people in the last week. Statewide, 56.4 percent of all Iowans are fully vaccinated.
ZIP code data released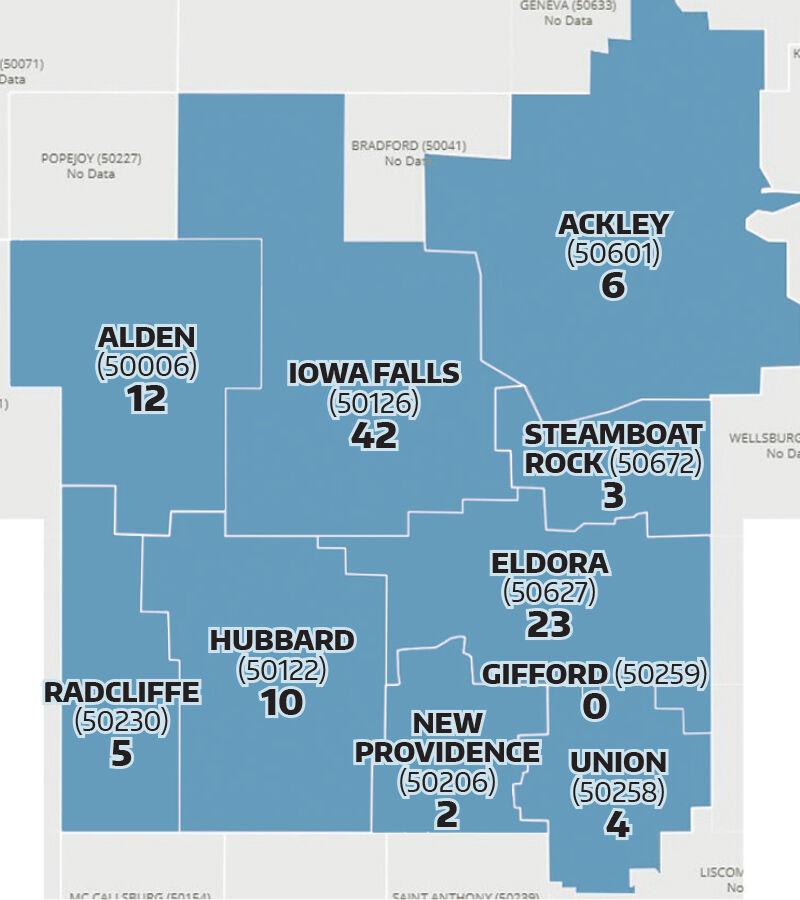 Last Friday, Hardin County Public Health released updated ZIP code data about new COVID-19 infections between Jan. 1 and 7. It showed that the virus is active in every area of the county.
When numbers are adjusted for population, the Hubbard ZIP code had the highest infection rate with 10 new cases, which is 736 per 100,000 population. The Alden ZIP code came in second with 12 new cases or 727 per 100,000, and the Eldora ZIP code was third with 23 new cases, which is 724 per 100,000. The Iowa Falls ZIP code, which is the county's most populous, recorded 42 new cases of the disease between Jan. 1 and 7. That's 622 new cases per 100,000 population.
The Centers for Disease Control and Prevention recommends that in any place where there are 100 or more new cases per 100,000 population in a week – identified as areas of high transmission – the public, regardless of vaccination status, should wear face masks when they're inside public places. Hardin County as a whole, and every ZIP code except Gifford, are areas of high transmission.