While the growth of new COVID-19 cases in Hardin County and across Iowa has slowed in recent days, the latest report from the White House Coronavirus Task Force warns that the country – and Hardin County, which remains in the red zone for high rates of community spread – is "in a very dangerous place."
The report - issued Nov. 29 and obtained by ABC News - is the latest in a series of reports that have been issued weekly to each state's governor. As case numbers and deaths have increased across the country, the task force, which includes Drs. Deborah Birx and Anthony Fauci, has issued more dire warnings about slowing the spread of COVID-19.
"It must be made clear that if you are over 65 or have significant health conditions, you should not enter any indoor public spaces where anyone is unmasked due to the immediate risk to your health; you should have groceries and medications delivered," the Nov. 29 report states. "If you are under 40, you need to assume you became infected during the Thanksgiving period if you gathered beyond your immediate household. Most likely, you will not have symptoms; however, you are dangerous to others and you must isolate away from anyone at increased risk for severe disease and get tested immediately."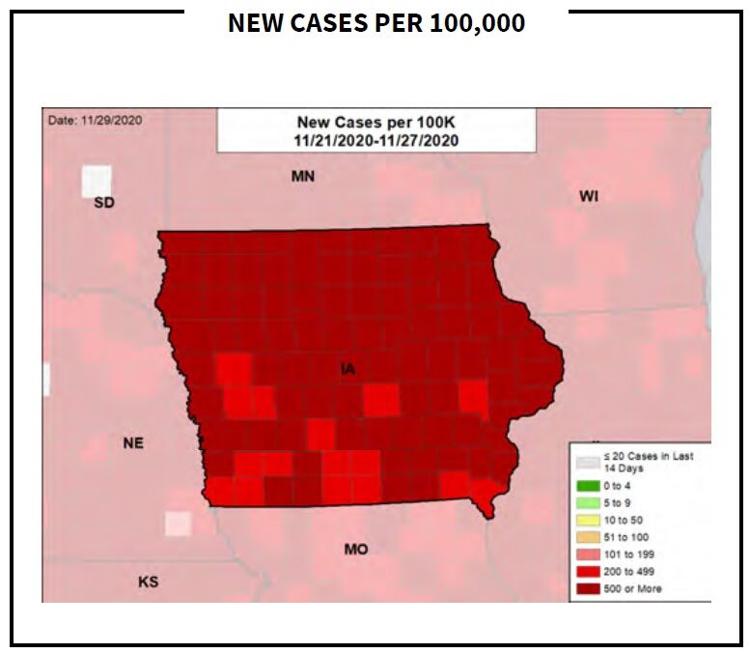 The report quantifies community spread of the illness by the number of new cases per 100,000 population over a seven-day period. Anything more than 101 new cases per 100,000 population is designated as the "red zone." The most recent report uses data from Nov. 21-27. Nationally, there were 349 new cases per 100,000 population during that week. In Iowa, the rate of new cases was 650 per 100,000, and in Hardin County there were 480 new cases per 100,000 population.
Hardin County's rate has decreased in recent weeks after reaching a high of 1,150 new cases per 100,000 the week of Nov. 7-13. During the week of Nov. 14-20, the county recorded 966 new cases per 100,000 population. The next report will take data from the week of Nov. 28-Dec. 4. As of Friday morning (Dec. 4), the county had recorded 456 new cases per 100,000 population.
As the disease's spread has slowed, the rate of hospitalizations in the state has decreased. As of Tuesday this week, six Hardin County residents were hospitalized for COVID-19, down from the peak of 11 a week ago. Statewide, 1,000 Iowans were hospitalized on Friday morning, down from a peak of 1,527 on Nov. 17.
In an interview with the Times Citizen on Tuesday, Dr. Katie Haverkamp, a physician at Hansen Family Hospital and Iowa Falls Clinic, said the local facility has seen an improvement, too. On Nov. 13, Haverkamp and other doctors at the hospital reported that they were seeing a high number of patients testing positive for COVID-19. This week, things have been looking better.
"When we talked last, we were seeing a pretty rapid, steep incline in the amount of patients and the sickness of patients that we were seeing, and it was actually really pretty scary about where people were going to go and if we had room," Haverkamp said in this week's interview, which can be watched here. "Right now I can tell you that we're doing OK. We're doing fine as far as volumes and if you need help for whatever ailment you have, we have plenty of room both in our hospital and in our COVID unit as well."
But, Haverkamp said, that doesn't mean now is the time to ease up on mitigation measures.
"Testing is less, positivity rate is less and it seems like things are settling, but that might be temporary, especially with travel during thanksgiving and mixing a lot of germ pools and everybody kind of being around people not from their immediate household," she said. "This isn't the time for us to get our guard down. We certainly need to stay diligent about doing all of the things: staying within our household, washing our hands, social distancing and above all wearing a mask in public."
As of Friday morning, the total number of COVID-19 cases among Hardin County residents since March stood at 1,233. Of those cases, 677 people have recovered, and 12 local residents have died. That leaves 544 people currently infected with the disease.