Eight Hardin County residents have tested positive for COVID-19 since Friday, bringing the total number of confirmed cases to 66 since testing began in March.
Over the weekend, Greenbelt Home Care/Hardin County Public Health announced eight new cases. Of the eight, one patient is age 0-17, six are age 18-40, and one is 41-60.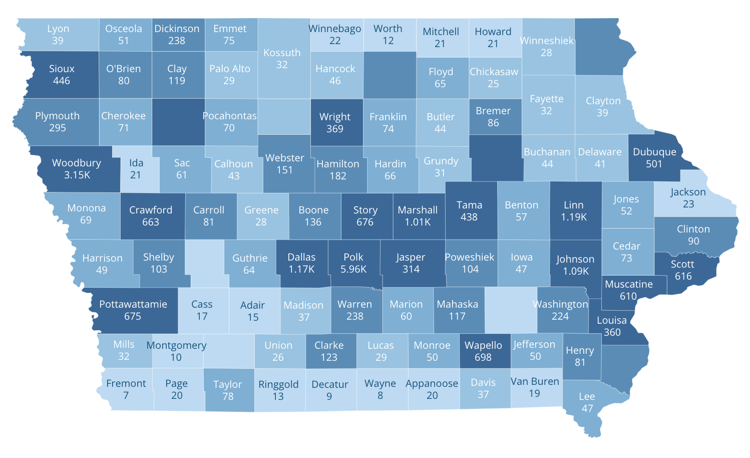 Hardin County and areas across the state and country have seen a surge in the number of young people testing positive for the disease. In the last two weeks, 22 Hardin County residents have tested positive for COVID-19. Of those 22, 18 are age 18-40. In total, since the first positive case on March 26, 55 percent of Hardin County's COVID-19 cases have been in people age 18-40.
"Please know while we may feel 'over' the novel coronavirus (COVID-19), unfortunately, it is not done with us," Hardin County Public Health Coordinator Rocky Reents wrote in a press release last week. "Nothing has changed in the way this virus is transmitted."
A number of states that had started to reopen following COVID-19 closures have seen a surge in the number of cases, and are now pausing the reopening process.
Dr. Anthony Fauci, the nation's top infectious disease expert, testified before Congress last week that he is "cautiously optimistic" there would be a coronavirus vaccine ready at the end of this year or in early 2021. He also urged avoidance of crowds and use of face masks because the virus is still a threat.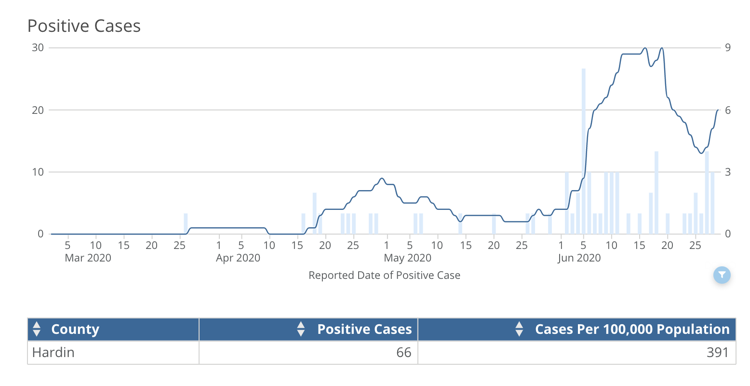 A total of 1,692 Hardin County residents have been tested for COVID-19. That's one of 10 residents, or 10 percent of the total population. 
Twenty-six Hardin County residents have recovered from COVID-19, leaving 40 who are either still ill or still in quarantine. The Iowa Department of Public Health is reporting that as of Friday, no Hardin County residents were hospitalized as a result of COVID-10. And while 707 Iowans have died of the disease, no Hardin County residents are reported to have died of COVID-19.

Statewide, the number of confirmed COVID-19 cases stood at 28,699 on Monday morning. The number of new cases, which had been declining since early May, has begun to increase over the last week. Across the state, the COVID-19 hospitalization rate, as well as the rates of patients in ICUs and on ventilators, has been declining since mid May.
People with COVID-19 have reported a wide range of symptoms including fever or chills, cough, shortness of breath or difficulty breathing, fatigue, muscle or body aches, headache, new loss of taste or smell, sore throat, congestion or runny nose, nausea or vomiting and diarrhea. If you are experiencing any of these symptoms, you're instructed to call your health care provider before going into the office. They will walk you through a series of questions and may ask you to report to a testing site. Hansen Family Hospital in Iowa Falls is able to test for COVID-19, but patients should not show up at the hospital. Call the HFH COVID-19 phone number at 641-648-7113 first.
Iowans are also asked to complete a health assessment on the state's TestIowa website. The assessment will ask you to enter information about your health and workplace, and will then give you the option of scheduling a COVID-19 test at a drive-through TestIowa site.
Find more county, regional and state data on the state's coronavirus website.