An eighth Hardin County resident has tested positive for COVID-19, the respiratory disease caused by the novel coronavirus. Greenbelt Home Care/Hardin County Public Health announced the diagnosis at around 9:30 a.m. on Wednesday.
This eighth patient is identified as an older adult, between the ages or 61 and 80. They are reportedly hospitalized - the second of the eight local cases to be treated in a hospital.
The first confirmed Hardin County case was announced on March 26. It was 60-year-old Justin Weber, of Eldora, who remains hospitalized as of Wednesday. Of the eight local cases, two are age 18 to 41; four are age 41 to 60; and two are age 61 to 80.
Public health officials will continue to monitor COVID-19 patients' health until they've gone 72 hours without a fever. Hardin County Public Health Coordinator Rocky Reents said on Monday this week that of the then-seven confirmed cases in Hardin County, local health officials were still monitoring the health of five. Weber's health is being monitored in the hospital. One local patient has recovered from the disease.
As with the previous seven cases, the identity of the newest local COVID-19 patient and their town of residence are not being released. (Justin Weber's identity if known because his family spoke with the Times Citizen.) Iowa public health officials do not release the town of residence of any person who tests positive for COVID-19. Iowa Code Chapter 22 prohibits the release of information that could identify an individual. Some states have different confidentiality laws, but Iowa officials have said information related to where an individual lives or has visited "is not essential in protecting the public's health during the COVID-19 outbreak," Reents said.
Local public health officials will interview the latest patient and they will be asked to contact anyone they may have had contact with in the last two weeks to advise them to self-isolate for two weeks.
The Iowa Department of Public Health announced 508 new COVID-19 cases on Tuesday, bringing the state total to 6,376. There hAD been 136 coronavirus-related deaths in the state when the numbers were last updated on Tuesday. According to the Iowa Department of Public Health, as of Monday morning, 178 Hardin County residents - about 1 percent of the county's 16,868 residents - had been tested for the disease.
"We continue to remind residents to take preventive measures to slow the spread of this virus," said Hardin County Public Health Nurse Rachel Loyd. "It's important for everyone to stay home as much as possible and to practice social distancing - this simply means to stay away from groups of people, and to keep a 6-foot distance from other individuals." 
Iowa Gov. Kim Reynolds announced this week that restaurants, retail stores, fitness centers, libraries, race tracks and malls will be able to reopen in 77 counties on Friday this week. Restrictions on religious gatherings have also been lifted. Hardin County is among the places where those establishments can open. In a Facebook post announcing the newest case, Greenbelt Home Care/Hardin County Public Health asked the public to keep up its social distancing practices.
"Even though restaurants, retail stores, malls, and fitness centers have been allowed to reopen and operate at 50% capacity we urge Hardin County residents to continue practice social distancing, frequent hand washing, and wearing a mask when you are in public," the post states.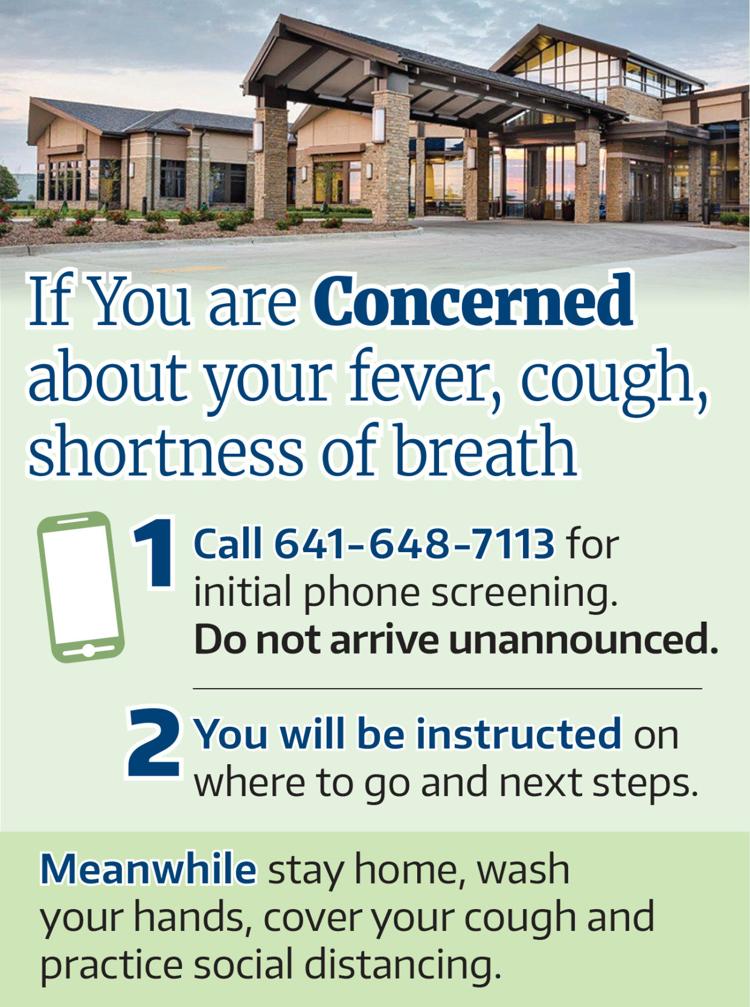 Symptoms of COVID-19 include cough, fever (100.4 or greater) and shortness of breath. If you are experiencing any of these symptoms, you're instructed to call your health care provider before going into the office. They will walk you through a series of questions and may ask you to report to a testing site. Hansen Family Hospital in Iowa Falls is able to test for COVID-19, but patients should not show up at the hospital. Call the HFH COVID-19 phone number at 641-648-7113 first. Hansen Family Hospital is not a Test Iowa site (part of a statewide rollout of testing that's connected to an online assessment tool at TestIowa.com). The public should not show up at the site and expect to be tested for COVID-19.
Find more information about COVID-19 in Iowa on the state's coronavirus website, or on the Greenbelt Home Care/Hardin County Public Health Facebook page.