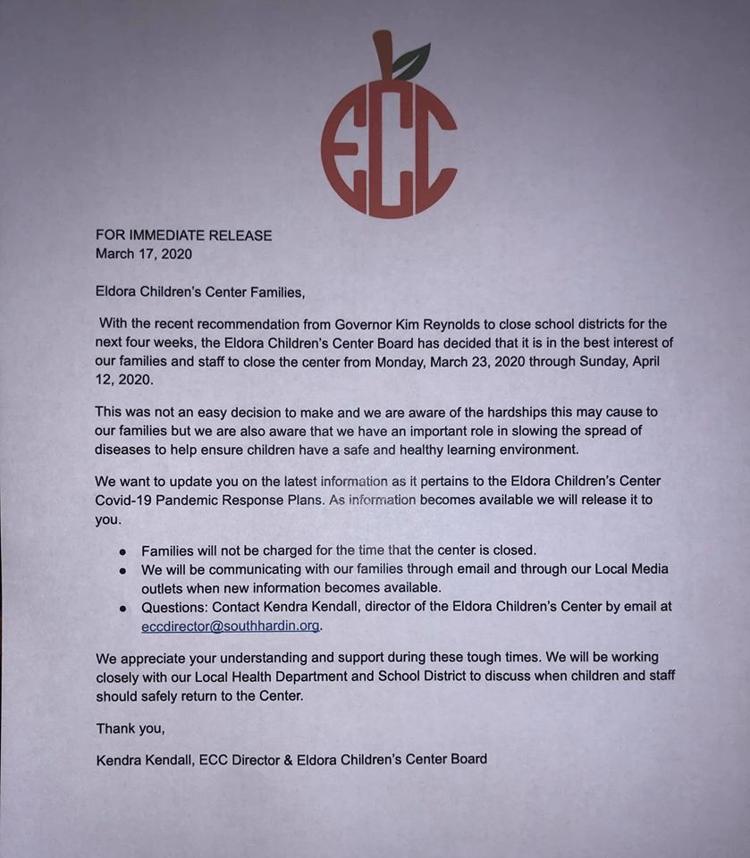 Around 70 kids and their families will be forced to make alternative child care arrangements beginning Monday when Eldora Children's Center closes its doors until at least April 14 due to COVID-19. 
Kendra Kendall, director of Eldora Children's Center, the decision was made by herself and the center's board of directors earlier this week.
"It certainly was a hard decision, but I contacted all the parents individually and we weighed out our risk of parents who work essential jobs, like in the health care field or that sort of thing," Kendall said.
Kendall said they made the decision to stay open this week in order to give parents time to make contingency plans. She said the board and herself will reevaluate the situation by April 7 to keep families in the loop if the decision is made to prolong the closure.
"We'll evaluate the situation to see how it has spread through the community and if the curve has slowed," Kendall said.
She is also concerned about how the center will operate when kids do return because of rules set in place by Gov. Kim Reynolds this week, especially if normal school has not resumed by then.
"If we're going to be getting all kinds of school kids, are we going to be able to follow the 10-person group maximum rule? Are we going to have enough staff if our staff is being exposed to stuff?" she asked.
Kendall said that while the decision about when to reopen will be as difficult as the decision to shut down was, the kids' and 12 staff member's health comes first.
"Our mission is to provide a safe and healthy environment to take care of all of our children and our families and our staff," she said. "When you put it into context what that takes we had to consider all of that in making our decision."